Camila Quintero, a recent graduate from UAL Camberwell College of Arts was approached by Selfridges and asked to exhibit in the world-famous store after being spotted on Instagram by the creative team.
"I got an email out the blue, this is the sort of thing you can't imagine happening, I had just graduated. It was such a shock. My work went from being in the studio to the most prolific place they can go."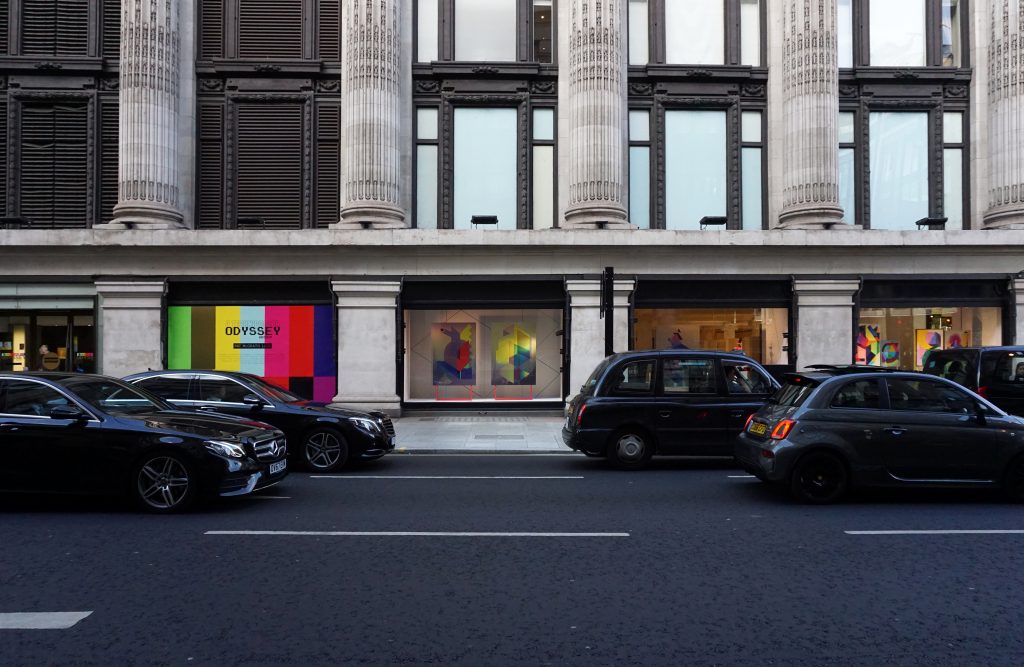 The pieces which include 5 paintings (one facing the interior of the store), a sculpture and 3 digital prints take up a prominent position in 3 window fronts in the store and form part of a celebration of colour and its role in today's harder times.
"Colour can bring enormous advantages to our lives as a way to express ourselves. The window display has had a great impact thanks to the brightness, the materials and the works selected for this incredible collaboration. The inspiration for this work is not only colour but the way we apply it in our lives and the interaction we have with nature and our surroundings and in this particular case the relation we have with the world of design and art"
Camila.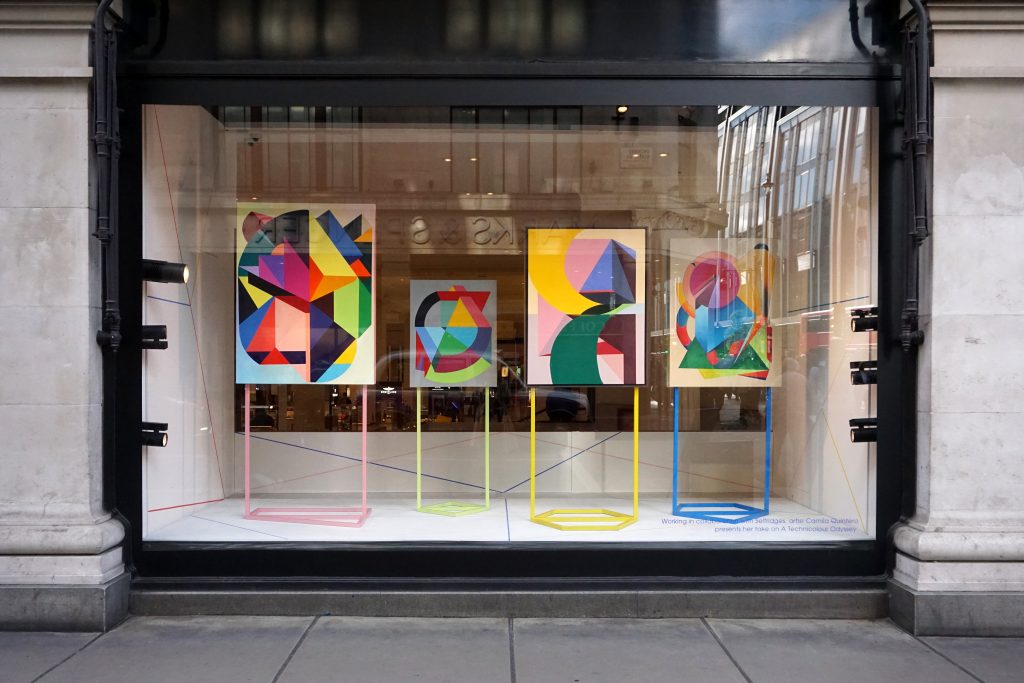 The display highlights the aesthetic traits and beauty of abstract geometry and colour presented in different mediums, facilitating a dialogue from art and design. The design of each window reflects a visual continuity of the works, taking on a different narrative based on the technique and medium used.
Camila's influences are pioneers of the twentieth century including those who were part of the Bauhaus, surrealism, cubism and constructivism. Also, some contemporary movements such a psychedelic art, op art and the Memphis group.
The work is on display until 3rd July.
THE ARTIST
Originally from Bogota? and now based in London, Camila Quintero's works are "optical distortions" that span art, architecture, photography and design. She is interested in the relationship between space and time. Deconstruction and optical distortion are recurrent throughout her work and refer to the response of the perceptual connection we have with our surroundings and the impact that they have on us.
A recent graduated of Camberwell College of Arts, Camila has already created a unique way to work with abstract geometry by using both fluid and controlled automatism. She envisions works that have a three-dimensional quality by exploring perspective, distortion and deconstruction.
Camila Quintero has an MA in Visual Arts: Illustration from Camberwell College of Arts. In 2018, her work was selected for the permanent collection of the University of the Arts London. Camila's work was exhibited at The Auction Collective, Flock Graduates Show at GX Gallery, the ARTIQ Graduates Show and Not Just a Shop at UAL and others. @camilaquintero_art
Categories
Tags