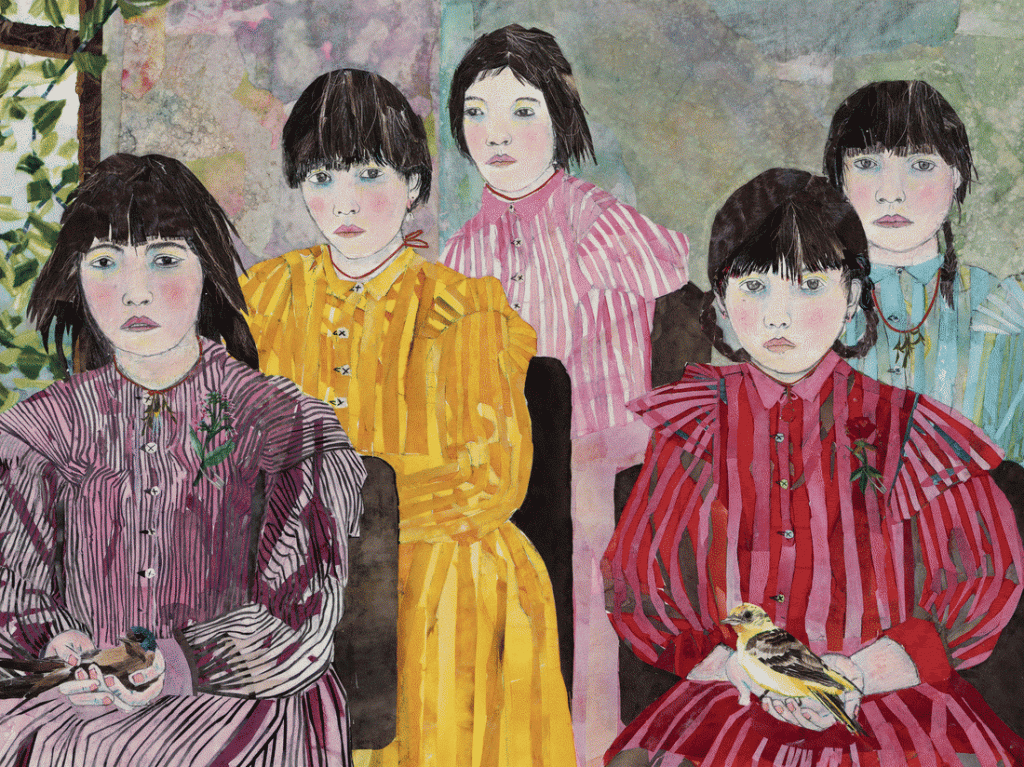 Images:María Berrío, Oda a la Esperanza (Ode to Hope), 2019 (detail). Collage with Japanese paper and watercolour paint. 233.7 x 299.8 cm, 92 x118 in © María Berrio, courtesy the artist and Victoria Miro, London/Venice. So the other captions below aren't needed.
Caroline Walker, Wishlist, 2019 (detail). Oil on linen. 170 x 220 cm, 66 7/8 x 86 5/8 in
© Caroline Walker. Courtesy the artist and Victoria Miro, London/Venice and GRIMM Amsterdam/ New York
Flora Yukhnovich, A Glass and a Half, 2019 (detail). Oil on linen, 160 x 260cm, 63 x 102 1/3 in
© Flora Yukhnovich. Courtesy the artist and Victoria Miro, London/Venice and Parafin London
Victoria Miro in association with The Great Women Artists presents a summer exhibition featuring three young artists who rethink traditional genres to touch upon themes of migration, the workplace, and the gendered language of painting.
Based in Brooklyn, María Berrio grew up in Colombia. Her large-scale works, which are meticulously crafted from layers of Japanese paper, reflect on cross-cultural connections and global migration seen through the prism of her own history. In her quietly luminous paintings, Scottish-born, London-based painter Caroline Walker focuses on intimate portrayals of women at work in domestic and public spaces, including hotel maids, office workers and shop assistants. In her large-scale paintings London-based artist Flora Yukhnovich adopts the language of Rococo. Reimagining the dynamism of historic works by eighteenth-century artists such as Boucher and Tiepolo, Yukhnovich brings classically-inspired painterly traditions into a more consciously feminine and contemporary realm.
Founded by Katy Hessel in 2015 @thegreatwomenartists is an influential Instagram account that celebrates female artists, ranging from recent graduates to Old Masters, on a daily basis.
María Berrio, Caroline Walker, Flora Yukhnovich Private view: Friday 7th June, 6–8pm Exhibition 7th June–27th July 2019
Victoria Miro, 16 Wharf Road, London N1 7RW victoria-miro.com
A series of talks and events will take place during the exhibition. These informal tours are free to attend and will last around 30 minutes. No booking necessary.
Saturday 8th June, 1pm
Exhibition walkthrough: María Berrío, Caroline Walker and Flora Yukhnovich, with Katy Hessel
Saturday 22nd June, 11am
Exhibition walkthrough: Laura Smith, Curator, Whitechapel Gallery, with Caroline Walker
Saturday 6th July, 1pm
Exhibition walkthrough: Eleanor Nairne, Curator, Barbican Centre, with Flora Yukhnovich
Categories
Tags