British artist Stuart Semple denies blowing £450,000, raised via crowdfunding, an elaborate trap for his nemesis Anish Kapoor. However, he has admitted responsibility for a spate of mysterious black holes that have been appearing all over the UK for the past month.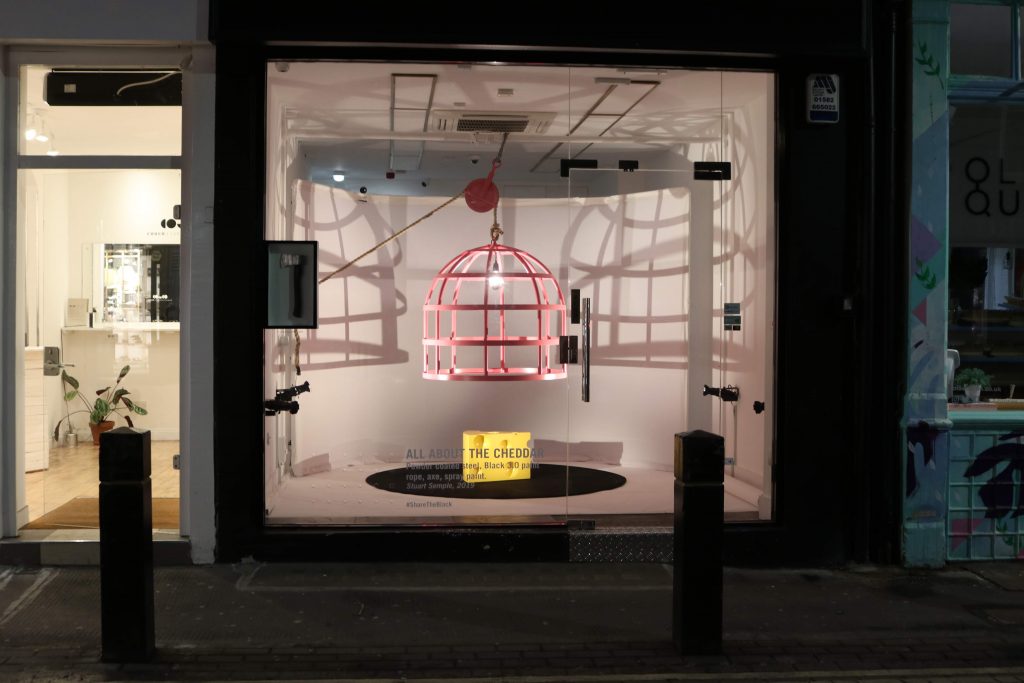 Last night, Stuart unveiled his new sculpture, 'All about the Cheddar' in Central London, and in a revealing film, he confesses to being behind a series of portable black holes springing up throughout the UK. In this hilarious new behind-the-scenes video, the artist is confronted by FAD magazine's Mark Westall whilst installing the sculpture in London's Covent Garden.
Stuart Semple explained to critic Mark Westall:
"We've heard that Anish is rather partial to a strong cheese, and with the famous Neal's Yard Dairy just around the corner we figured it would be his kind of place."
The artist recently created BLACK 3.0, which has been called "the world's blackest black paint", and which is currently crowdfunding on Kickstarter. The campaign has raised £450,000, nearly 2000% above its £25,000 target and still has three days to go.
The artist explains:
"When I first heard that Anish Kapoor had the exclusive rights to the blackest substance in the world, all I could think of was those amazing portable black holes from cartoons I watched as a kid. Thanks to the community supporting the development of our own, accessible and usable super black (Black 3.0) I've been able to make that happen and it's so exciting!"
Semple refutes the allegation that he has utilized the £450,000 raised on Kickstarter to build the sculpture – as an elaborate trap for fellow artist and nemesis Anish Kapoor. However, when questioned about the spate of mysterious black holes suddenly appearing throughout the UK, Semple admitted to being behind the heist:
"Art should be for everyone. Ever since I heard about the 'blackest black', I've dreamed about using it to make portable acme style black holes. Thanks to the artistic community, who have been pre-ordering their BLACK 3.0 on Kickstarter, that has become a possibility. It's really about getting art out there in the public and dissolving the elitist idea that artists with the most cheddar should have special privileges. At the end of the day history tells us that great artists share."
Last year, an elderly Italian man was hospitalised after he fell into an 8ft black hole in Anish Kapoor's 'bottomless' art installation at the Serralves Museum in Portugal. Kapoor responded to the event, saying that it was "a shame". Back when Stuart Semple brought out the 'pinkest pink' pigment several years ago, of course, Kapoor had once again revealed himself as a stinker by posting an Instagram picture of his middle finger dipped in the PINK – despite a personal ban from being allowed to use it.
Still, Semple's mission to bring top-notch art materials to the masses continues, and his BLACK 3.0 is no exception. The Kickstarter campaign to get BLACK 3.0 manufactured launched earlier this year and hit its £25,000 target in just 38 hours. It is currently at £450,000 and has nearly 10,000 backers around the world – proving that it is truly possible to share the black with almost everyone. #sharetheblack
"There are art-holes out there, and obviously they should be approached with caution. But not all art-holes are dangerous. It's important for the public to know that art is safe,"
said Stuart.
Meanwhile, you can still pre-order the world's blackest black if you want to make your own black hole. You can visit Stuart's 'All about the Cheddar' installation until 24th March at 67 Neal St, London
Categories
Tags