Creative company Mother has debuted The Gay Blood Collection, a limited-edition set of protest art tools with the help of artist and activist Stuart Semple, intended to bring awareness to a discriminatory FDA rule that excludes gay men from donating blood.  And it just so happens it's more relevant given all the recent news surrounding the national blood shortage crisis.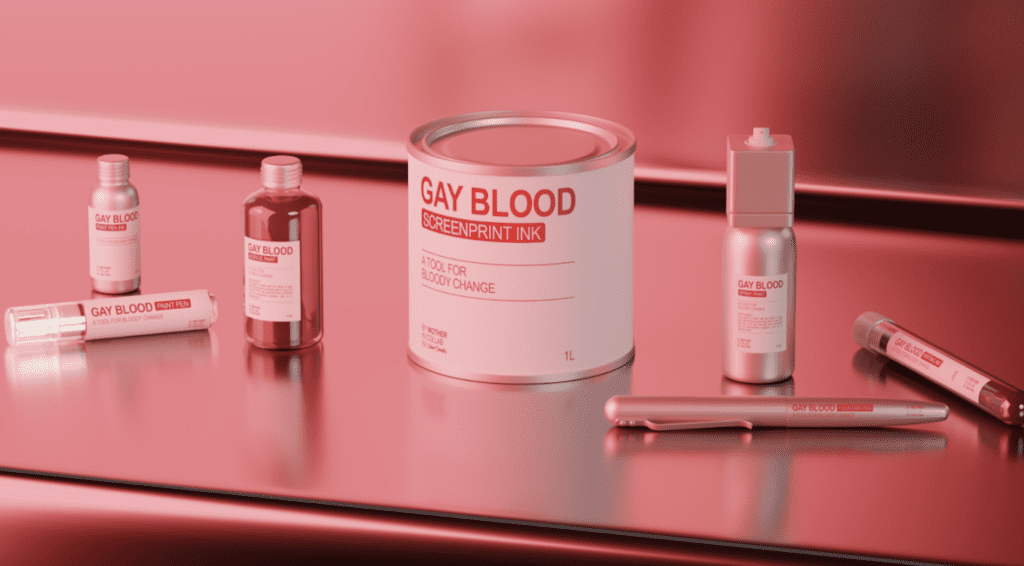 Since the 1980s the FDA has treated men who have sex with men as second-class citizens, banning the donation of their life-saving blood due to outdated and impractical fear of HIV and AIDS contamination. Back in 2018, creative company Mother wanted to take a stand on the ban by kicking off the "Blood is Blood" initiative, where they printed t-shirts utilizing ink made from the blood of gay men (including some of their employees).
But unfortunately, nothing has changed since then, and the ban still exists today. Which is archaic, discriminatory, and frankly, bullshit.
So, this NYFW, in the spirit of making bold statements, Mother is debuting a new kind of collection – The Gay Blood Collection made with the blood of gay men. The ambition is that with these tools, others can help make some bloody noise on this issue – whether it's shirts, murals, or protest signs to fight back against the FDA's homophobic policies. 
The Gay Blood Collection includes: 
Gay Blood Acrylic Paint – $30
Gay Blood Fountain Pen – $45
Gay Blood Screen Printing Ink – $50
Gay Blood Paint Pen – $35
Gay Blood Spray Paint – $200 (Note: The Gay Blood Spray Paint can is an eco-friendly alternative to aerosol) 
All available NOW at mother-goods.com
**All pieces can be pre-ordered and purchased as standalone items; 100% of proceeds from sales will go to Callen-Lorde, a New York based leader in LGBTQ+ healthcare.
To help drive awareness on this effort Mother are teaming up with some noteworthy names within the LGBTQIA+ community. Each of these individuals will be creating stand-out pieces of protest utilizing The Gay Blood Collection, and all will be auctioned off on mother-goods.com
Partners
Categories
Tags