Today, Mother in New York is proud to celebrate LGBTQ Pride Month through the launch of the "Blood Is Blood" tee shirt. "Blood Is Blood" addresses the inconsistent support shown toward the LGBTQ community through the discrimination of blood donation based on sexual orientation.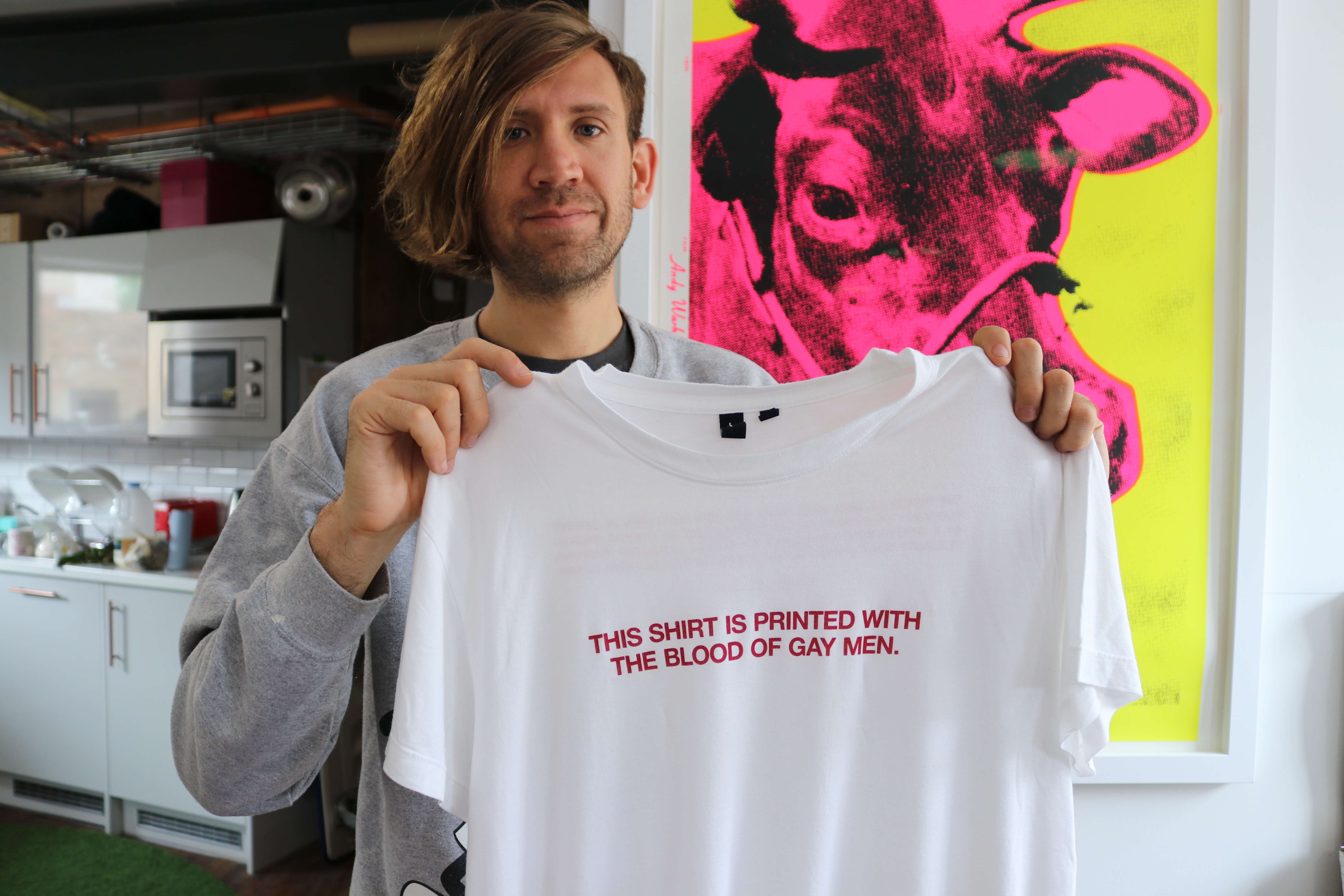 Many countries, including the United States, endorse the fight for equality in marriage, schools, the workplace and housing, yet discriminatory criteria for blood donation remain. Thus, Mother in New York created the "Blood Is Blood" tee, a shirt printed using the blood of their gay male employees, to bring attention to this hypocrisy, spark conversation and inspire reform. In launching "Blood Is Bood", Mother in New York partnered with iconic LGBTQ health center, Callen-Lorde, international contemporary artist and color expert, Stuart Semple and innovative gender neutral retailer and community hub, The Phluid Project.
"Blood Is Blood" specifically confronts the U.S. government's ban on gay, bisexual and transgender men who have had sex with other men in the past 12 months from donating blood. According to a study by the Williams Institute, if the current FDA blood ban on men who have sex with men (MSM) were lifted, it is estimated that an additional 360,600 men would likely donate 615,300 additional pints of blood each year, and could be used to help save the lives of more than 1.8 million people.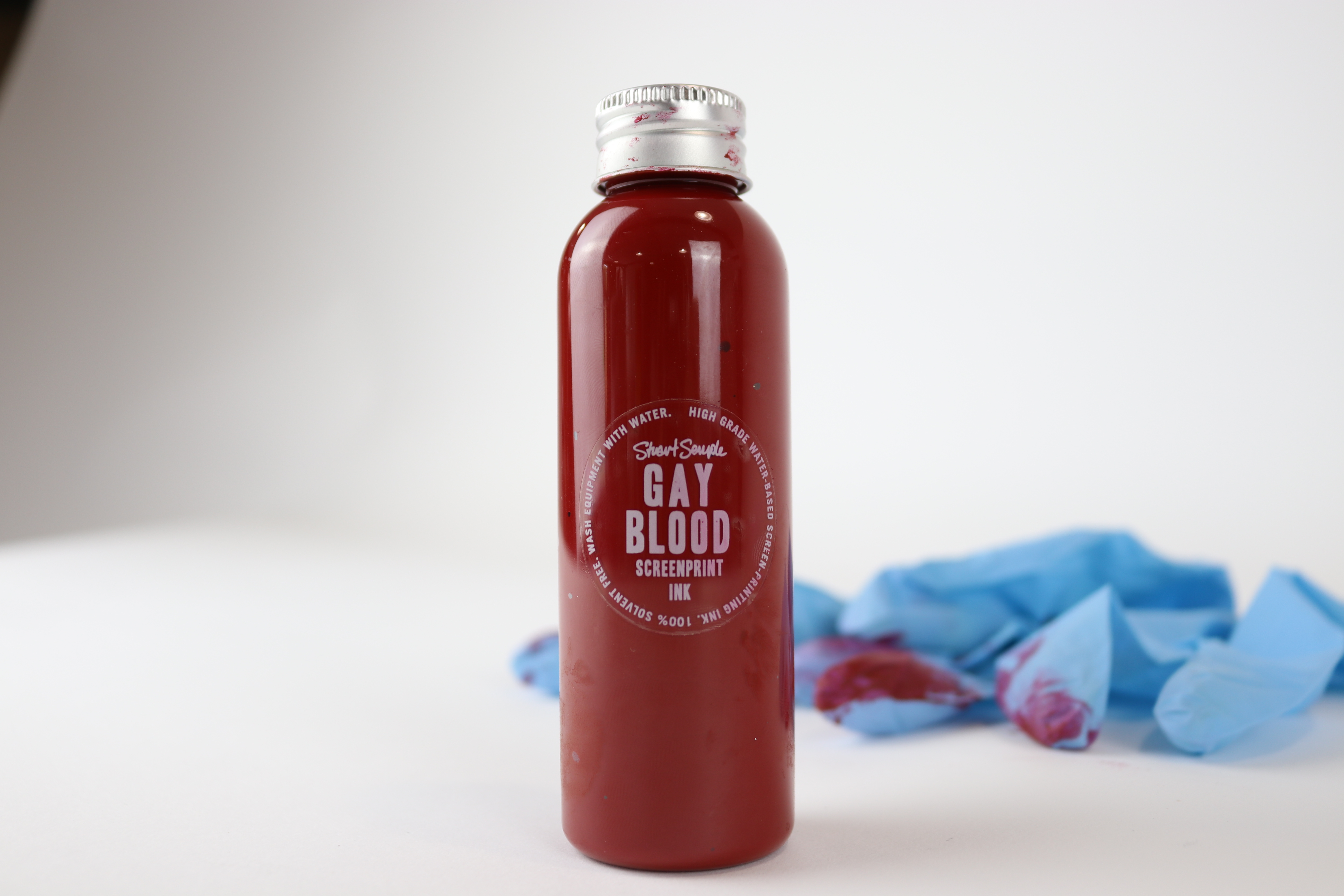 "The blood ban is a detriment to everybody, preventing healthy blood from getting into the hands of those who need it while perpetuating the myth that HIV is a 'gay disease,"
said Peter Meacher, MD, Chief Medical Officer, Callen-Lorde Community Health Center.
"All blood is screened, and everyone can be at risk for HIV. The more we pathologize HIV by attaching it to certain communities, we are perpetuating stereotypes that ultimately harm us all. Everyone should be thinking about HIV prevention and screening methods should reflect that by basing criteria on behaviors, not orientation or identity. Banning a specific group from performing a civic duty is stigmatizing and when based on shoddy science, is clearly discriminatory."
Blood was collected from gay male employees of Mother in New York and London, and mixed into a custom screen-printing ink produced by contemporary British artist and curator, Stuart Semple. Semple has achieved worldwide notoriety within the art community by developing unique and provocative paint colors.
"When the blood arrived in the studio it suddenly became very real,"
said Stuart Semple.
"It wasn't gay blood, it was just blood, and the ink formula would have been the same whatever the sexuality of its donor. But I couldn't help tuning into the sorrow that gay men must feel from being excluded from giving blood. It's something that others take totally for granted. It's bizarre that in this day and age that a glaring prejudice like this still exists. The blood that I was given and these tee shirts remind us that we still have a long way to go in ending discrimination. Hopefully what I've made will help somewhere, somehow."
"Blood Is Blood" will be sold exclusively at The Phluid Project starting today, just in time for World Blood Donor Day. Proceeds from the sale of the tee shirts will be donated to Callen-Lorde to promote health education and wellness within the LBGTQ community.
Shot by photographer DiChen Chen, the "Blood Is Blood" campaign features styling by performer, drag kid, awarded LGBTQ advocate and outspoken gay youth, Desmond Napoles (AKA Desmond is Amazing).
"Blood donation and discrimination, toward gay men in particular, sheds light on how far we still have to go with education and societal views around HIV/AIDS,"
said Rob Smith, CEO & Founder, The Phluid Project.
"While we continue to make strides politically with LGBTQ rights, we are still at odds with a misinterpreted past and misguided present truth. I'm honored and empowered to carry the 'Blood is Blood' tee in The Phluid Project and everyone's work in correcting this difference."
ABOUT MOTHER
Mother is the independent home to the creative community, founded in 1996 in the UK, with offices in London, New York, Los Angeles, Shanghai and Singapore. Mother sets itself apart by generating highly creative campaigns, outstanding design, and effective strategy for a roster of top clients, including Target and Stella Artois. For more information, please visit motherusa.com.
ABOUT CALLEN LORDE
Callen-Lorde is the global leader in LGBTQ healthcare. Since the days of Stonewall, Callen-Lorde has been transforming lives by providing a welcoming environment for LGBTQ communities to get quality care, free of judgment and regardless of ability to pay. The first LGBTQ centric healthcare provider, Callen-Lorde is widely recognized for its innovative HIV and transgender care. They continuously pioneer research, advocacy and education to drive positive change – not just for their patients – but for LGBTQ people around the world, because Callen-Lorde believes healthcare is a human right. For more information about Callen- Lorde and its research and programs, visit www.callen-lorde.org
ABOUT STUART SEMPLE
Stuart Semple is one of the UK's leading post YBA artists. He has held held solo shows in Hong Kong, New York, Los Angeles and Milan, and has featured in over 50 group exhibitions alongside artists such as Peter Doig, Basquiat, Warhol, Richard Prince, Ai Wei Wei and The Chapman Brothers. Semple is known for his Happy Cloud performances around the world, the first being outside Tate Modern. In recent years, Semple has been embroiled in the ongoing 'Art Wars', which started when artist Anish Kapoor secured exclusive rights to Vantablack, the blackest substance on earth. Semple responded by creating and sharing a series of the world's artist art materials including the 'Pinkest Pink', Black 2.0, and LIT ( a light emitting pigment), available to all but Kapoor. This May and June, Semple's 'Happy City' project came to Denver, including a range of large scale installations, immersive experiences and his participatory exhibition 'Happiness HQ'. Lear more: stuartsemple.com
ABOUT THE PHLUID PROJECT
The Phluid Project is a gender-free shopping experience; an unapologetically authentic lifestyle brand and community center. Inspired by identity and expression, The Phluid Project exists to empower individuals to be themselves and express themselves openly, without judgement or fear. In March 2018, they opened their doors at 684 Broadway New York, New York. Learn more: www.thephluidproject.com
Categories
Tags