From next week, I will start a new column for FAD exploring the shared space between food and art. This article is an introduction to this research. Called FOOD ART, it will explore the intersections, collaborations, and engagements between the two cultural spheres.
This project is neither about food & art, nor about 'when food becomes art,' or about artistic food. FOOD ART wants to shed light on an increasingly recognized, rather than simply practiced, form of artistic expression.
Food has been represented in art forever. Romans were famous for their sumptuous and lascivious banquets. Many mosaics from the first centuries depicts numerous people eating … and throwing the leftovers on the floor.

Roman Banquet, from Aquileia, ca. V century AC
A simple apple acquired from the very beginning of humanity, in its Christian conception, sinful and evil connotations. From Hugo Van Der Groes to Peter Paul Rubens, the forbidden fruit made its apparition in art over again. How not to mention the Last Supper, where a communal meal turned into the locus of Christ's future death, also becoming a recurrent theme in art history? From Leonardo's to Yinka Shonibare, MBE, dinners entered art history.
In all these instances, food, while key to the iconography of the oeuvre (I could mention Arcimboldo here, whose sitters were portrayed entirely out of the edible world) remained a simulacrum, an index. The actual referent, food itself, was never actually present, but only re-presented. The past ten years or so have seen a booming in food practices and scholarly interest in them. Millenials urge for experience-based lives demanded fashion brands, restaurants, and other cultural arenas to develop engaging and immersive practices. Boundaries between high and low increasingly blurred, leaving way for new values and hierarchies of appreciation.

Marilyn Minter's Pop Rocks, enamel on metal, 2009
The book 'Food Words. Essays in Culinary Culture' shed light on the recent anthropological, historical, cultural and ethical interest in food studies. Food is, apparently, finally gaining a sort of academic recognition. This is not to say that culinary practices can become valid only when, and if, dubbed so by some higher authority (how arbitrary, commoditised and economy-based would that be, anyway?). Yet, this official admission into the intellectual ranks allowed artists experimenting with food a certain level of freedom, and a platform where to express their ideas.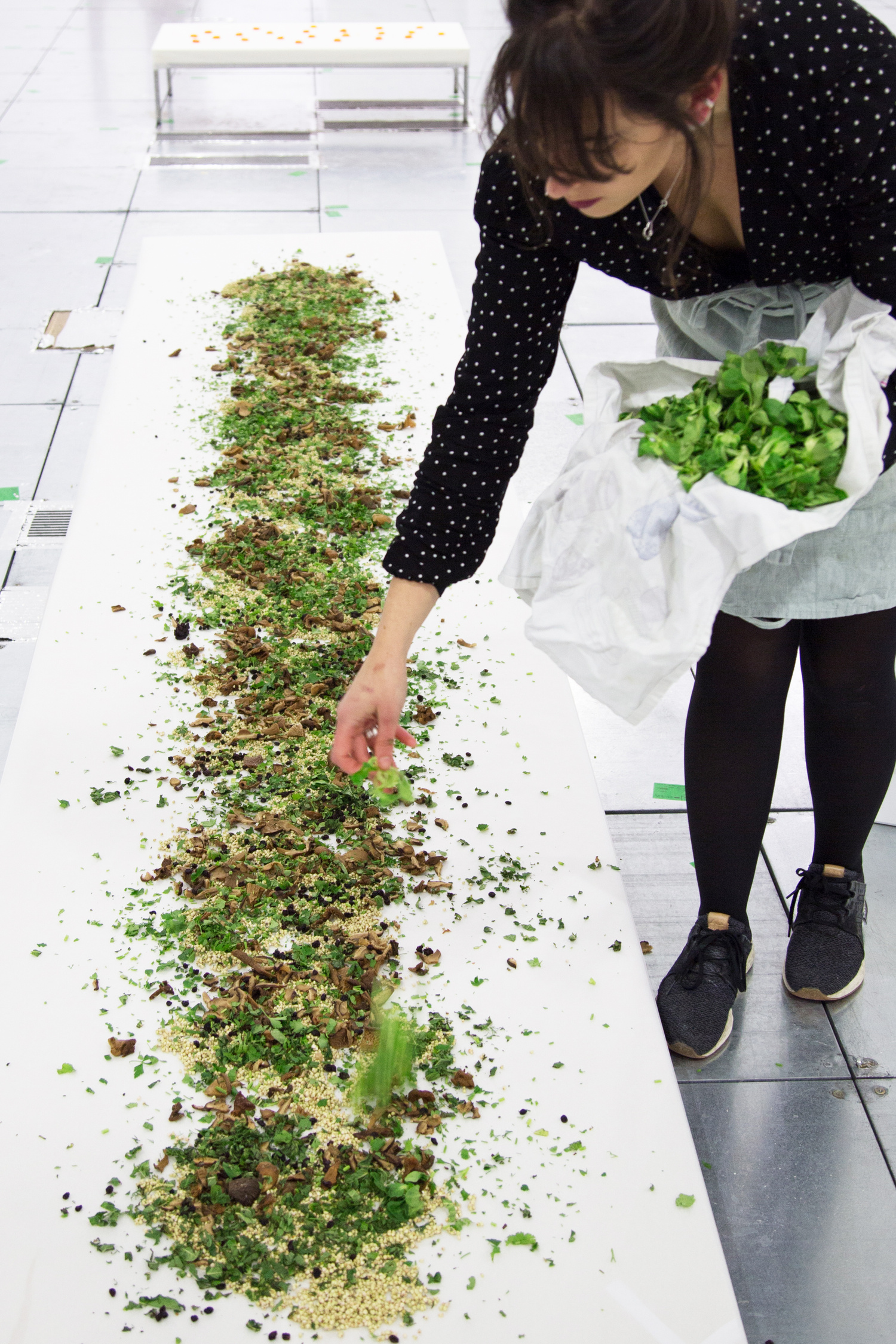 Inês Neto dos Santos, Sacred Elements, buckwheat, sun-dried raisins, mushrooms, songino and almonds on white cardboard, 2018
FAD's column will focus specifically on artists using food as an artistic medium. My interest started when I took part for the first time in Inês Neto dos Santos' edible installation Sacred Elements, marking the closing event of Adventitious Encounters, an exhibition organised by Open Space, and curated by Huma Kabakci and Anna Skladmann. I now collaborate with dos Santos and have the pleasure to constantly share her ideas regarding food as an empowering tool. Nevertheless, eating has mainly acquired in the social sphere negative overtones. It became an element of protest in hunger strikes, or in the act of throwing rotten foods against disliked actors and singers on stage. In the development of an art informed by feminist issues food has been largely disdained, exaggeratedly fetishitised (Natalia LL, Marilyn Minter) or made disgusting  (Cindy Sherman).
Tasha Marks (AVM Curiosities), Within Reach of Every Hand, 2017
A new wave of artists are going against this grain, demonstrating the positive and constructive potential of food. Food is a universal language, varying from culture to culture, but maintaining a shared ground between all people. Everyone speaks food. Everyone needs food. So why not talk about food, through art?
Categories
Tags