Ana Mendieta: 'Self Portrait with Blood', 1973
Ana Mendieta would have been 70 this month (18 November 1948 – Sept 10 1985) had she not fallen 34 floors to her death at just 36. The turning points of her life are well known: arriving in America as a child refugee from Cuba in 1961; the relationship with her teacher Hans Breder at the University of Iowa; his documentation of her early performances; the prescient integration of her work with the natural world through the mid 70's; the move to New York in 1978.
After an on-off relationship – they were said to be prone to heavy drinking and arguments – she married Carl Andre in January 1985. He was tried for her murder but acquitted in 1988 on the grounds that there was insufficient evidence to prove that he had pushed her out of the window. The verdict continues to split the art world, but there is more consensus on the comparative merits of their work. When she died, Mendieta's profile was low but Andre's was towering.  Several significant posthumous shows (including one now up in Paris) have revealed the full scope and importance of her work, such that theirs is now seen very much as a marriage of artistic equals. She's part, I'd say, of a trend: the reputations of Frida Kahlo*, Helen Frankenhaler and Kim Lim all look likely to eclipse long-term those of the husbands – Diego Rivera, Robert Motherwell, William Turnbull – who were more lauded in their lifetimes. And while you couldn't quite say that of Anni Albers, Lee Krasner or Dorothea Tanning*, their reputations as artists independent of Josef Albers, Jackson Pollock and Max Ernst have soared in recent years.
* the only two of the seven women listed to feature among the 44 in the Barbican's new show 'Modern Couples: Art, Intimacy and the Avant-garde'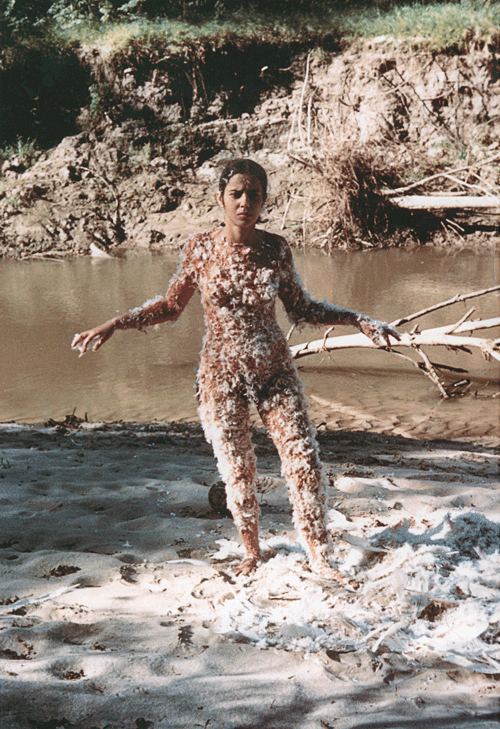 Ana Mendieta: 'Untitled (Blood and Feathers)', 1974
Art writer and curator Paul Carey-Kent sees a lot of shows: we asked him to jot down whatever came into his head
Categories
Tags