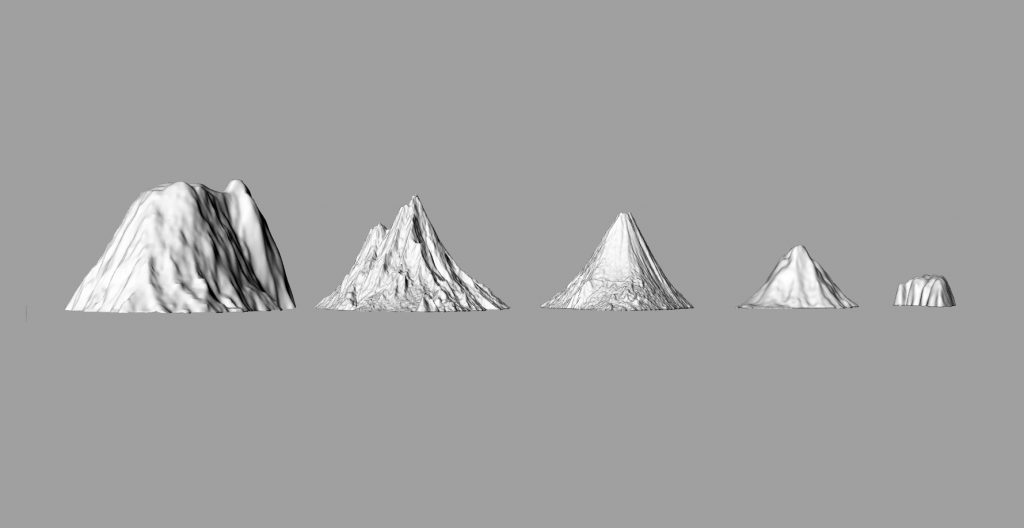 First There is a Mountain is a new artwork by Katie Paterson that connects the public to the world's diverse mountains ranges. Touring from 31 March to 27 October 2019, the project involves the creation of a set of 'buckets and spades' in the form of world mountains, from which the public will be invited to build mountains of sand across the UK coastline and play out the world's natural geography against a series of tidal times. Each pail is a scale model of five of Earth's mountains:
Mount Kilimanjaro (Africa), Mount Shasta (USA), Mount Fuji (Asia), Stromboli (Europe), and Uluru
(Oceania), are nested together.
First There is a Mountain is set to be choreographed over the period of daylight saving time during British Summer Time. The artwork will tour twenty-five high profile coastal art venues around the UK, who will each stage a sand pail building event on their local beach. The ways in which the public interacts with the artwork at each location is integral to the evolution of the project and its overall experience.
Participants will sculpt beaches into thousands of mountains of sand to form micro-geologies. The artwork's inevitable ephemerality points to concepts around gravitational attraction – awareness of Earth's tilted axis during longer daylight hours and the UK's eroding coastline. First There is a Mountain is a poetic vehicle that connects diverse world mountains to smallest grains of sand, participants holding the world's geography in their hands, time / geology collapsing, and connecting through touch.
Katie Paterson says:
"From early childhood, we understand that sand marks time. First There is a
Mountain builds upon this concept, making us aware of mountain rocks' erosion over millennia, rock
shifting across Earth over continent's evolution, forming unique fingerprints of sand across our modern
coastline. The artwork invites the public to slow down. To consider the interconnectedness of the world,
its immensity conveyed in miniature. Connecting the archipelago via one water, one tide, one sand –
carrying mountains of sand across time. The extraordinary existing in ordinary things, everywhere."
Paterson carefully selected each mountain range via exacting research, using data from NASA's Shuttle Radar Topography Mission and the National Geospatial Intelligence Agency. The sand pails are made from 100% fermented plant starch and are fully bio-compostable. At the end of the tour, they will be composted, reabsorbing back into the natural environment from which they were created.
First There is a Mountain is a collaborative cross-disciplinary project and twenty-five new pieces of
writing have been commissioned to accompany the artwork's evolution. The texts will form a digital anthology, bringing together celebrated authors, poets, geologists, earth scientists, ecologists, and art writers. Each text will creatively respond to the artwork and will be conveyed via spoken word at the start of each public event. The diverse writings will connect with each locality, relating the artwork to the place, its people, its history and the wider geological context.
Dates and beach locations:
3/31/2019: Whitstable Biennale, Kent (Leysdown Beach, Isle of Sheppey
4/7/2019: Tate St Ives, Cornwall (Porthmeor Beach)
4/14/2019: Newlyn Art Gallery, Cornwall (Porthcressa Beach, St Martins, Isles of Scilly)
5/5/2019: Glynn Vivian Art Gallery, Swansea (Swansea Bay) ?
5/12/2019: Quay Arts and Eccleston George, Isle of Wight (Sandown Bay) ?
5/19/2019: MOSTYN, Llandudno (West Shore Beach) ?
6/2/2019: Grundy Art Gallery, Lancashire (Blackpool Beach) ?
6/9/2019: CCA, Londonderry, Northern Ireland, in partnership with the National Trust (Portstewart Strand)
6/16/2019: The Fruitmarket Gallery, Edinburgh (Portobello Beach) ?
6/23/2019: Aberdeen Art Gallery, Aberdeen (Aberdeen Beach) ?
6/30/2019: Pier Arts Centre, Orkney (Waulkmill Bay)
7/7/2019: An Lanntair, Stornoway, Isle of Lewis (Coll Beach) ?
7/14/2019: Taigh Chearsabhagh Museum and Arts Centre, North Uist (Baleshare Beach) ?
21/07/19: Atlas Arts, Isle of Skye (Glen Brittle Beach) ?
7/28/2019: Comar, Isle of Mull (Calgary Beach) ?
8/4/2019: Berwick Visual Arts, Northumberland, in partnership with the National Trust (Seahouses Beach)
8/11/2019: Turner Contemporary, Kent (Margate Main Sands) ?
8/18/2019: NGCA, Sunderland (Roker Beach) ?
8/25/2019: Scarborough Art Gallery, Yorkshire (Scarborough South Bay) ?
9/1/2019: 20-21Visual Arts Centre, Scunthorpe (Cleethorpes Beach) ?
9/8/2019: Customs House, South Shields (Little Haven Beach) ?
9/15/2019: The National Trust at Studland Bay, Dorset (Studland Bay)
9/22/2019: Tide & Time Museum, Norwich (Great Yarmouth Beach)
10/6/2019: The Atkinson, Merseyside, in partnership with the National Trust (Formby Beach)
10/27/2019: Focal Point Gallery, Essex (Three Shells Beach) ?
About The Artist
Katie Paterson (born 1981, Scotland) is widely regarded as one of the leading artists of her generation. Collaborating with scientists and researchers across the world, Paterson's projects consider our place on Earth in the context of geological time and change. Her artworks make use of sophisticated technologies and specialist expertise to stage intimate, poetic and philosophical engagements between people and their natural environment. Combining a Romantic sensibility with a research-based approach, .conceptualrigour and coolly minimalist presentation, her work collapses the distance between the viewer and the most distant edges of time and the cosmos. Katie Paterson has exhibited internationally, from London to New York, Berlin to Seoul, and her works have been included in major exhibitions including Hayward Gallery, Tate Britain, Kunsthalle Wien, MCA Sydney, Guggenheim Museum New York, FRAC Franche-Comté, The Art Institute of Chicago and The Scottish National Gallery of Modern Art, Edinburgh. She was winner of the Visual Arts category of the 2014 South Bank Awards, and is an Honorary Fellow of Edinburgh University.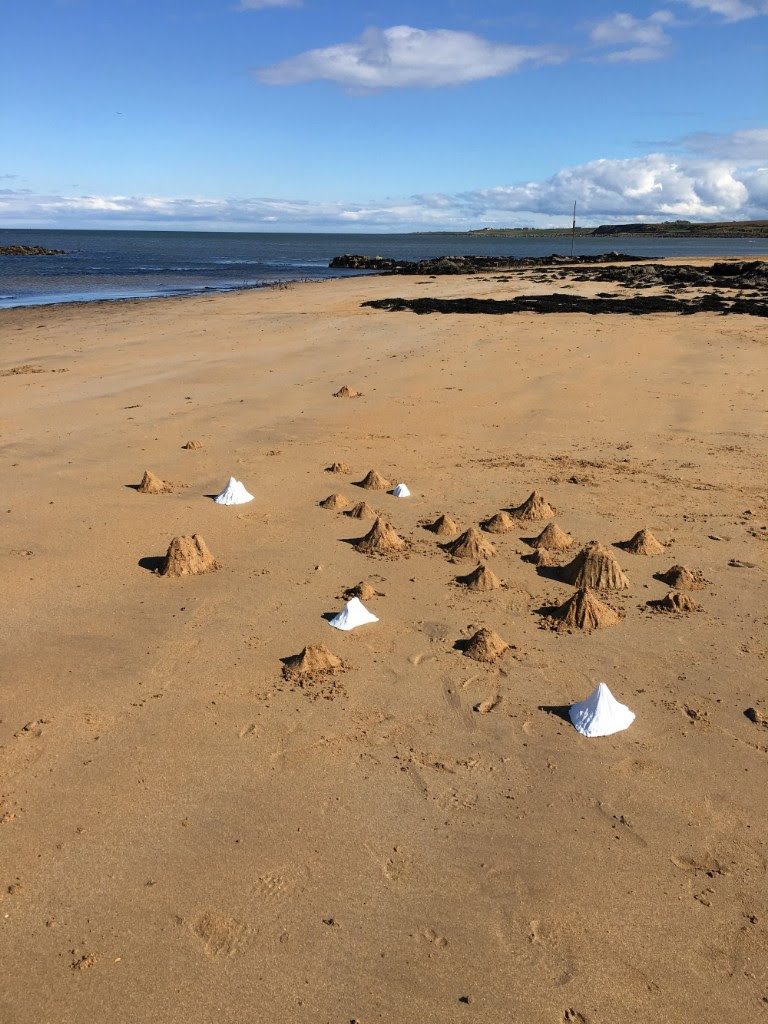 Categories
Tags