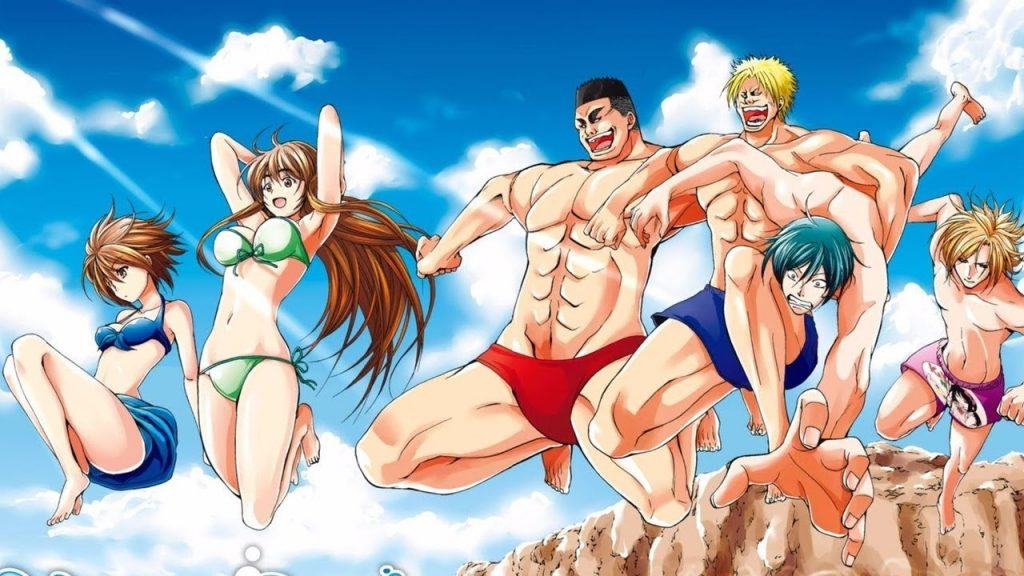 With summertime now in full swing, the second wave anime releases of the summer is upon us!
Which ones are worth staying indoors for though? Here's a run through of the newest most promising releases of the season.
Kyoto Teramachi Sanjou No Holmes (Holmes of Kyoto):
(Seven)
New to Kyoto, Mashiro Aoi finds herself working part time at an antique shop with co-worker Yagashira Kiyotaka, the store owner's son also known as Holmes, partly for his uncanny observation and deduction skills. When the two of them pair up, mysteries are resolved and answers found no matter how puzzling the task at hand.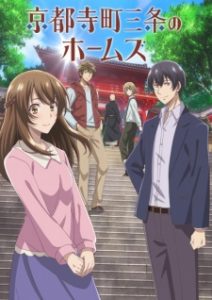 First impression: The story having been set in the culture filled city of Kyoto brings an interesting touch of history to the series as well as serving as a guide to several of the city's more traditional districts.
Even though 'Holmes of Kyoto' is a mystery anime, Yagashira's uncanny knowledge and deduction skills makes solving riddles almost too easy, Mashiro's presence suddenly seeming like an afterthought. So far lacking in excitement and in actual mystery, the anime remains interesting through its educational theme and the knowledge it subtlety unloads onto its audience.
High Score Girl
(JC Staff)
In 1991, the flourishing arcade scene turned 6th grader Yaguchi Haruo into an unbeatable video game rival, placing him first in high score lists as he spends every waking hour outside of school honing his craft. Who would've thought that wealthy popular girl Ono Akira would give him a run for his money going head to head with him at his favourite game?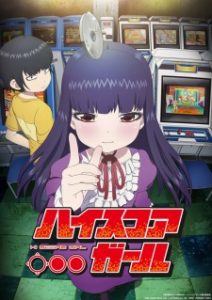 First impression: Retro video games and an interesting art style tailored to the gaming theme of the series, loyal to the manga's particular original art. Easy to watch, fully entertaining and while the characters' animation is slightly game-like itself, it doesn't take away from the story's ambiance and narrative which seems to focus around the budding friendship between the two main characters. More than just a blast from the past, High Score Girl also takes on an educational aspect, treating its audience to game facts and trivia.
Angolmois: Genkou Kassenki
(NAZ)
A historical anime series in which Japan prepares to defend itself against the first Mongol invasion of 1274, a fierce and deadly warlord in its lead.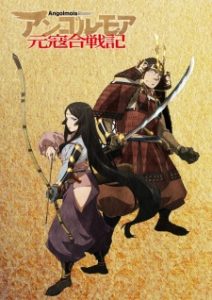 First impression: As far as historical series go, the premise for Angolmois is an exciting one, the invasion attempt on Japan by the Mongol more of an untold story. The anime appears to focus on main character Kuchii Jinzaburô, an exile amongst many others sent to the island of Tsushima to help fight the incoming Mongol army. The series appears to be slightly more character driven which could steer it away from its primordial historical theme if not properly balanced. Whether Angolmois needs a few episodes to adapt to its own pace or if it's bitten off than it can chew is yet to see.
Phantom in the Twilight
(LIDENFILMS)
A young girl arrives in London to study abroad, following in her great-grandmother's footsteps. When her belongings get stolen by a mysterious thief, she chases after the creature through the city's streets only to stumble into a café run by three peculiar young men, their true nature maybe more than she ever bargained for.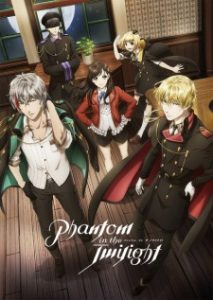 First impression: Phantom in the Twilight depicts some sort of magical underworld within the city of London, a young girl (Baileu Ton) suddenly finding herself in the midst of it. As far as leading female protagonists go for summer releases up until now, Ton seems to be the most strong headed one, casting aside the damsel in distress role and taking matters into her own hands, this alone making for a refreshing perspective next to similar series. The question now is whether Phantom in the Twilight intends to label itself as a more classical 'reverse harem' genre or will be flipping the switch to something new altogether.
Lord of Vermilion: Guren No Ou
(Asread)
When a high frequency sound is heard throughout Tokyo in 2030 making everyone in within hearing proximity lose consciousness, a creeping red mist follows, taking prisoners and cutting off certain parts of the city. When college student Kamina Chihiro finally wakes up 5 months after the incident, a hidden power is awakened inside of him, making him a target him and prompting him to fight battles from a past he has yet to remember.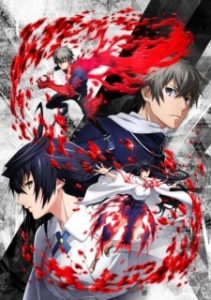 First impression: Many elements and events take place as early as the first episode with Lord Vermilion, the odd ambiance and intensity of the very first scene slightly off putting in itself, unclear if it's supposed to announce the tone for the series or if it's just a key event to look out for in following episodes. That's just the first of many questions raised when it comes to this anime as mysteries come pouring in one after the other making for a somewhat irritating first watch. Lord of Vermilion's success will depend on how much the thick suspense will actually bring something to the story once lifted.
Muhyo to Ryouji no Mahouritsu Soudan Jimusho (Muhyo and Ryouji's Bureau of Supernatural Investigation)
(Studio Deen)
As ghost crimes multiply, so do spirit laws and their punishments if broken. Here to enforce these laws is Muhyo and his assistant Ryouji who run their own Bureau of Supernatural Investigation. Need an exorcism? They're the ones to call.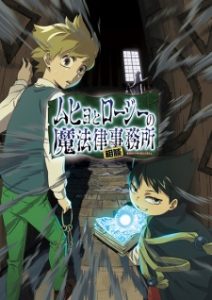 First impressions: Based on a manga written around 10 years ago, Muhyo and Ryouji appears to be a classical shonen (for boys) series with quirky looking characters and a supernatural theme. Staying within the lines doesn't make the anime bland however, the story's ambiance and universe eagerly pulling newcomers in with the promise of excitement and mystery. Well built and ready to launch, this adaptation could be a keeper.
Happy Sugar Life
(Animeism)
Matsuzaka Satou believes she has found true feelings of love when young Shio comes into her life, making everything sweet and wonderful. How far will she go to preserve this special feeling when others seem to constantly be getting in the way of their love?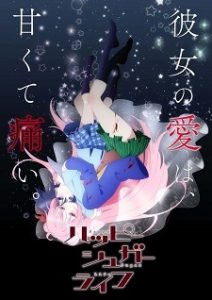 First impression: For a horror anime, there's definitely something intensely creepy lingering in the series' atmosphere regardless of how cute and cheerful the art style and colours are; the contrast between the two making for quite an intriguing watch as the story unveils, uncovering layers of suspense and mystery. Sweet, addictive and adequately deranged, Happy Sugar Life might hold the perfect recipe for a successful horror anime.
Grand Blue
(Zero-G)
Kitahara Iori looks forward to an ideal college experience as he moves to the Izu Peninsula, taking up a room above his uncle's diving store. Quickly swept up by his new lifestyle, he discovers the true meaning of what a college experience is as he is prompted to drink and party with rowdy new friends from the diving club. New relationships instigate new passions as Iori fully partakes in club activities which incidentally includes diving.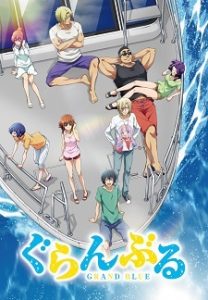 First impression: With anime depicting college party scenes being stubbornly rare, it's no wonder that Grand Blue is high on the list of anticipated anime adaptations, its release fitting perfectly with the summer theme: the tropical vibes of the Izu Peninsula, the partying, the deep blue sea… the partying. If binge drinking is generally unpopular in other anime, Grand Blue takes matters into its own hands to make this aspect of college life known, unfortunately overcorrecting in the process. If diving is one of the redeeming qualities of the series, so far, it very much gets squashed by the repetitive running gags and inaccurate art style.
Jashin Chan Dropkick (Dropkick on my Devil!)
(Nomad)
Unable to return to hell after being summoned by blasé witch Yurine, serpent girl Jashin chan is forced into cohabitation, her only salvation being the successful murder of her summoner. Until that day comes though, Jashin chan gets to live a slapstick relationship with Yurine and her cast of angelic and demonic friends.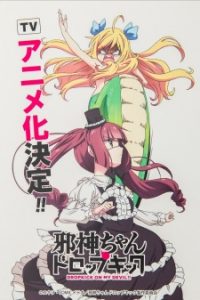 First impression: Hilarious to no extent, Dropkick on my Devil doesn't hold back when it comes to its slapstick comedy, bringing it to a whole new level with Yurine's torturous punishments for Jashin chan's mischievousness. With a cute comedic art style contrasting perfectly to the series' dark humour, Jashin chan promises peals of laughter and entertainment.
Tenrou: Sirius the Jaeger
(P.A Works)
Following a clan of thirsty vampires, a group of hunters called 'The Jaegers' arrive in 1930 Tokyo on a lead to fight the mysterious 'Arc of Sirius'. Joining the fight is Yuliy, a Jaeger with strange powers and a dark past. What truths will they uncover?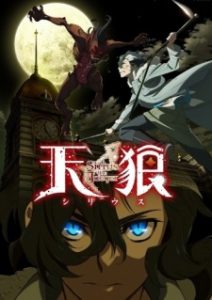 First impression: With a colourful and diverse cast followed by intrigue from the very first episode, Tenrou: Sirius the Jaeger shows promise as an action horror anime, Yuliy's character captivating attention from the start. The skilled art style fits the series' aesthetic, raising its storytelling to the next level making this anime a must-watch if it keeps going in the same direction.
Yuragi Soun No Yuuna San
(Xebec)
Yuragi Inn is a cheap place to stay at, rumoured to be haunted by spirits regardless of its former bathhouse glory, which is why broke high school student Fuyuzora Kagarashi can afford to live there, his psychic and exorcism skills protecting him from supernatural beings. When he finds himself sharing a room with Yuuna though, the spirit of a young girl bound to the mansion, he can't bring himself to send her to the afterlife, deciding on helping her resolve any unfinished business keeping her around. Does Fuyuzora fully know what he's getting himself into by staying at the inn?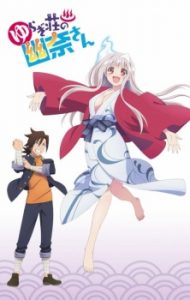 First impression: As far as harem anime go, Yuragi Sou No Yuuna San is definitely one of the more raunchier ones out there, its flamboyant cast of ladies eagerly finding themselves in the most compromising of positions in the presence of the relentless lead character. Overly sexy with unlimited fan service scenes, it's sometimes difficult to remember the anime's storyline behind these generous layers of bare skin.
More anime action HERE
Categories
Tags