Stuart Semple to install 'Emotional Baggage Drop' in Denver's Union Station during Mental Health Awareness Week to launch 'Happy City' citywide takeover. Semple's pop-up kiosk will enable strangers to connect with one another in an intimate and anonymous setting, as a way to un-burden themselves emotionally before exploring the rest of the British artist's citywide happiness initiative.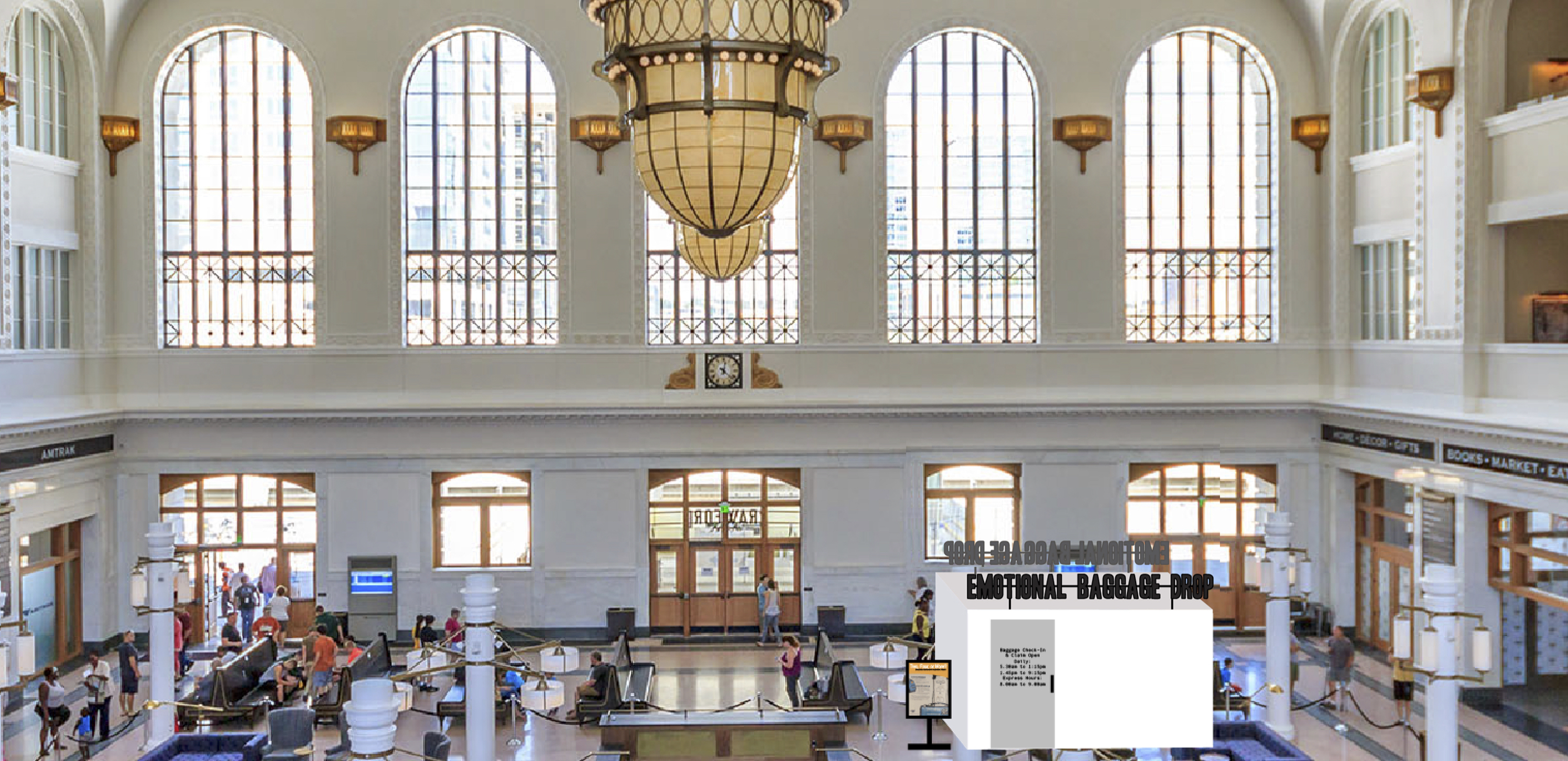 The Emotional Baggage Drop will be unveiled this Friday 18th May in Denver's iconic grand hall within Union Station itself. Denver's primary train station – the first view of the city for many out-of-town visitors – is a busy commuter hub and lends the perfect environment for Semple's art-deco inspired installation artwork.
Recent studies have shown that the morning commute is the most stressful part of the majority of people's days, particularly women. Semple is keen to intervene and assist by providing a much-needed service.
As well as being a renowned international contemporary artist, Stuart is also a high-profile campaigner for Mental Health. He is an ambassador for Mind, the UK's largest mental health charity, through which he initiated the creative therapies fund in 2012. He is the creator of Amazon bestseller 'My Happy Colouring Flip Book' and has spoken about mental health at Oxford university, Southbank Centre and Dublin Museum of Art. Stuart is passionate about making public spaces more inclusive, compassionate and welcoming, recently launching HostileDesign.org, his campaign to eradicate hostile furniture and architecture, including public benches specifically designed to deter homeless sleepers.
Semple explains:
"The Emotional Baggage Drop is a light-hearted way of creating a space where people can get their emotions out in the open. We all have feelings and emotions, and letting them bottle up inside is really unhealthy. Sadly, due to the stigma that exists, we feel we need to keep anything negative to ourselves. The truth is that 1 in 4 of us in any given year will have a mental health problem. I'm hoping the Baggage Drop will give us a chance to connect with one another in an intimate yet anonymous way, and ideally I'd like to prove the old adage, 'A problem shared is a problem halved', might actually be true."
The Emotional Baggage Drop is the first part of Semple's wider 'Happy City' takeover of Denver, which promises a top-secret HQ venue, large scale sculptural installations at high-profile landmarks throughout the city, and several Happy Cloud releases into the skyline (eco-friendly smiley-faced artificial clouds) from several sites including the Denver Art Museum, Red Rocks and a number of public libraries. 'Happy City' will end with the installation of a giant inflatable dance floor in Downtown Denver. 'Happy City' will also encompass an auxiliary programme featuring local artists, talks, lectures and community group activities.
Stuart says:
"I'm amazed by how brave the City of Denver has been with the Happy City project, handing over such high-profile locations and supporting quite radical ideas around community, wellness and connection. Denver is already a happy city, so I am hoping everyone enjoys what we've made."
For more info visit: www.happycitydenver.com
Categories
Tags