Artist Capo's Finest to unveil 'Scars of Democracy' at STROKE Art Fair in Munich (9-13 May): World Leaders including Trump, Merkel, Obama and Berlusconi depicted with tattoos visualising their misdemeanours.
Deeyah Khan, Unesco Goodwill Ambassador for Artistic Freedom and Creativity is quoted as saying:
"The rights of artists to express themselves freely are under threat worldwide. Art has the extraordinary capacity to express resistance and rebellion, protest and hope"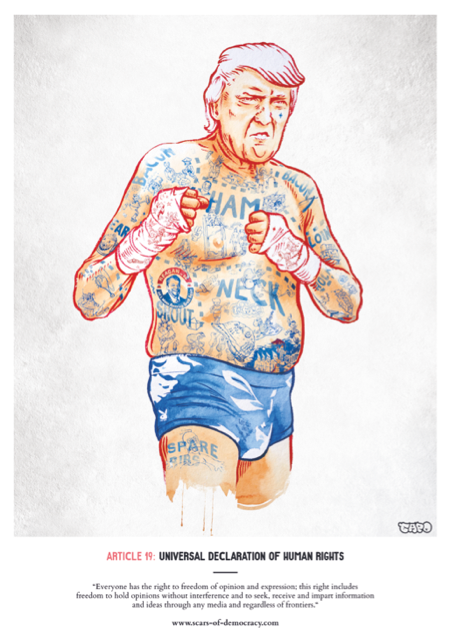 This manifesto is at the heart of the mission of STROKE Art Fair, Germany's most influential showcase of emerging contemporary artists, to present artists who are bold enough to take a stand and defend their point of view even under pressure. STROKE Art Fair supports the freedom of expression in arts and entertainment: a human right since 1948 set out in Article 19 by the United Nations General Assembly.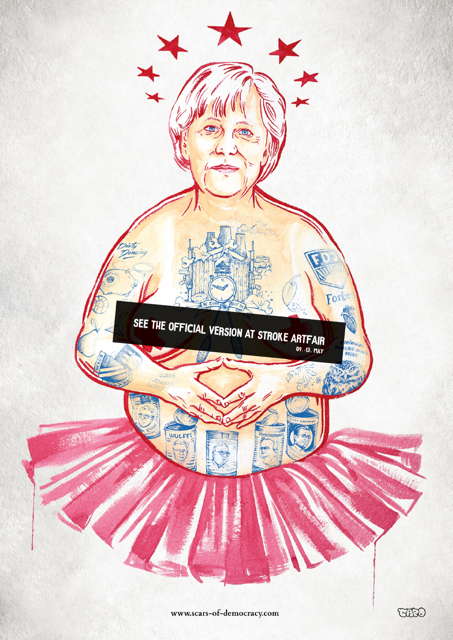 STROKE Art Fair approached Capo's Finest in 2017, when he was working on a series of large scale investigative paintings of World leaders including; Berlusconi, Trump, Merkel, Sarkozy and Obama. Capo's Finest portrays the politicians with multiple tattoos covering their bodies, symbolizing some of the less savoury actions they were responsible for during their leadership. He finished the series in time to exhibit at the 2018 edition of STROKE.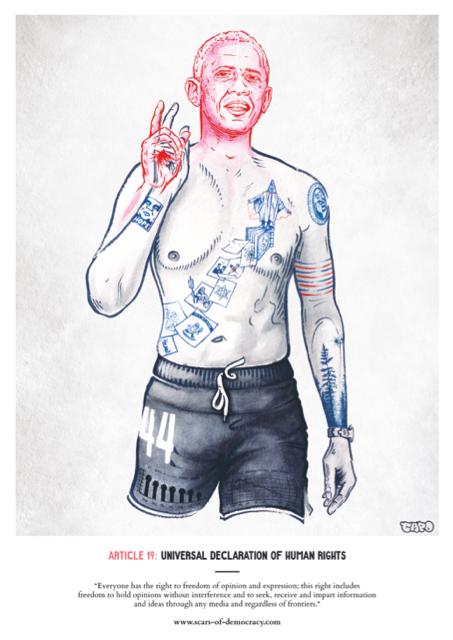 The watercolours on Indian mould made paper are almost on a 1:1 scale (140 x 100 cm) and paste-ups of Berlusconi were put up on the streets of Italy (Apulia and Lago di Garda); and of Merkel in Crete and Germany.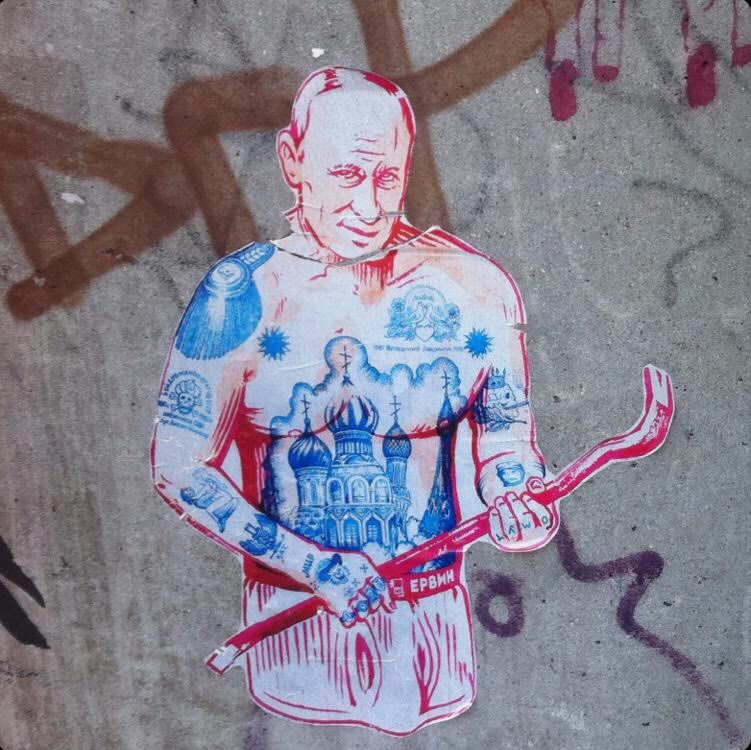 Although they have a serious message that world leaders should take responsibility for their actions, there is also a sense of humour, especially in the portraits of former French President Nicolas Sarkozy as a puppet of Carla Bruni, and ex-British Prime Minister David Cameron depicted with a Union Jack Hat protecting his modesty with 'Lets rip Britain Apart' tattooed on his tummy in a nod to his parting shot of divorcing Britain from the EU and unleashing the Brexit nightmare.
Capo's Finest comments: "I disagree with a lot of what's happening in politics around the globe at the moment. So I did, what I do best. I painted it: I created portraits of 8 politicians and tattooed their political decisions and the respective consequences affecting democracy onto their bodies. I applied 2 criteria to my selection of leaders for my 'Scars of Democracy' series; Their election had to be "officially democratic"; and I refused to do pictures of the typical "slaughterhouse-dictators" such as Hussein and Gaddafi, as I don't want to give them any more media attention. I interpreted their 'deeds' as Tattoos, and painted them on a large 1:1 scale so they can be presented at the art fair on eye level with the viewer. Because the deeds of the politicians are real, as are the people who have to live with their consequences."
STROKE Art Fair, 9-13 May, Munich: http://www.stroke-artfair.com/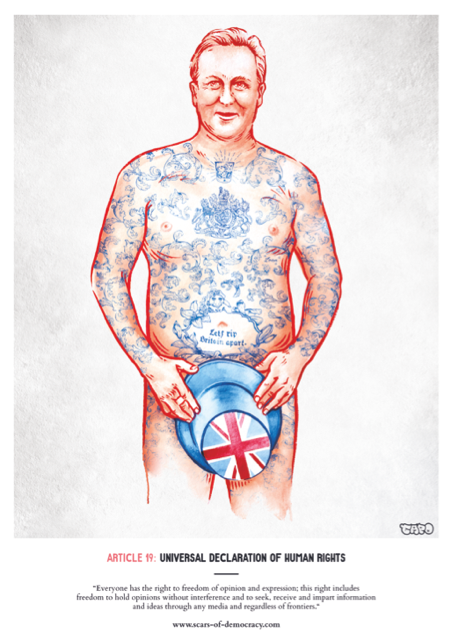 Categories
Tags