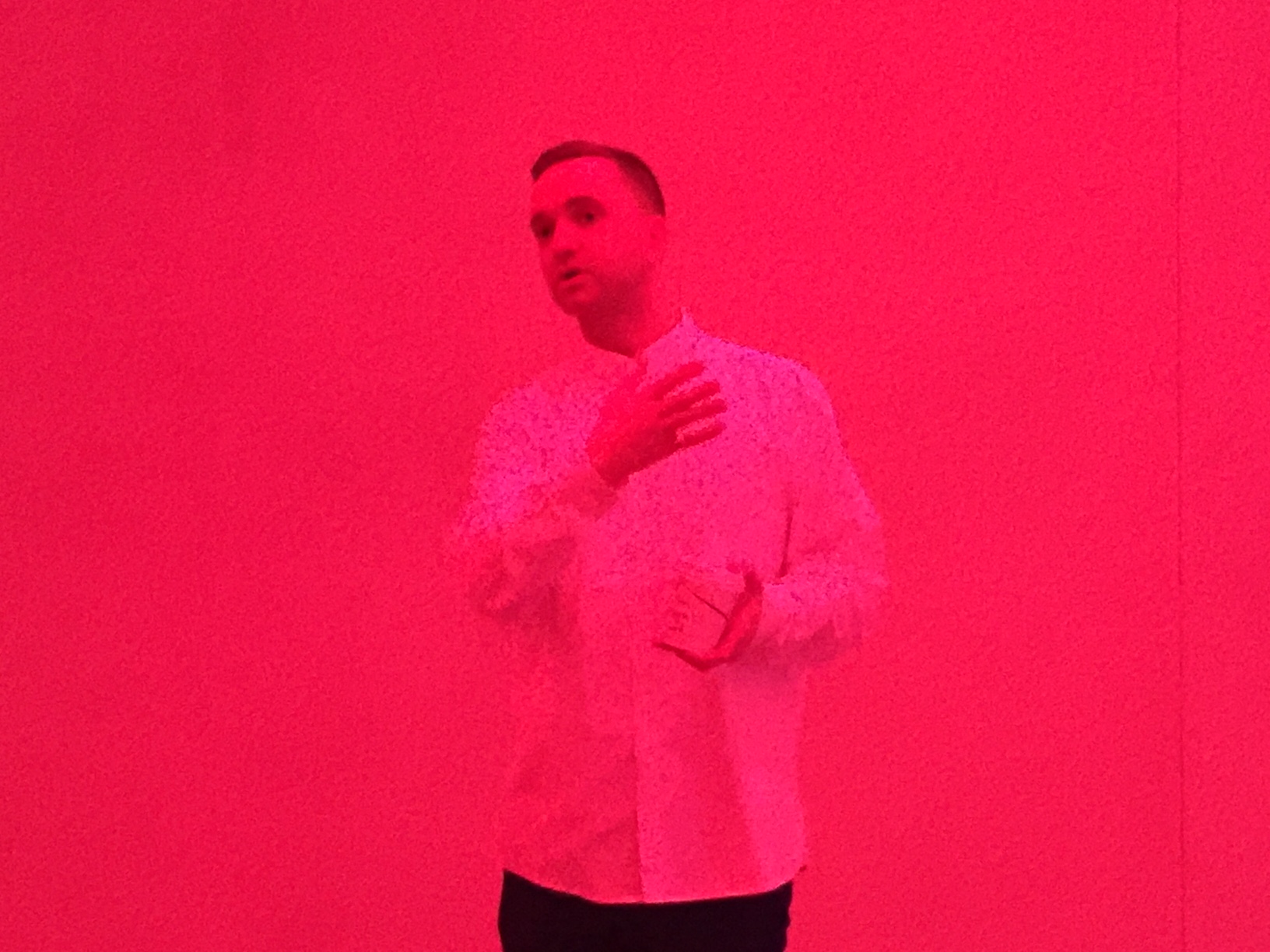 FAD Editor-in-Chief Mark Westall managed to catch a few words with Eddie Peake at the press view of his new exhibition 'Concrete Pitch' at White Cube Bermondsey. This is an abridged version of the interview, edited for brevity.
Mark Westall (MW): I went to a comprehensive in East London and I really think that the diversity of cultures, the mix of students from Pakistan, India, the West Indies etc., who I met on the concrete football pitch at school has greatly influenced and bettered my life. Your exhibition is named after a concrete pitch in Finsbury Park which I feel probably served a similar function in your development. Have you ever thought what your life would have been if it hadn't had that concrete pitch in it?
Eddie Peake (EP): Yes absolutely, I mean even at a metaphorical level. I similarly went to a comprehensive with an equally diverse student body and I'm very glad about that. Also the concrete playground I hung out in, in Finsbury park also enabled me to mix with people from diverse backgrounds, cultures and economic spheres. And it's why I feel aggrieved being in the art world. I feel my life has filtered out that level and extent of diversity through my involvement in art and academia. So I feel aggrieved at that filtering out of diversity.

Eddie Peake Concrete Pitch White Cube Bermondsey London
MW: The idea of the loop is quite integral to your exhibition, appearing in many ways. Is that because you feel your life is in a loop?
No, that idea of the loop sounds quite conspiratorial to me; that's not where my interest in the loop lies. I'm interested in it in a variety of ways.
One is extremely mundane and in a quotidian capacity. The performance I'm doing is a loop; it's a daily loop of actions that are entirely mundane and banal but I am interested in the fact that they create patterns like the patterns of everyday life like brushing teeth or whatever.
Then I'm interested (in the loop) also as a more abstract psychological way. I made passing reference to mental illness in the intro to the show I just gave and I'm interested in the idea of the loop as analogous with obsessive compulsive ideation. A spiral of negative mental ideas and thoughts.
So there's that, and also the sonic aspects of it. The music that Kool FM is playing is widely based on loops, (and) that's true of much dance music I would argue. My soundscape piece 'Stroud Green' is constructed using loops but in a much more abstract, non-rhythmic way and over longer cycles.
MW: This show has a similar format/feel to what you did at the Barbican…
EP: Absolutely. The thing about this gallery at the White Cube is just how huge it is. However, now its been filled it has become a much more manageable playground of sorts, but you are right. Though I didn't plan the show to be like this, it has become a kind of sequel to the Barbican show. Both of them make integral use of the space they are presented in. So where the Barbican show was in The Curve and worked with that curve, integrating it within the exhibition narrative, the objects, the works that were implicit in that show. In this space, my first immediate decision was to use the whole space. Most artists who use the space build walls to divide up the space and I feel that they are not using the single most idiosyncratic thing of this space; the sheer magnitude.
So I want the viewer to really experience that scale – that space – when they are in the show. And when the non-linear narrative that exists in the show is much more open-plan and free-form, where the Barbican show was laid out as a journey to undertake.
Moments where you can be hidden is one of the ideas I work with a lot, similarly looking and the gaze,  and the implicit dynamic in those actions. So there are moments in the show where you as viewer perform. When I'm hidden, I'm in the powerful position of looking, and so on and so forth.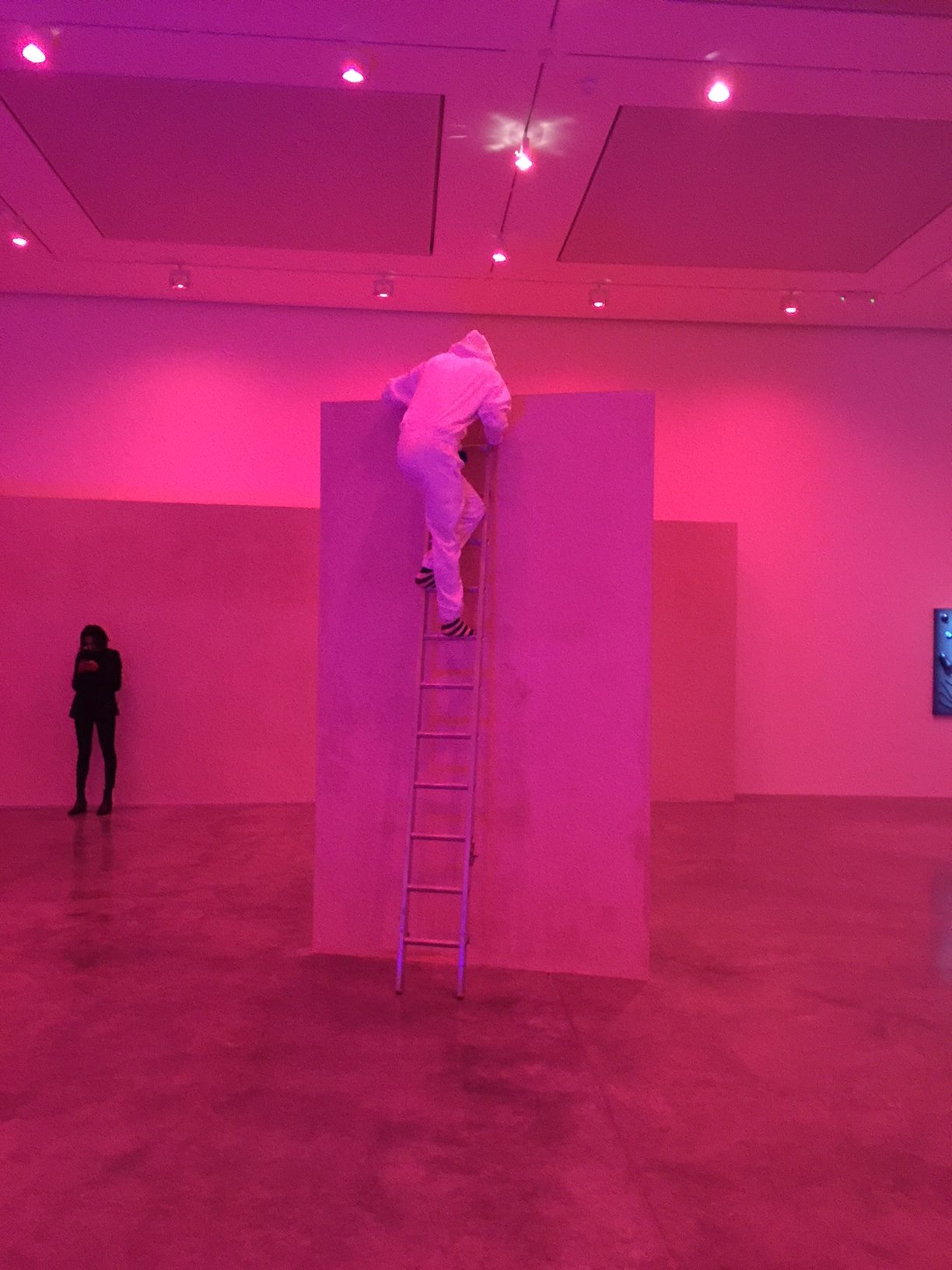 MW: You play on lots of elements in your work, is that really important to you?
EP: I vehemently maintain the freedom to go in any direction in which I want. It's quite difficult to do for many reasons. I want the work to be experienced in this 'total way', having said that I do think there is a singular discipline that I work in, I consider it to be exhibiting. Wherever you are in the exhibition you can feel there is a cohesive whole that you experience as the viewer. So despite the fact there are sounds, smells, images, materials, processes,  there is a narrative, an object orientated part to the show.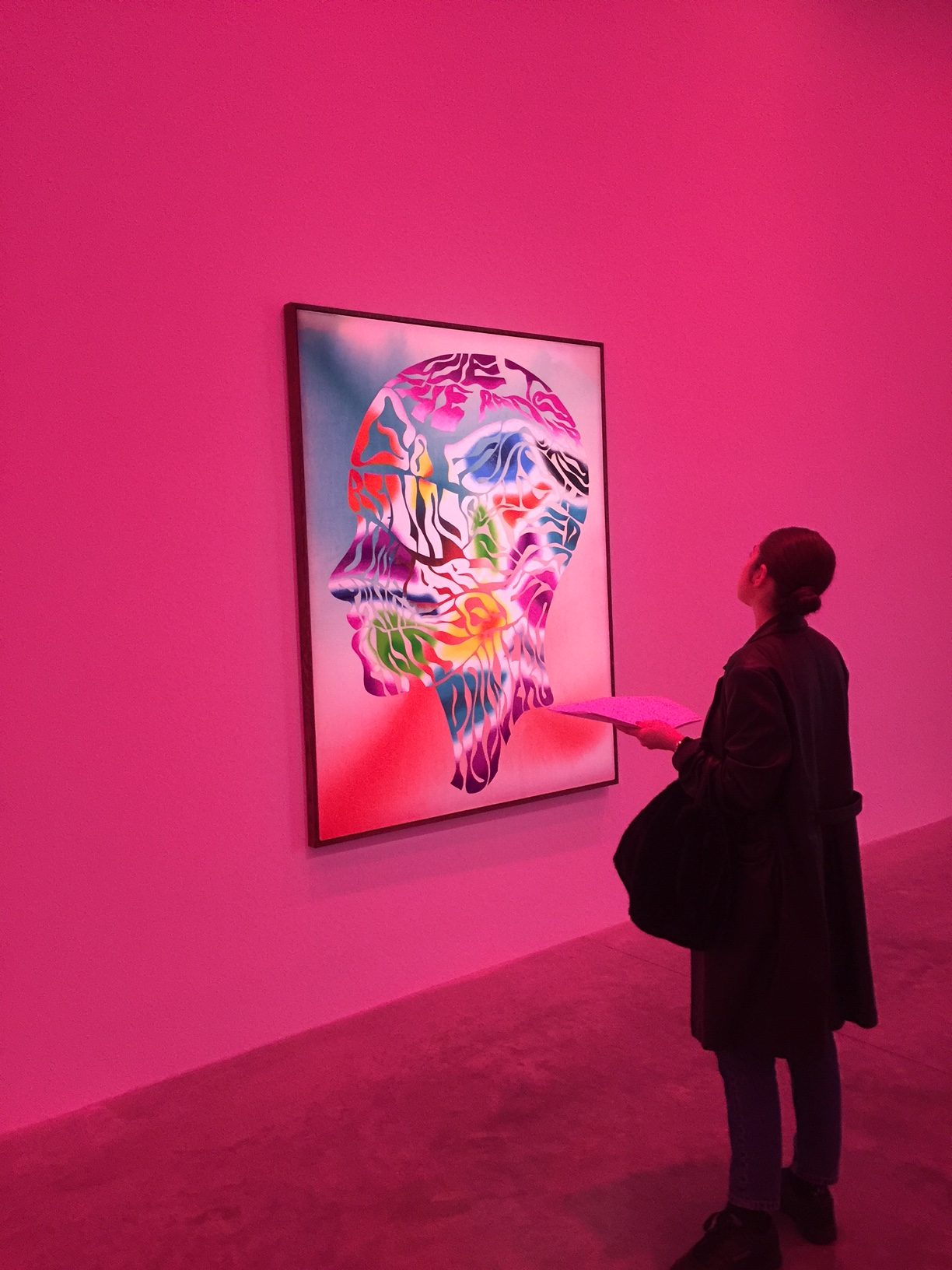 MW: In the show there are a few oil paintings and a sculpture (Slab) which is a new thing for you. Why did that happen?
EP: The oil painting was a way of slowing down my making process. I work very fast, it's a pure inclination to make that way – I enjoy it. Acting immediately on ideas and being able to produce quickly. Those works are a way to try and slow the process down and the work.
The relief sculpture,  that's actually a work that I've been trying to make for about five years and its been really difficult to get it right. And in-spite of the fact I've been working on it for so long, I'm somewhat bamboozled by it (which is amazing) as an object. That it's finished – and by the way it has manifested itself in a way that I pretty much actually envisioned at the beginning of the process – but seeing it come to life I'm somewhat dumbstruck by it…
It hits me in a guttural way that transcends language – I enjoy that…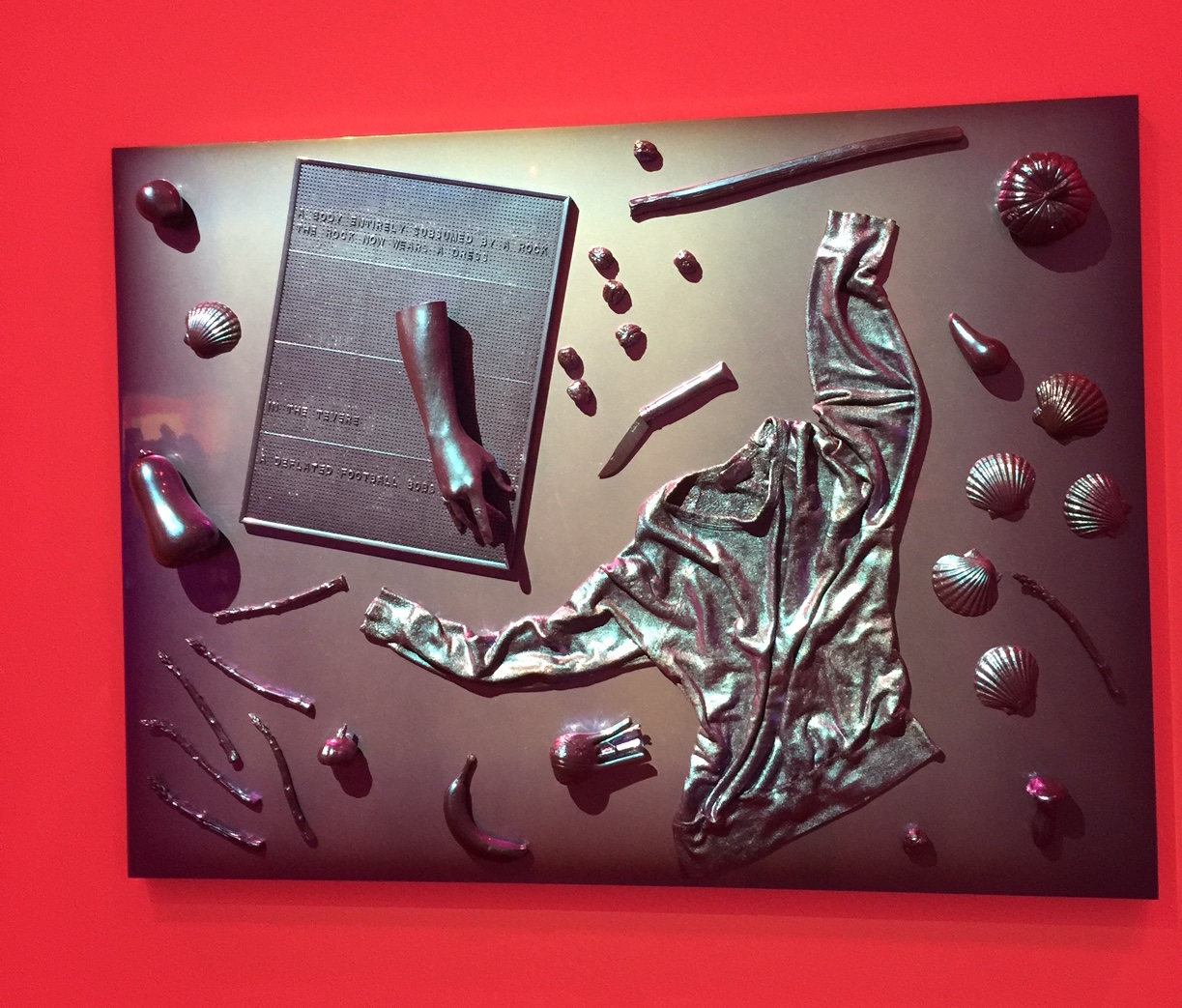 Eddie Peake Slab 2018 
See Eddie Peake Concrete Pitch at White Cube Bermondsey on until 8th April whitecube.com
Categories
Tags