A complex collage of movement and sound, Eddie Peake's live performance Relinquish (2017) takes place in the White Cube Bermondsey courtyard on Monday 2 October from 8pm.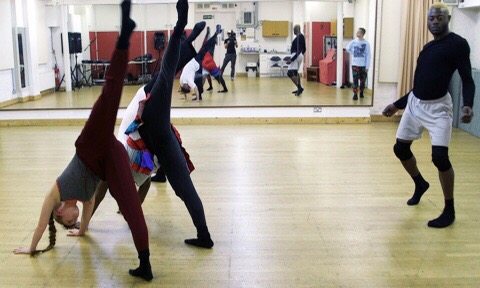 Throughout Frieze Week a new work filmed during the creation of 'Relinquish' is projected outside White Cube Bermondsey from 7pm onwards.Relinquish features four dancers, each locked in an individual, looping sequence of complex, choreographed movement. At certain points, two or more dancers fall into fleeting synchronisation, or interact, before diverging into their independent routines. The fifth performer is the artist, creating a live, heavily-reverberant soundscape, collaged from fragments of iPhone field recordings and voice memos. Though fragmented and abstracted, the narratives played out between the performers in Relinquish allude to power structures within relationships in the broadest sense of the word – romantic, sexual, familial, societal and cultural.
Eddie Peake's new performance builds on a series of works created for Tate Modern, London (2012), Chisenhale Gallery, London (2012), Performa Biennial, New York (2013), Deitch Projects, New York (2016) and the Fiorucci Arts Trust (Naples and Stromboli, 2017).
Peake's work will have a continuing presence throughout Frieze Week in the form of a new video piece projected onto an external wall in the Bermondsey courtyard and visible after dusk 3–8 October. Filmed during the creation and rehearsal of Relinquish, the camera circles among the dancers, placing us intimately inside the performance.
White Cube Bermondsey 144 – 152 Bermondsey Street London SE1 3TQ
Eddie Peake at White Cube, Bermondsey
Live performance: Monday 2 October 2017, 8pm Screenings: 3–8 October 2017, 7pm onwards
Categories
Tags