Happy City is a radical, city-wide intervention by celebrated British artist Stuart Semple.
Launching across Denver in May 2018, Happy City will serve one sole purpose – to incite widespread happiness by breaking down social barriers, increasing connection among strangers and fostering wellbeing.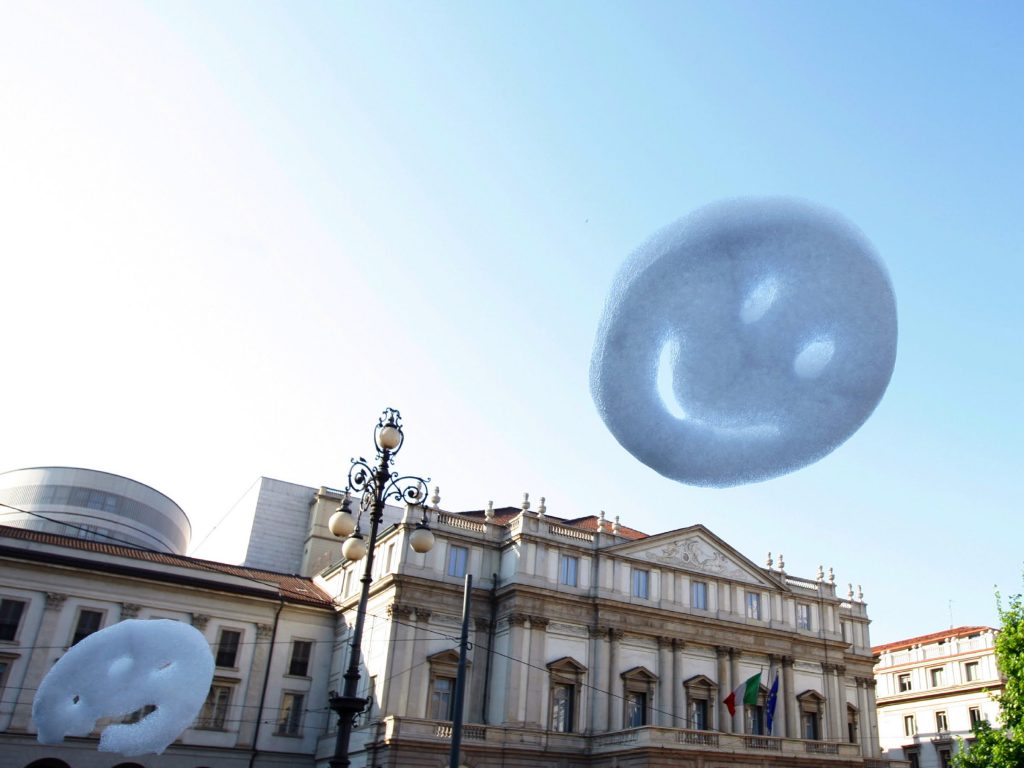 For the first time, an artist will be working on a city-wide level, collaborating with Denver in transforming many high- profile locations through a series of colossal installations and breathtaking immersive experiences. In many cases, permanent public artworks will remain as monuments to happiness. An initiative of the Denver Theatre District and curated by NINE dot ARTS, it is a first-of-its-kind venture, using art to truly make a whole city a happier and healthier place.
Semple is already famous for his major public art projects, which have seen his installations bring wonder and excitement to audiences around the globe, from the UK and Ireland to Russia and Australia. Even so, while continuing in the artist's signature mood of excitement and playfulness, Happy City will be by far his biggest and most spectacularly ambitious project to date. Motivated by the artist's profound belief that art has a unique ability to break down personal, emotional and social barriers, Happy City looks to cut through the cynicism that pervades the modern world.
In Denver's busiest rail station commuters will be encouraged to overcome the common barrier of interacting with one another, particularly with strangers. Inside iconic Union Station, for many the first entry point on visiting the city, people will be invited to confide in each other in the safe anonymity of the Emotional Baggage Drop ('Hello Stranger'), a humorous way to share emotions. The Emotional Baggage Drop is co-curated by Denver-based nomadic contemporary art museum, Black Cube. Outside, JUMP ('Bring Us Together') presents an immense interactive public installation, a monumental inflatable dance floor complete with the world's largest disco ball. For two weekends in May 2018, this massive outdoor art rave is free for all to attend.
Across town, a radically immersive, colourful makeover of the Colorado Convention Center Light Rail Station will transform it into 'Happy Station'. Filled with light installations, monumental paintings, interactive graphic works and large scale public sculptures, Happy Station is designed to bring playfulness and delight to the day-to-day commute, making it the happiest train station on earth.
Semple's 'Happy Clouds' will also be making a regular appearance as the artist floods the Denver skyline with thousands of huge artificial clouds in the shape of smiley faces. At night, 'Love Beacon', a dazzling outpouring of heart-shaped clouds, will be illuminated with all the colours of the rainbow, making them visible for miles – a love song from Denver.
The 'Coloring Café' will be a free and open space where anybody and everybody can paint, making their own contribution to Happy City. Using art materials such as 'the coloriest colors', created by Semple himself through what has become widely known as the 'Art Wars', this will be a dynamic manifestation of the themes Semple is concerned with in all his public art: accessibility, equality and elitism. The 'Art Wars' began when artist Anish Kapoor secured exclusive rights to Vantablack, the blackest substance on earth, meaning that no other artists could use the pigment. This sparked Semple's imagination and compelled him to create an elaborate piece of internet performance art, starting with the creation of the 'Pinkest Pink', available to all but Kapoor. Since then, Semple has created a whole roster of paints, pigments and other art materials. They continue to be used by artists worldwide and have taken on an extraordinary life of their own across all parts of the ethersphere.
Further installations and interventions will be announced closer to the time.
"We live in a time where public space is threatened with fear, and people seem to be more atomized and isolated than ever. I've always had this radical idea that art might be able to make life a bit happier and that it can be used to bring people together and Happy City is in many ways a grand manifestation of that dream. I am so incredibly lucky to be able to work on this scale and with such open-minded people in Denver. I'm hoping that what I share will work, and that we might actually prove that art in public spaces can be more than just decoration – that it can have a direct and useful public impact."
Stuart Semple
About The Artist
Stuart Semple is one of the UK's leading post YBA artists, perhaps best known lately for his Happy Cloud performance from Tate Modern, where he flooded the London skyline with pink smiley soap clouds. Following this, his Happy Clouds have been released in Moscow, Manchester, Milan, Australia and Dublin. JUMP, a giant inflatable platform, was also commissioned in Melbourne's Federation Square.
Most recently, Semple has been embroiled in what has become known as the 'Art Wars', which started when artist Anish Kapoor secured the exclusive rights to use Vantablack, the blackest substance on earth, meaning that no artists would be able to use the pigment. This sparked Semple's imagination and compelled him to create an elaborate piece of internet performance art, tackling the themes of accessibility, equality and elitism head on – starting with the creation of the 'Pinkest Pink', available to all but Kapoor.
Semple has held 15 critically acclaimed solo exhibitions internationally in Hong Kong, New York, Los Angeles and Milan. He has featured in over 50 group exhibitions alongside artists such as Peter Doig, Basquiat, Warhol, Richard Prince, Ai Wei Wei and The Chapman Brothers. He has been featured across the media in The Times, Modern Painters, Italian Vogue, i-D, Financial Times and many others. He has presented for the BBC and spoken at Oxford University, ICA, Denver Art Museum, Southbank Center & Irish Museum of Modern Art.
Semple has been honoured as a UN Happiness Hero, a distinction given to mark the UN International Day of Happiness on 20th March 2013. Stuart is also an ambassador for Mind, the mental health charity.
Categories
Tags