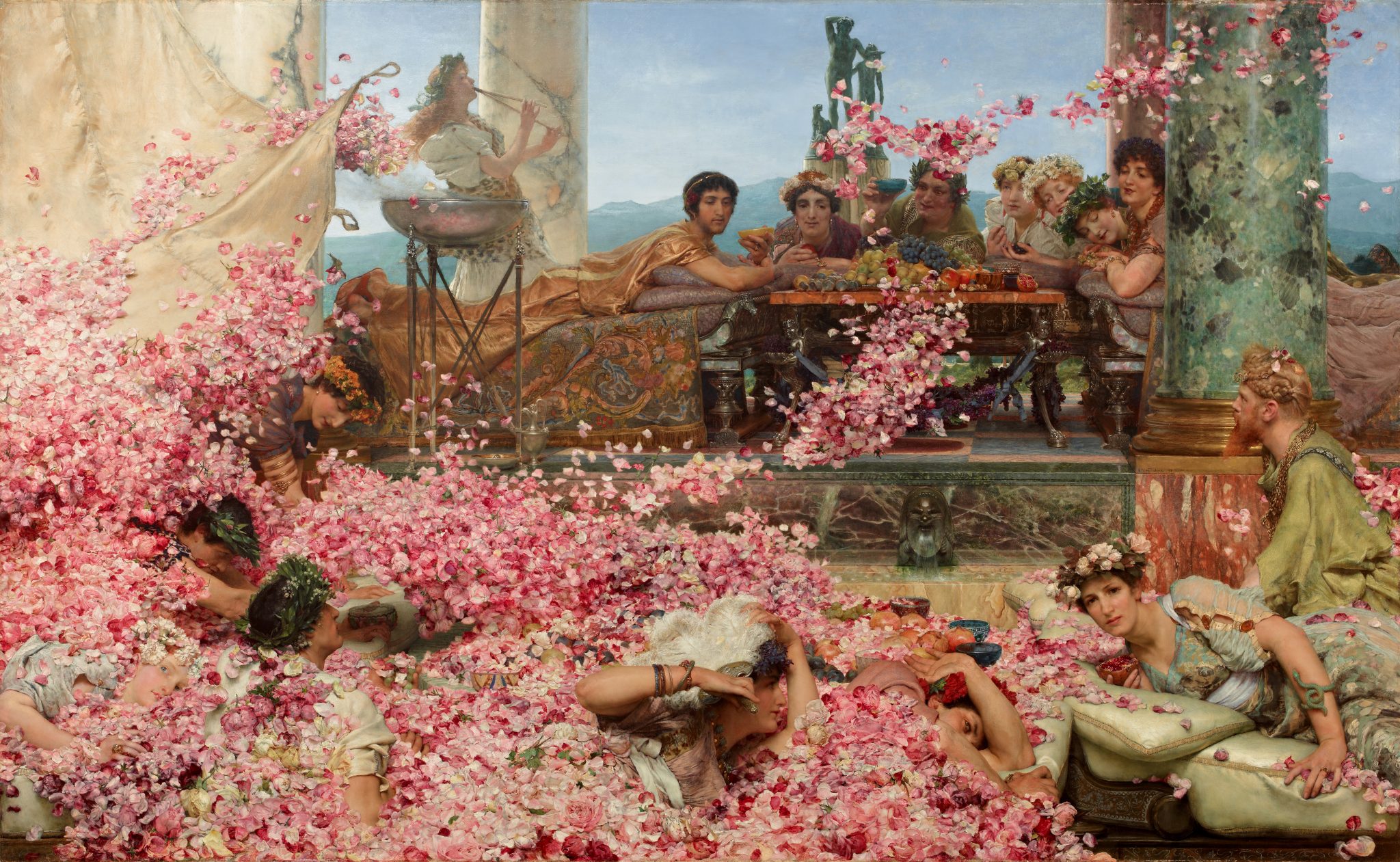 Sir Lawrence Alma-Tadema: 'The Roses of Heliogabalus', 1888 – oil on canvas,133 x 214 cm
Leighton House is a sympathetic environment for the significant Alma-Tadema retrospective (to 29 October) which has arrived in London from his native Friesland, for Lord Leighton's residence is as close as we'll get in spirit to the houses which the Dutch émigré (1836 –1912) commissioned.




Those homes fed into the classical and archaeological settings he depicted, often including the objects with which he surrounded himself. The best idea of what those settings looked like 'straight' is probably provided by the jewel-like watercolours which his daughter, Anna (1867–1943) painted of Townshend House in 1885. On the other hand, the setting does the paintings few favours: many of those in the first half of the show are poorly lit or hung too high, with the result that Alma-Tadema's lightening and brightening pallet after 1880 is exaggerated by the better conditions the later paintings enjoy in the studio area.
One of those well-illumed later works, a highlight which has travelled from Mexico, is 'The Roses of Heliogabalus'. Despite containing such characteristic tropes as beautiful women, marble, flowers, classical statuary and Roman dress, its attention grabber is the remarkably perverse and possibly apocryphal tale of how the Emperor (who ruled 218-222) ordered a false ceiling be removed so as to suffocate his victims in petals. Given that Heliogabalus – who came to power at 14 – declared himself a god, insisted on marrying a vestal virgin and liked to force the senate to watch his dance performances, the flower downing has some consistency. The effect is aesthetically dramatic, though I submit that that a far greater volume would be needed than Alma-Tadema shows if the air pockets were to be fatally eliminated.

Anna Alma-Tadema: 'Sir Lawrence Alma-Tadema's Study, Townshend House, London', 1885
Most days art Critic Paul Carey-Kent spends hours on the train, traveling between his home in Southampton and his day job in London. Could he, we asked, jot down whatever came into his head?
Categories
Tags