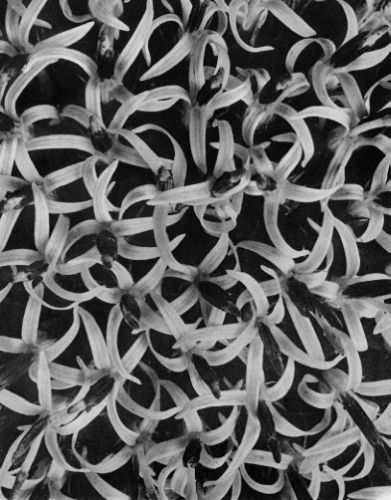 Karl Blossfeldt: Common globe thistle Echinops sphaerocephalus, part of a flower head – photogravure approx. 8 x 10 inches
The Hayward's interminable refit inches forward, I presume (it's meant to reopen on 25 Jan with Andreas Gursky after a 28 month closure), but South Bank shows still tour the country. The highest profile currently is Elizabeth Price's curation 'In a Dream You Saw a Way to Survive and You Were Full of Joy', at the Glynn Vivian Art Gallery, Swansea (to 28 Aug), but six more modest shows are also available for the very reasonable-sounding fee of £750*.




'Art Forms in Nature' presents 40 prints from the 6,000 negatives which Karl Blossfeldt (1865-1932) made in 35 years of somewhat obsessive documentation of plant forms using a homemade camera and lens that could magnify a subject by 30 times. He originally meant them as reference tools for botanical research, but the 1928 publication Urformen der Kunst showcased their microcosmic aesthetic: Blossfeldt was deemed an artist. The surrealists were particular fans, and George Bataille included Blossfeldt's images in the periodical Documents in 1929… All of which is, I suppose, well known, but the variably magnified and cropped black and white precision still makes the photographs unexpectedly varied and characterful 'in person'. Some plants, moreover, appear quite other than you'd expect (as in the close-up of a thistle's flower), or repeat hypnotically within an image. So – having seen the Southampton leg – I'd recommend looking in if you're in Letchworth (23 June – 10 Sept) or, en route to the Turner Prize perhaps, in Beverley** (23 Sept – 9 Dec).
Karl Blossfeldt: Slough grass Beckmannia cruciformis,fruiting spikelets –
photogravure approx. 8 x 10 inches
* See https://www.southbankcentre.co.uk/about/touring-programme/hayward-touring/current-available-exhibitions
** Beverley is only a few miles from Hull, city of culture and Turner Prize venue 2017 – and home of cult band Throbbing Gristle…
Most days art Critic Paul Carey-Kent spends hours on the train, traveling between his home in Southampton and his day job in London. Could he, we asked, jot down whatever came into his head?
Categories
Tags