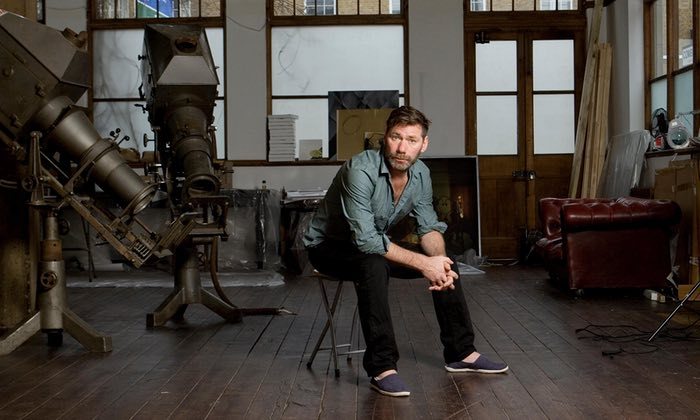 Mat Collishaw in his south London studio. Photograph: Thomas Butler
This article titled "Mat Collishaw restages 1839 photography show in virtual reality" was written by Hannah Ellis-Petersen, for The Guardian on Friday 14th April 2017 14.13 UTC
Art galleries have long specialised in transporting visitors to another world, allowing them to dive into Hockney's swimming pool, hear the clamour of war in Picasso's Guernica or feel the spray of the sea from a Turner scene – all within the confines of four white walls.
But a new dimension is making its way into museums and galleries across the UK, one that extends the physical space into an experimental virtual world.
From next month, Somerset House in London will open its first exhibition rendered entirely in a virtual reality space. Renowned British artist Mat Collishaw will digitally recreate the first photography exhibition, held in 1839 by William Henry Fox Talbot. Once viewers put on their VR goggles, they will be able to walk into this virtual space and view the works on the walls, as well as the glass vitrines and equipment as they would have been displayed almost 180 years ago.
Collishaw said he was interested in creating a virtual reality artwork "as a way to engage with this technology I believe is going to change the way we look at the world".
"VR still feels like an unknown and that makes it really compelling," he said. "I think it's going to have a similar impact on art as photography did, which is why I've chosen this specific moment to explore through VR. That show changed how we viewed images for ever and I think VR will bring about the same kind of shift."
As well as the CGI world inside the goggles, the exhibition will have a physical element. Visitors will be able to touch real objects and feel real sensations that correspond with what they see in the virtual world – whether it's the warmth of a fire or the mouldings on the walls.
To prevent people from colliding into each other while wearing the goggles, other visitors will appear as "shadowy digital avatars" in the virtual space.
Collishaw's exhibition is the second show by Somerset House based on VR. In September, it displayed Björk's VR music videos, with headset-wearing audiences immersed in the dramatic ravines of Iceland and conceptual imagined landscapes that visually represented each song on her album Vulnicura.
Somerset House is far from alone. The British Museum first experimented with the technology in 2015, enabling viewers to step back 4,000 years into a bronze age site, while a recent exhibition at the Baltic gallery in Gateshead exploring the plight of refugees included a VR installation that took viewers on to a boat in the Mediterranean.
In February, the Home art centre in Manchester staged a VR exhibition inspired by Paul Auster's New York Trilogy of novels, taking audiences into the world of reclusive crime writer Daniel Quinn.
Virtual reality headsets have been around since the 1990s but were popularised by the Oculus Rift, a project launched in the US in 2012 by 18-year-old Palmer Luckey and backed by a $2.4m crowdfunding campaign. In 2014, Facebook bought Oculus VR for $2bn.
It has been suggested that VR could also be a way for people to tour museums and galleries without leaving their houses. For those with VR headsets, it is possible to tour the Courtauld Institute and the Dulwich Picture Gallery in London, and the Guggenheim in New York.
However, neither Google, which is pioneering the technology, nor any of the galleries that have adopted it believe VR is a threat to numbers of physical visitors.
The Serpentine Gallery in London has been particularly quick to embrace the technology. It recently used VR to take four architectural paintings by the late Zaha Hadid and build them in the virtual space for viewers to step into and explore. Ben Vickers, digital curator of the Serpentine, said this was only the first of several VR projects the gallery was developing.
"We are trying to avoid replicating or replacing experiences one can have in real life – it seems pointless to just create a virtual version of the white cube of a gallery – so it's more about breaking new ground and shaping and influencing the technology itself," said Vickers.
"You will never be able to replace the experience of seeing an artwork in the flesh – it's about creating something completely unique. And we believe that artists can play a critical role in the development of technology."
Although VR is often a solitary experience, Vickers said the technology was developing to enable it to become a social sphere, where people put on a headset and enter the same world as other people. The opportunities for artists to build these worlds, or create art to go in them, could "change the gallery space for ever", according to Vickers.
The cost and complexity of VR remains a barrier for artists who are keen to create work using the technology. However, Google has set up Google Arts and Culture, a branch dedicated to bringing VR together with the arts, and is working with 1,200 cultural institutions around the world to offer its technology to artists. At Art Basel, Google commissioned four major artists to create work using its Tilt Brush 3D painting tool.
Suhair Khan, UK programme manager for Google Arts and Culture, said that after some initial resistance, she had seen a "surge in interest in VR" from UK museums and galleries over the past year. "We're very much at the exploratory stage with this technology," she added. "We started off making very simple films but we've got to the point now where we're pushing the boundaries of where can VR go. The next step is bringing augmented reality into the gallery space."
The technology is also being adopted by the longstanding, more traditional institutions. In January, the Royal Academy staged its first VR exhibition; Tim Marlow, artistic director, said more uses for it were planned.
"I don't think I've seen anything by any artist that's fully pushing at the limits of VR," he said. "We're at a moment where we need to step up and use it in an interesting and critical way, otherwise what once seemed radical could just become a fairly static, conventional act of putting on goggles as just another way to look at art."
Thresholds by Mat Collishaw runs from 11 May-11 June 2017 at Somerset House, London WC2
guardian.co.uk © Guardian News & Media Limited 2010
Published via the Guardian News Feed plugin for WordPress.
Categories
Tags