This extensive retrospective of one of the greatest living artists, David Hockney, takes visitors to Tate Britain on a journey from 60s pop art and expressionism, via abstraction, modernism and post-cubism to the present day. The exhibition examines the 60 year journey of this prolific artist who has dabbled, successfully, in a broad range of styles, and once commented: I deliberately set out to prove I could do four entirely different sorts of picture like Picasso."
Now considered something of a national treasure at the grand old age of 80, Hockney wasn't always held in such high regard by the public who are flocking to Tate Britain to see this exhibition, for his early 60s expressionist paintings celebrating homosexual desire with a style reminiscent of Francis Bacon mixed with the graffiti and pop culture references of Basquiat, made him a controversial figure. His 60s art college paintings married Pop Art's obsession with brands (he features Alka Seltzer, Colgate and Typhoo Tea labels) and an erotic interest in abstraction evident in 'The Most Beautiful Boy in the World' (1961) featuring an expressionist visage reminiscent of Bacon's sadomasochistic expressionism.
These rarely seen early works made by Hockney while studying at the Royal College of Art in 1960, included 'The Third Love Painting', part of his 'Love' series exploring the loving relationship between men. The series of paintings promoting gay love were courageous at a time when homosexuality was illegal in the UK.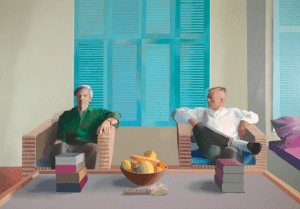 Hockney was easily tempted away from the UK to California, where the liberal attitudes of Los Angeles gave him artistic freedom and resulted in his now iconic homoerotic modernist abstractions featuring naked men in swimming pools, such as "Peter getting out of Nick's Pool' (1966). One of the exhibition highlights is a 1978 portrait of artist Don Bachardy with novelist Christopher Isherwood, author of A Single Man. Shown here for the first time in over 20 years, the painting depicts one of Hollywood's first openly gay couples.
"PETER GETTING OUT OF NICK'S POOL" 1966
ACRYLIC ON CANVAS
84 X 84″
© DAVID HOCKNEY
COLLECTION: WALKER ART GALLERY, LIVERPOOL
PHOTO CREDIT: RICHARD SCHMIDT
In 1979 Hockney moved to the Hollywood Hills, whose nature, architecture and people were a constant source of inspiration, and his modernist home with pristine blue swimming pool provided the perfect location for portraits of his friends and associates, many of which can be seen in the Tate Britain exhibition.
Over a period of 4 decades spanning from his 1980 'Hollywood Hills House' to his 2000 'Red Pots in the Garden', he produced colourful canvases that never tire of the Californian sun. His continued love for California and it's life-affirming palette and climate can be seen in 2 previously unseen paintings of Hockney's LA home and jungle-like garden: "Garden #3 2016 and Two Pots on the Terrace" 2016, made when the artist returned to California from Yorkshire in 2013, with a tropical palette reminiscent of Gauguin in his Tahitian years.
David Hockney
"Garden with Blue Terrace" 2015
Acrylic on canvas
48 x 72″
© David Hockney
Photo Credit: Richard Schmidt
One of the exhibition's highlights is a room dedicated to double portraits, including one of his most celebrated works "Mr and Mrs Clark and Percy" (1970-71), which displays an understanding of light unsurpassed since the Impressionists, with rays of light bursting through the open window and illuminating Mrs Clark's face, the white fur of the cat, and settling on the white rug.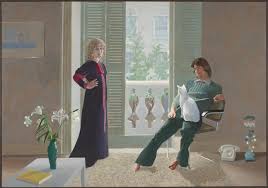 David Hockney, Mr & Mrs Clark and Percy
In "Portrait of an artist (Pool with 2 figures)" (1972), we see Hockney's ability to capture refraction of light on a swimming pool surface, most famously demonstrated in "A Bigger Splash", combined with an almost pointillist style of highlighting the distant mountains in the background using tiny flecks of pink which mirror the hot pink of the artist's jacket in the foreground.
"PORTRAIT OF AN ARTIST (POOL WITH TWO FIGURES)" 1972
ACRYLIC ON CANVAS
84 X 120″
© DAVID HOCKNEY
PHOTO CREDIT: ART GALLERY OF NEW SOUTH WALES/JENNI CARTER
The candy-coloured pointillist palette of "Contre-jour in the French style" (1974) evokes the ghost of Seurat, and this effervescent colour scheme coupled with an innate understanding of light and abstraction is repeated in the Californian paintings, and combined with an effortless naturalistic style that completely captures the expressions of Hockney's subjects.
North American culture is referenced in several of the California paintings, with "The first marriage (a marriage of styles)" (1962), featuring a grey-suited man with a woman wearing a North American India headdress, perhaps as a metaphor for the uncomfortable relationship of contemporary America with the history and heritage that it has so often disrupted and disrespected. "American Collectors (Fred and Marcia Weisman)" (1968), shows a wealthy couple in a Hollywood villa surrounded by items from their art collection, including a North American totem pole, demonstrating the misappropriation of cultural artefacts for displays of wealth.
The diversity of Hockney's portraits is clear in this exhibition, and a room of drawings juxtaposes a sketch of his mother with an uncanny graphite and crayon portrait of Andy Warhol titled "Andy, Paris" (1974). His ability to capture the inner psyche and personality of his sitters is evident in many of the images here, especially in the tender depiction of his elderly mother in "My Parents" (1977).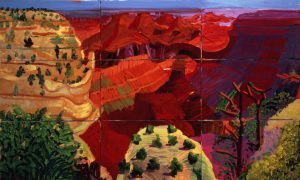 "9 CANVAS STUDY OF THE GRAND CANYON" 1998
OIL ON 9 CANVASES
39 1/2 X 65 1/2″ OVERALL
© DAVID HOCKNEY
PHOTO CREDIT: RICHARD SCHMIDT
Despite his affinity with the LA lifestyle and climate, Hockney's enduring love for his native Yorkshire can be seen throughout the exhibition, in particular in a room of paintings featuring the landscape of the Wolds. Large scale canvases vibrate with colour, as if the rolling hills of Yorkshire have been injected with Californian rays of sun. Paintings such as "The Road to Thwing, July 2006" have a similar palette to Bridget Riley's abstractions inspired by summers in Provence. Some of Hockney's Yorkshire landscapes are exhibited at Tate Britain in a new light, by juxtaposing them with vast Grand Canyon canvases created in the late 90's.

"WOLDGATE WOODS, 6 & 9 NOVEMBER" 2006
OIL ON 6 CANVASES (36 X 48″ EACH)
72 X 144″ OVERALL
© DAVID HOCKNEY
PHOTO: RICHARD SCHMIDT
Throughout his career Hockney experimented with and championed new forms of technology in his art production, creating images with the now defunct fax machine, and later embracing the ipad as a mechanism for draughtmanship, the results of which can be seen in the final room of the exhibition. His early polaroid photo collages later developed into large scale canvases of the Grand Canyon and other landscapes stitched together from individual canvases.
The most successful and mesmerizing use of technology in this exhibition is Hockney's multi-screen video works, and in a room at Tate Britain titled 'The Four Seasons', visitors can enjoy a truly immersive experience surrounded by 4 screens, each made up of several smaller screens, and each showing carefully edited footage of a different season in the same stretch of road at Woldgate, near Bridlington in Yorkshire in 2002.
Hockney's work often seems so familiar and iconic, but this exhibition features some previously unseen treasures, and it's extensive reach demonstrates the artist's ability to nail so many different styles and make them his own. He is not only a national treasure, but more importantly our very own British Picasso.
David Hockney at Tate Britain on until 29th May, 2017
http://www.tate.org.uk/visit/tate-britain
Categories
Tags