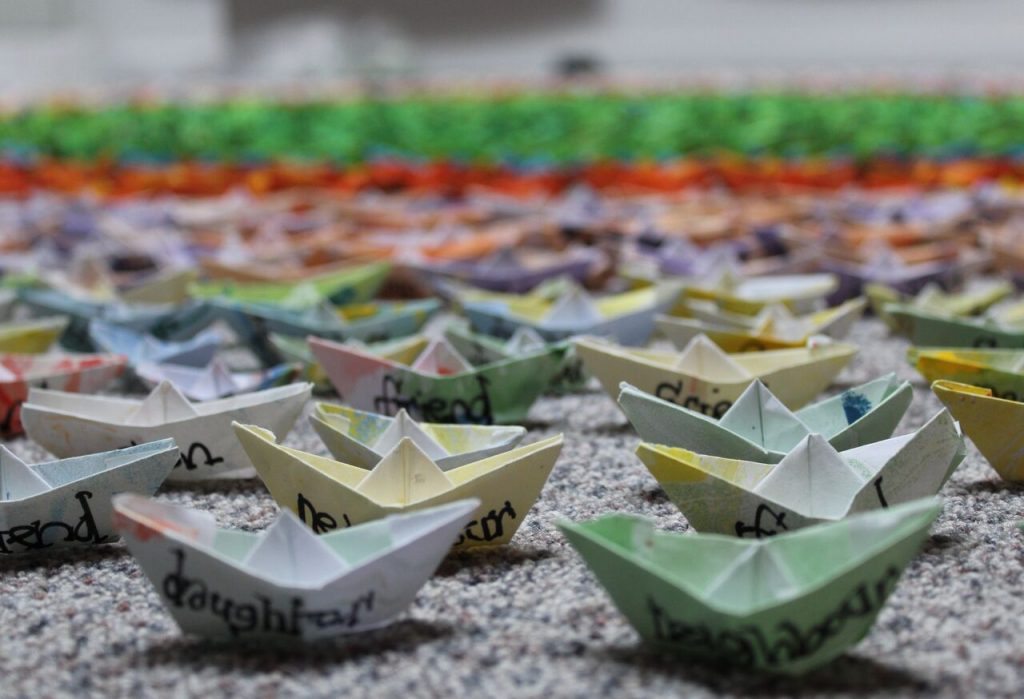 Bern O'Donoghue Dead Reckoning
In the nightmare of the dark/All the dogs of Europe bark, / And the living nations wait, / Each sequestered in its hate
— W.H. Auden 'In Memory of W.B. Yeats' (1940)
Who are we? is a free 6-day cross-platform event, spanning the visual arts, film, photography, design, architecture, the spoken and written word and live art asking: Who are we?
Guided by Auden's quote, and inspired by the open dialogue of the Tate Exchange initiative looking at art and its importance to society, Who Are We? reflects on identity, belonging, migration and citizenship through arts and audience participation. The week of activity has been specifically designed for Tate Exchange and focuses around an ethos of collaboration, innovation, conversation, exchange and learning.
Auden's homage to Yeats conjures an uncannily resonant image of contemporary Europe, a Europe increasingly divided, fending and fastening its borders against real and imagined 'others'. The populist discourse raging across Europe today betrays fear. Europe seems frightened, asking 'who are we?'
Artists and practitioners from countries including England, Scotland, Poland, Finland, Iraq, Italy, Germany, Bosnia, Serbia, Kosovo, Slovenia, Romania, Greece, Spain, Israel, USA and South Africa contribute to the debate through a week long public programme of activities, installations and events to which the public are invited to engage and participate. The work centres on these questions:
What is becoming of Europe and the UK?
What are we forgetting, and with what consequences?
How does our colonial past connect to today's migratory movements?
Can the creative uses of media, technologies, logistics, visual art and performances show us a glimpse of another Europe, another 'We'?
Artists and participants include: Alia Syed, Alketa Xhafa Mripa, Ania Bas & Season Butler, Behjat Omer Abdulla, Bern O'Donoghue, Dana Ol?rescu and Bojana Jankovi?, Elena Bukovala, Eva Sajovic, Gil Mualem Doron , JC Niala and Dr Yvette Hutchison & Dr Tim White, Jillian Edelstein, Laura Malacart, Lucia Scazzocchio, Natasha Davis,Nele Vos Peirene Press, Richard Dedomenichi and the Stuart Hall Foundation.
Award winning architecture and interior design practice, Universal Design Studio, form part of the collaborative team of Who are we? They are working with the artists to produce niche installation and site-specific objects, plus designing the aesthetic flow and overarching identity of the programme.
A week of participatory installations, conversations, and learning labs
Curated by Tate Exchange Associates: Counterpoints Arts, The Open University, University of Warwick and Loughborough University. As part of Tate Exchange : 14-19 March 2017
www.whoareweproject.com
www.tate.org.uk/tate-exchange
Categories
Tags