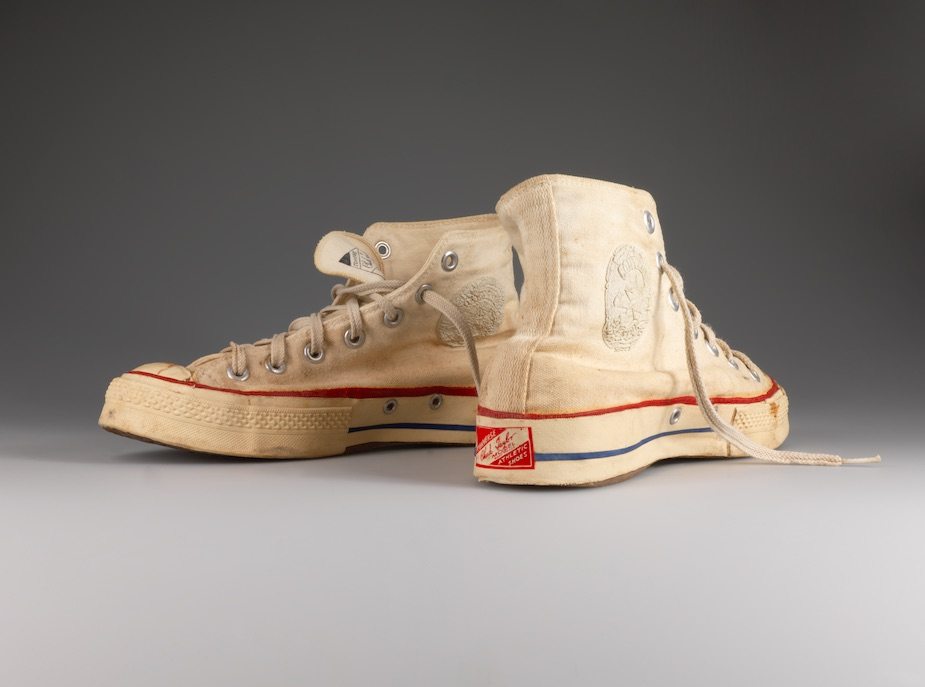 Global fashion search engine Lyst presents 'G.O.A.T. Sneakers', an exhibition launching in East London on January 25th. Curated by leading international sneaker expert, Neal Heard, the exhibition will be both a history and an homage – revealing the secret stories behind the creation of the most iconic sneakers ever made; providing a fascinating narrative of the integral role they played within key sporting & cultural movements throughout the 20th & 21st century; and even offering a glimpse into the psychological hinterland of the cult of sneaker obsession.
"Our intention has been to create an exhibition that will engage both the general public and the purist sneakerhead. We've worked hard to find a balance between giving the broad sweep of sneaker history as well as the secret stories & anecdotes associated with the personalities, companies, controversies, cultural movements and, of course, the sneakers themselves."
Neal Heard, Curator.
Featuring a 3,000-year timeline, G.O.A.T Sneakers identifies the earliest known iterations of the shoe before chronicling its evolution across the 19th, 20th and 21st centuries – along the way charting the many infamous controversies & scandals (such as the debate around who first invented vulcanised rubber; the origin of the term 'sneaker'; the trainer-versus- sneaker question) as well as the extraordinary stories surrounding the creation of the most iconic brands and designs over the years and how they were variously appropriated by successive generations of cultural tribes around the world.
The centrepiece of the exhibition will be an entire wall devoted to the twenty-five greatest sneakers of all time, as voted for by an international online poll of the general public, starting from a longlist created by an international panel of over 25 industry experts including DJ Clark Kent, Dave Hewitson (80s Casuals), Jockey (Transalpino Liverpool); Gwarizm Gary Warnett; Nick Santora (Classic Kicks), Air Rev (Sneakernews) and Atip (High Snobriety) – with an individual history for each of the sneakers.
Exploring the obsessive devotion inspired by sneakers, the exhibition will also offer a look 'Inside The Mind of a Sneakerhead' in the form of a hidden installation featuring the highlights of the renowned collections of two sneaker obsessives, Brooksy and Kish Kash.
"Millions of shoppers use Lyst to search for their dream sneakers online. This exhibition brings to life the world of sneaker culture, the history and the myths that surround these iconic shoes, as well as celebrating some of the world's favourite styles."
Rory Scott, Lyst
G.O.A.T. Sneakers – in association with Lyst
Jan 26th – Feb 5th The Archivist's Gallery, 2-10 Hertford Road, London N1 5ET Free
www.thearchivist.co.uk
Neal Heard
Neal Heard is renowned as the author of the first and most iconic book on Sneaker culture. His book, aptly named 'Trainers' was first published in 2003 and has been updated and mimicked ever since. Neal cut his teeth as one of the original 80s Football Casuals, who were into their Trainers before the brands themselves were!
Brand consultant and acknowledged Trainer aficionado, he has worn, sourced, collected and dealt in deadstock Trainers since the early 1990s. There are few people in the world with a such an overarching passion and depth of knowledge and history on the subject.www.instagram.com/nealheardtrainers/
Lyst
Lyst is a global fashion search engine, connecting millions of shoppers globally with over 12,000 designers and stores online. With an inventory of over 3 million fashion products and access to 4.5million changing fashion data points every hour, Lyst is the definitive source of fashion intelligence. Lyst was the first to launch a universal cart in the fashion space, enabling shoppers to check out from multiple retailers in a single, unified checkout. The company has raised $60 million to date, and is backed by range of allstar investors including 14W (Moda Operandi, Reformation), Accel Partners (Facebook, Spotify), Balderton (Yoox NetA- Porter Group), Draper Esprit, part of the Draper Venture Network (Hotmail, Skype), and the teams behind LVMH, Michael Kors, Oscar de la Renta, and Tory Burch. www.lyst.com/sneakers-guide/
About Mark Westall