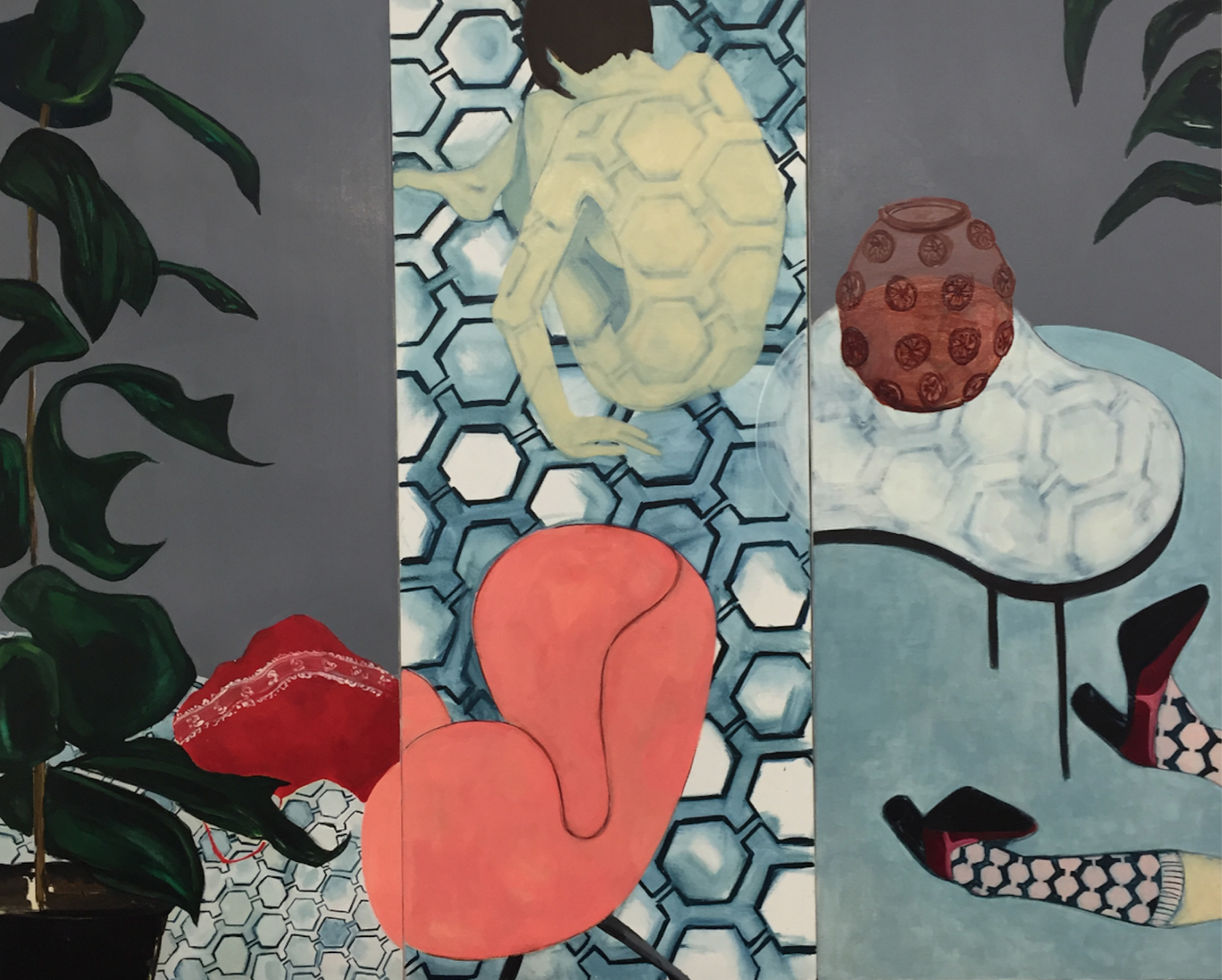 An all-female group of artists present works that explore the evasive nature of memory and place – where they collide and what they conceal. topophobophilia is an exhibition that considers the poetic and practical possibilities of the body and the familiar spaces it inhabits, acting as the subject matter and connected point of origin of their work.
A sense of habitation, characterised by an intangible familiarity in the houses that punctuate Lee Matthews' paintings, intermingle with fragments of space and the possibility of time in Sara Berman's multipartite compositions of the curated self. Lauren Coullard and Paula Kamps oscillate dream-like between abstraction and figuration, as aspects of both practices come alive on paper and canvas. For Carali McCall, the artist's body and moment of provenance are key to the physical act of making work as a drawing performance. Meanwhile, Laura Davis's sculptures occupy the nooks and crannies of small spaces; and Silia Ka Tung's anthropomorphic sculpture, made from stuffed sewn material, becomes a site of figuration inhabiting space.
The group's work – which fills the eight, intimate and entwined rooms of the two adjoining Georgian houses that contains Gallery 46 – weaves together notions of space, place and memory, that seeks to challenge and comfort in equal measure.
First used by W.H. Auden in the 1940s, topophilia defines a love of place derived from history and memory and it is these fragments of experience and imagination that dangle from this group show. topophobophilia therefore reminds us that the objects we hold on to and interior spaces that envelop us act as the structures to our very own museums of the self.
Private View & Performance : 6pm – 9pm , 10th November 2016 Open to the public: 11th – 24th November 2016 gallery46.co.uk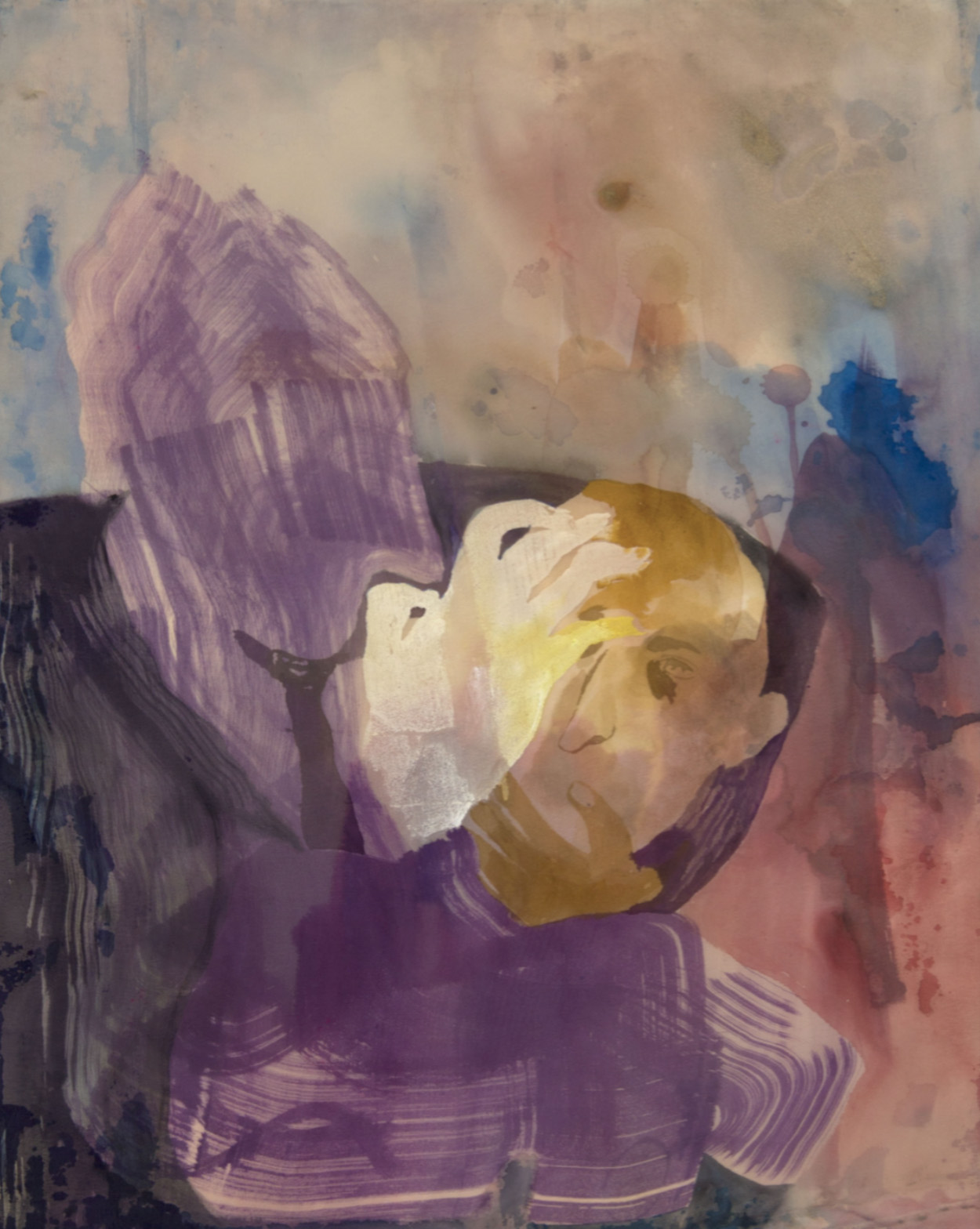 About The Artist
Sara Berman lives and works in London; she completed her MFA at Slade School of Art in 2016 where she was awarded the Audrey Wykeham prize for painting. Recent shows include Londonewcastle Project Space 2015, Transition Gallery 2016, and Symposium for Drawing BAK Museum Utrecht, 2015.
Laura Davies lives and works in London. She recently graduated from The Royal College of Art, London with a Masters in Jewellery and Metal. Working as a multi- disciplinary artist in a range of materials from paper, textiles, wood, bronze and photography.
Lauren Coullard lives and works in Paris; she studied at the Ecole Nationale Supérieure d'Art de Paris-Cergy and holds an MA in Fine Arts at Chelsea College of Art in London (2010). Selected for Artist residency programs in Pont Aven, Madrid, Lourmarin with the Fondation de France; and recent shows include Le médecin, non-profit space, DOC, Yes to all, Chez treize, Paris DOC, Inauguration curated by Daiga Grantina & Jo-ey Tang, in Paris.
Silia Ka Tung born in China. Lives and works in London. Tung obtained a B.A. in painting at the Chelsea College of Arts, and MFA at the Slade School of Fine Art; exhibitions include the Royal Academy of Arts, Arti et Amicitiae Amsterdam; Galerie Karsten Greve, Paris; The Rubin Museum, Tel Aviv; MoCA Shanghai and the Jerwood Space, London.
Paula Kamps lives and works in Düsseldorf/New York. She graduated from Kunstakademie Düsseldorf in 2016, where she studied with Elizabeth Peyton, Tomma Abts and Lucy McKenzie. Recent group shows include Adler Düsseldorf in collaboration with Bruce Haynes, Mayfair at Art Cologne, Cologne, both 2016 and Imagine at Londonewcastle, London, 2015.
Lee Matthews is an American artist living and working in London. She received her BFA Painting from Cornell University and MFA Painting from The Slade, UCL.
Carali McCall is a Canadian artist based in London; awarded her PhD at Central Saint Martins, and MFA at Slade School of Art. Recent performances and screenings include House of Illustration (Drawn Together) London 2016, Folkestone Fringe Triennial 2014, and 'Again and Again and Again: Serial Formats and Repetitive Actions' Vancouver Art Gallery, 2012.
Categories
Tags