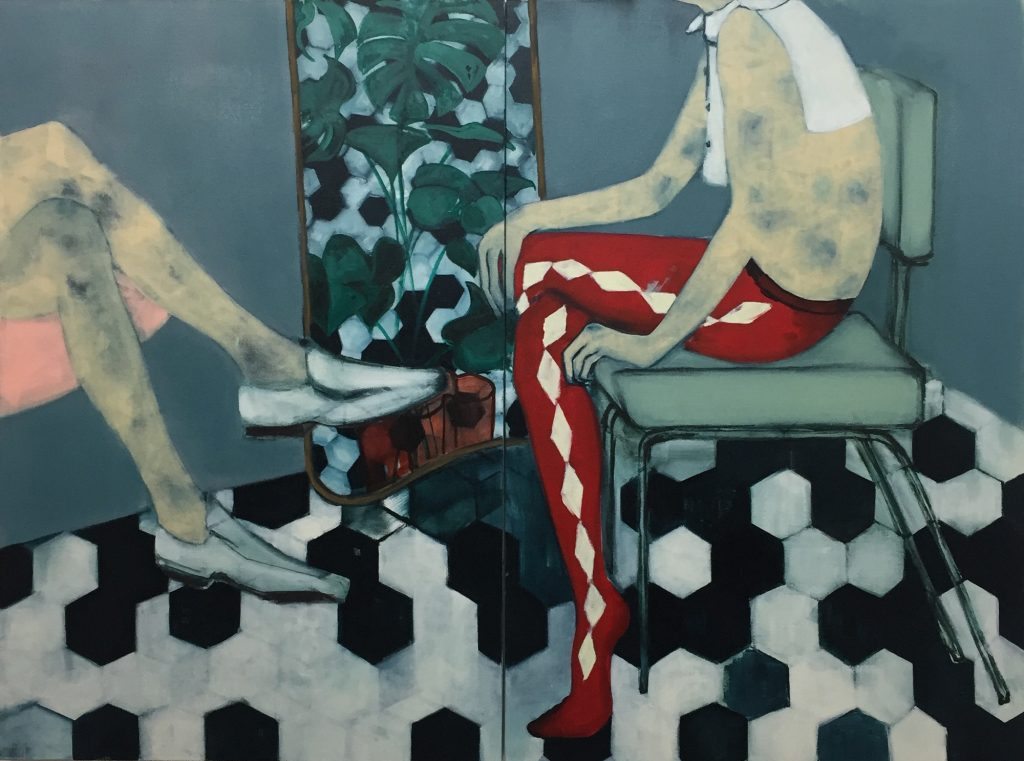 Sara Berman's poised and urbane figurative paintings will feature in two upcoming group shows in London this month: Young Gods at Charlie Smith London and Dark Wood curated by fellow artist Henry Hussey at the Transition Gallery.  To find out more about Berman's artistic practice and how her former career as a women's fashion designer informs that practice, Marcelle Joseph speaks with Berman.
Congratulations on being selected for Charlie Smith Gallery's 10th edition of Young Gods curated by Zavier Ellis!  And for being the only painter in this group show featuring eight recent graduates or postgraduates from London art schools!! Ellis has described your work as recalling at once Matisse, Hockney and Katz. Does he have it right? Which artists from the past are you most inspired by?
I do look to all three of those big boys and many more besides. I love Schiele, Kitaj Beckmann, Paula Rego, Alice Neel – the list goes on and on. I didn't have a typical art school career so when I arrived at the Slade for my masters, all my skills had been learned through copying those artists I admired. This was great in some respects but problematic in that I was simply a very good copyist. My struggle throughout my masters was to work out what my own paintings actually looked like. I was pretty surprised by what came out.
After studying fashion design in the golden era of the 90's at Central Saint Martins, how was it going back to study painting at the Slade in 2014? How do the two types of education compare?
Poles apart! Firstly, doing a BA at CSM at 19 years old was a fairly hedonistic experience. I didn't think so much about why I was making certain work – I just sort of went with the flow, enjoyed the scene and allowed my handwriting to develop in a very unselfconscious way. My Slade MFA at 40 felt much more considered. I had the weight of my past behind me and wanted to spend a lot of time digging around in there to understand what work I made and why I made it. Painfully self-conscious. Actually the biggest stumbling block to developing as a fine artist at art school was the total lack of boundaries. This simple given of any good art school education was for me, creatively paralysing.
Your delicate but super-stylised paintings play with pattern, design and motif in cropped compositions that include a female figure in a curated interior space.  What source material do you look to for inspiration?  Does your approach to painting differ from how you approached a new collection for your eponymous fashion line?
I love this question as one of the real turning points for me at Slade was when my tutor asked my why I couldn't approach my artistic practice as I would have approached a collection. It was like a light going on in my head and allowed me to relax into the work with confidence. I realise that there are big differences between working as a designer and a fine artist, but I suppose a part of me had romantically assumed that without the constraints of a business built around commerce, I would be free to make wonderful work. However, without anything to push against, I found I didn't have any way of going deeper into the work and developing it. This was as frustrating as a game with no rules. Once I started to use the 'boundaries' I had enjoyed working with as a designer and reconsidering them as a visual artist, I found some traction. I use much of the same source material I always did. Certain books, magazines, Internet sources. Photography is very important to me. I think that coming of age in the 90's hardwired certain aesthetic values in me which are pretty evident in my compositional decisions. I have recently begun to consciously 'merchandise' my paintings. When designing a collection, there comes a point when you need to stop looking at each garment in itself and start considering how the collection works as a whole. When the collection goes down the catwalk or is merchandised for the buyers, it needs to hang together in a balanced and considered manner – much like a composition. I love the idea of merchandising a painting.
Your choice of furniture and domestic interior settings for your paintings could be considered 'aspirational'. Are the aspects of desire, commerce and design important to your practice?
Absolutely. Before working as a designer, I spent a number of years earning my holiday money as a model. Whilst being the worst model in the world, I did learn a huge amount about constructed identities and how to deliver on being something someone else wanted me to be. It also made me fall in love with clothes. I realised their potential for self-invention and telling stories. When I had my own label, it was all about the stories – the constructed self. Branding and 'lifestyle' came into its own in the 90s and then the realisation that this constructed identity had spread to every conscious, discerning decision we made about the things we surround ourselves with. I am interested in a particular idea of lifestyle, how those ideas are delivered to us and how we absorb them. Authenticity is something we strive so hard for. No one would like to think that they are inauthentic or fake. Yet, the moment we attempt to consider our authenticity, it is negated by this self-conscious act. Ironically, it is design that seems to me to be the most honest of all our constructions. The interior spaces we occupy – in particular the domestic – become extensions of self. They contain the things we have chosen to gather around us as well as the practical mundanities of everyday life. It is like a display of the patterns of commerce and consumerism tempered by personal choice and legacy. Our own little museums of self. However lightly we touch them, our mark is somehow made and within those marks, patterns are formed. The same dress discarded on the floor, draped over a chair or on the body has different qualities. Or the same bag held, open or hung is the same but different. The same object experienced different ways becomes a sort of abstracted pattern. Our spaces absorb the regular alterations and shifts of our use. Patterns of human behaviour played out through objects.
Your colour palette is a beautiful muted one that I would describe as 'mid-century Modern'.  How do you approach colour in your paintings? Do you intentionally limit your palette to certain set of colours or is it more about your comfort zone or trying to create your 'stamp' on the picture?
This is a two pronged concern for me. Recently, I have enjoyed basing my palette on a pre-prescribed 'colours for the home' catalogue. I like this idea of following prescribed ideas of good taste (something I don't really believe in as an authentic concept). But actually it is just another way of limiting myself. I play lots of games within my paintings. I am trying to narrow my field as much as possible in order to concentrate more on the 'how' and less on the 'what'.
The female figures in your paintings are often nude with no hierarchy given to them relative to the other objects in the picture plane. Your paintings appear to focus more on the details of the furniture and flooring of the depicted interior space. In fact, often the patterns featured in the room can be seen through the translucent flesh of the figure. Is this a way to distance yourself from fashion and clothing the female body or it is a celebration of the human form?
Generally, an object designed to be used by people, such as a handbag or a chair for example, have a bodily aspect. In anticipation of serving the absent body, it can act as a stand in for the very thing it is there to service. We can read spaces in the same way that we can read clothing, as a set of signifiers that go some way to describing the bodies that exist within them – even when the body is absent.
And then this makes me wonder about the liminal spaces between us, our stuff and our places. Do they exist in equal balance, each informing the other in a continual and harmonised dance? Or is it possible that one is there necessarily for the other? And in that case, it becomes like the chicken and the egg question. As a painter, this matters. I can choose where to emphasise or hold back. Do I let the figure into the space? Or just her stuff? Or is the stuff enough? Or too much? What is the value of the figure? What is the worth of the stuff? Is the figure there as a prop to make sense of the stuff, or the space? Or is the space only existing because the figure exists in it? Or perhaps the space ceases to hold the stuff or the figure, allowing the solid base of understanding to fall away before our eyes. These are my choices, my concerns. What matters and how much.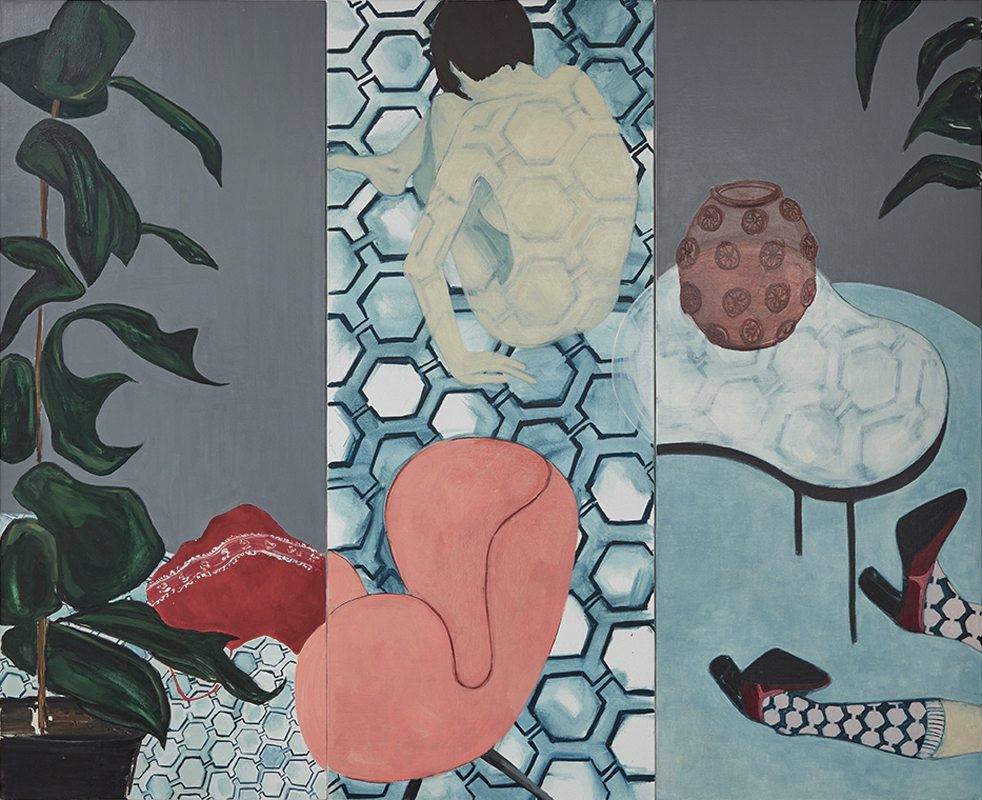 Let's talk about plants. Your paintings often include luscious green botanical species that become almost erotic appendages to your female nudes. What role do these house plants play for you?
Plants and leaves in particular are nature's perfect design. I enjoy inserting this indisputable truth into my curated interiors. I also, very simply love painting them. I have done it so many times that there is a real freedom in the sweep of the brush and also a risk with such strong pigment at such speed, especially in contrast to the sometimes very careful and deliberate handling of other parts of the work. It is a rush, a pleasure.
One last question – What advice would you give to jaded or struggling creatives in the fashion, architecture or design fields who wish they could back to art school and become fine artists like you have done?
I would love to merrily advise everyone to grab the bull by the horns and give it all up to go to school but actually I am aware that I was in a very privileged position to be able to do this. It wasn't an overnight decision and took two years of planning and hard work to get the business in a place where I could make the switch. It then took me a long time to realize that the foundation of my work as a fine artist is my background in fashion. I feel incredibly lucky to have such a rich seam to mine!
www.transitiongallery.co.uk/index.html
About the Artist
Sara Berman (b.1975) lives and works in London. She completed her MFA at Slade School of Art, UCL, London in 2016 where she was awarded a distinction and the Audrey Wykeham Prize for Painting. Previously, Berman worked as a fashion designer and consultant. After studying fashion design at Central Saint Martins, she founded her eponymous fashion brand that operated from 1998 until 2012 and worked as a design consultant to a variety of fashion and design companies. A long and deeply held interest in the conversation between design, commerce and identity informs her artistic practice. Recent group exhibitions include Young Gods, Charlie Smith Gallery, London; Dark Wood (curated by Henry Hussey), Transition Gallery, London (both 2017); topophobophilia, Gallery 46, London; Slade Graduate Show, London; Names, Transition Gallery, London (all 2016); Imagine, Londonewcastle Project Space, London; Symposium for Drawing, BAK Museum, Utrecht; BP Portrait Prize, National Portrait Gallery, London (all 2015); Royal Society of Portrait Painters, Mall Galleries, London (2014).
Categories
Tags