James Capper, Installation shot, Hannah Barry Gallery, London, 2016.
For the coveted gallery exhibition slot during Frieze Week, Hannah Barry chose two stalwarts of her stable: James Capper and Shaun McDowell, presenting solo shows of new work on each of the two floors of the South London gallery space. Due to unprecedented interest, their solo shows have been extended to 30th November so hurry over to Peckham to see James Capper's EARTH MARKING EXPEDITION: Film, Mobile Sculpture, Component Parts and Shaun McDowell's Navigator – new paintings from the studio in Redhill.
Capper is a sculptor whose artworks adopt the techniques, materials and actions of industrial objects: hydraulic pumps, cutting blades and ploughs. These monumental steel objects function as mark-making tools, interacting with various terrain during performances that result in abstract compositions in the landscape. For his solo show, Capper presents three earth-marking machines, Hydra Shuffle II, Hydra Step and Telestep as well as the full family of teeth for the latter two machines, all meticulously arranged in a lush light yellow purpose-built sledge.

James Capper, Installation shot, Hannah Barry Gallery, London, 2016.
For the artist who grew up working on his neighbour's farm in Kent, these mobile sculptures may seem like a natural progression for Capper, but to tackle these complex problem-solving processes of innovation and engineering, the artist has had to develop his own unique sculptural language. As moving machines that draw on the landscape, these sculptures are conducive to starring in their own films so save time to watch Capper's film, JAMES CAPPER TELESTEP A GUBBIO! featuring his six-legged mountain-climbing Telestep in the Italian Apennines of Umbria. Although shown inert in the gallery setting, these walking hydraulic gizmos are able to burrow into the viewer's imagination with their zoomorphic characteristics – one looks like a caterpillar, another a Jurassic spider. All powder-coated in a variety of yellows and blues, these sculptures recall real-life tools used in industrial applications but hint at the inventive mind of a very special contemporary artist.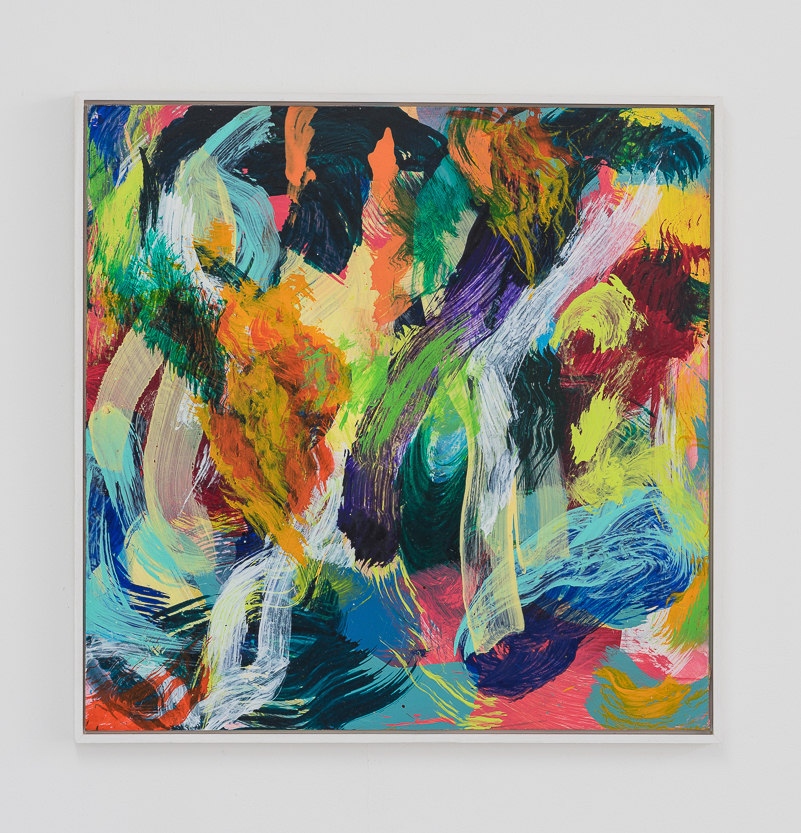 Shaun McDowell, Satanic mills (Hinkley), 2016, oil on board, 40 x 40 cm.
On the more intimate first floor of the gallery, a group of seven small square abstract oil paintings by McDowell hang at museum height around the four walls of the room.  McDowell, the master of the gestural brushstroke and the genius colourist, outdoes himself here at his fifth solo show at Hannah Barry Gallery. After working solidly over the last year in his gargantuan double-wide mechanic's garage-cum-artist's studio in suburban Surrey, McDowell presents a well-edited selection of new paintings.  Always painted at the same time on the floor of his studio, McDowell moves from board to board, painting layer after layer of lusciously coloured abstract marks, some transparent, some opaque, all curvy or swirly, never straight. The movement in the process is key as the finished works are alive and vibrant, both in colour and expressiveness. Each painting has the adequate space around it for the viewer to take in its unique vitality.  Assembled as a whole, Navigator is a pleasurable assault to the senses.
Shaun McDowell, Installation shot, Hannah Barry Gallery, London, 2016.
All photos: Courtesy of the artists and Hannah Barry Gallery, London.
Marcelle Joseph's Instagram page: @marcelle.joseph
About the Artists
James Capper (b. 1987, London) lives and works in London. He received his B.A. in Sculpture from the Chelsea College of Art and Design and his M.A. from the Royal Academy of Art, London, where he was presented with the Jack Goldhill Award for Sculpture. Recent solo exhibitions include those at Hannah Barry Gallery, London (2016, 2015 and 2011), Vigo Gallery, London (2016),  Paul Kasmin Gallery, New York (2015), CGP LONDON/Dilston Grove, London (2015); Cass Sculpture Foundation, Goodwood, UK (2015); Yorkshire Sculpture Park, Yorkshire (2013); and Modern Art Oxford, Oxford (2011). His works have been included in other important exhibitions at Kunstlerhaus Bethanien, Berlin (2014); The Moving Museum, London (2013); Saatchi Gallery, London (2011); and Victoria and Albert Museum, London (2013). In 2017, Capper has upcoming solo shows in Bath (UK), Oaxaca (Mexico) and New South Wales (Australia).
Shaun McDowell (b. 1981, Sussex) lives and works in Redhill, Surrey. Recent solo exhibitions include those at Hannah Barry Gallery, London (2016, 2014, 2012, 2011 and 2008); and Brickhouse at Nutbrook Studios, London (2011). McDowell takes an active role in curating group exhibitions in his Surrey studio space under the moniker Dynamite Projects (2015-6) and has also curated or co-curated EE=MC2, Evgenij Kozlov, Hannah Barry Gallery, London (2015); Save yourself! Hannah Barry Gallery, London (2014); PeckhamNewYorkParis, Galerie 104 Kleber, Paris; Martos Gallery, New York; and 88 Friary Road, London (all 2013); and Nothing Fixed, Marcelle Joseph Projects, London (2011). Selected group exhibitions include: What's up 2.0, Lawrence van Hagen, London (2016); Confuses Paroles, Le Cabinet Dentaire, Paris (2015); Figure this Out, Assembly House Studios, Leeds and Passage Choiseul, Paris (2015); Degree of Darkness, Rook & Raven Gallery, London (2014); En-trée, Middlemarch, Brussels (2014); Visible, Invisible: Against the Security of the Real, Parasol Unit, London (2010); and Peckham Pavilion, 53rd Venice Biennale, Venice (2009).
Categories
Tags