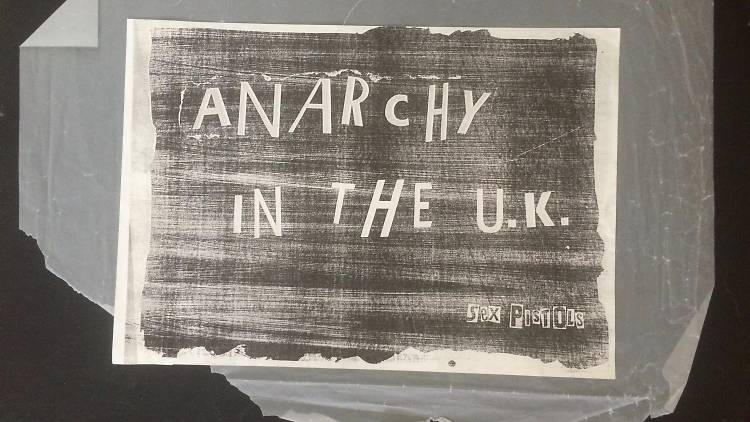 Jamie Reid, Anarchy In The UK, 1976, Courtesy John Marchant Galleryamie Reid, Anarchy In The UK, 1976, Courtesy John Marchant Gallery
CULTURAL TRAFFIC is the UK's first annual fair for dealers in counter culture and independent producers of trade books, zines, prints, catalogues, vinyls and tapes in both current and obsolete format. CULTURAL TRAFFIC will take place on Friday/Saturday 7–8th October during the weekend of Frieze Art Fair October, 2016. By bringing together pioneering contemporary publishing with vintage counter culture and out-of-print material, CULTURAL TRAFFIC paves an express connection between yesterdays' cultural artefacts and the latent collectables of tomorrow.
Open and free for all to visit CULTURAL TRAFFIC offers the public an opportunity to engage in the past, present, and future of counter culture at an affordable level, while offering vendors an opportunity to capitalise on the amplified busy climate created by Frieze Art Week.
CULTURAL TRAFFIC is a broad, vivid experience away from the mainstream offering something for everyone including food, drink and evening entertainment. It is a market for the culturally inquisitive as well as showcasing a unique perspective on counter cultures pre-internet roots.
Juju's Bar & Stage is situated in London's Old Truman Brewery, Shoreditch. The Truman's Brewery will also be hosting two other fairs, Moniker Art Fair and The Other Art Fair, creating a showcase of independent and established talent in one location. This exciting spectacle will attract 20,000 plus visitors, forming one of the major satellite events of London's Art Week.
CULTURAL TRAFFIC is launched by editor, designer and collector Toby Mott who says:
"CULTURAL TRAFFIC is a fascinating window into the flourishing post-digital zine scene"
CULTURAL TRAFFIC Friday/Saturday 7–8th October 2016
Juju's Bar & Stage Old Truman Brewery Ely's Yard 15 Hanbury Street London, E1 6QR
Categories
Tags