FAD has been invited over to this years Berlin Art Week from 13-18th September.
All week you'll be able to follow our escapades over on our Instagram @FADsite and to get you in the mood here's our pick of the things to see during the week.
1 Sean Landers Small Brass Raffle Drum
September 16 – October 29, 2016
Location : Captain Pretzel Karl-Marx-Allee 45, Bezirk Mitte 10178 Berlin www.capitainpetzel.de
Sean Landers is an American conceptual artist, best known for using his personal experience as public subject matter and for utilizing diverse styles and media in a performative manner. Through the use of painting, sculpture, photography, drawing, writing, video and audio, regardless of the medium, Landers reveals the process of artistic creation through humor and confession, gravity and pathos. He blurs the lines between fact and fiction, reality and fantasy, sincerity and insincerity, while presenting a portrait of the artist's consciousness. The twin strategies of personal material and formal multiplicity allow him to infiltrate his viewers' consciousness with raw truths about contemporary society, and the art world in particular. A collateral effect is the viewers' identification with the artist, which allows for a deeper understanding of their humanity.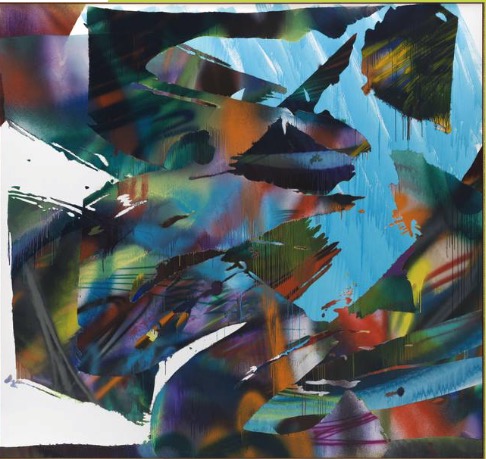 2 My Abstract World 14 September 2016 – 2 April 2017:
Location: me Collectors Room Auguststraße 68, 10117 Berlin www.me-berlin.com
Moved by an enthusiasm for intense colour and bold expressive gestures, Thomas Olbricht has spent the last 30 years collecting abstract art in a wide variety of styles. At me Collectors Room, he will present a selection of his current favourites, drawn from his collection of 350 abstract works by ninety different artists. At the same time, with the installation of new seating arrangements, Olbricht is transforming the exhibition spaces into a multi-sensory experience. This will allow the exhibition visitor to relax and have a drink while delving more deeply into the artworks on display and the reading materials or music – compiled by music and art publicist Max Dax.
My Abstract World brings together a selection of international artists, from established figures like Bernard Frize, Joseph Marioni and Katharina Grosse to representatives of a younger generation, including Ali Banisadr, Paul Fägerskiöld and David Ostrowski.
Artists: Etel Adnan, Ahmed Alsoudani, John M. Armleder, Jo Baer, Ali Banisadr, Max Bill, GL Brierley, André Butzer, Shen Chen, Ouyang Chun, Albrecht Demitz, Paul Fägerskiöld, Mark Flood, Bernard Frize, Andreas Golder, Kuno Gonschior, Wang Guangle, Henriette Grahnert, Katharina Grosse, Peter Halley, Federico Herrero, Olaf Holzapfel, Vladimir Houdek, Callum Innes, John Isaacs, Robert Janitz, Imi Knoebel, Caroline Kryzecki, Robert Longo, Marcin Maciejowski, Joseph Marioni, Sarah Morris, David Nicholson, David Ostrowski, Daniel Pflumm, Sigmar Polke, Liang Quan, Gerhard Richter, Sterling Ruby, Thomas Ruff, Chen Ruo Bing, Adrian Sauer, Thomas Scheibitz, Martina Steckholzer, Henning Strassburger, Christine Streuli, Wolfgang Tillmans, Rosemarie Trockel, Tatjana Trouvé, Brent Wadden, Ekrem Yalcindag, Toby Ziegler, Heimo Zobernig.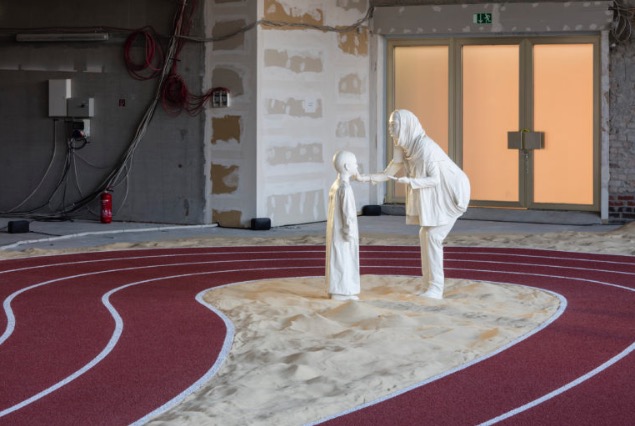 3 Berlin Biennale for Contemporary Art
Location: KW Institute for Contemporary Art Auguststraße 69,10117 Berlin www.kw-berlin.de
The 9th Berlin Biennale for Contemporary Art seeks to materialize the digital condition and the paradoxes that increasingly make up the world in 2016: the virtual as the real, nations as brands, people as data, culture as capital, wellness as politics, happiness as GDP, and so on. With its selection of exhibition venues it aims to shape-shift across multiple sites, each one releasing a whiff of contemporary "paradessence" (paradox + essence): the Akademie der Künste, the ESMT European School of Management and Technology, The Feuerle Collection, KW Institute for Contemporary Art, and the Blue-Star sightseeing boat of Reederei Riedel. Curated by DIS (Lauren Boyle, Solomon Chase, Marco Roso, David Toro).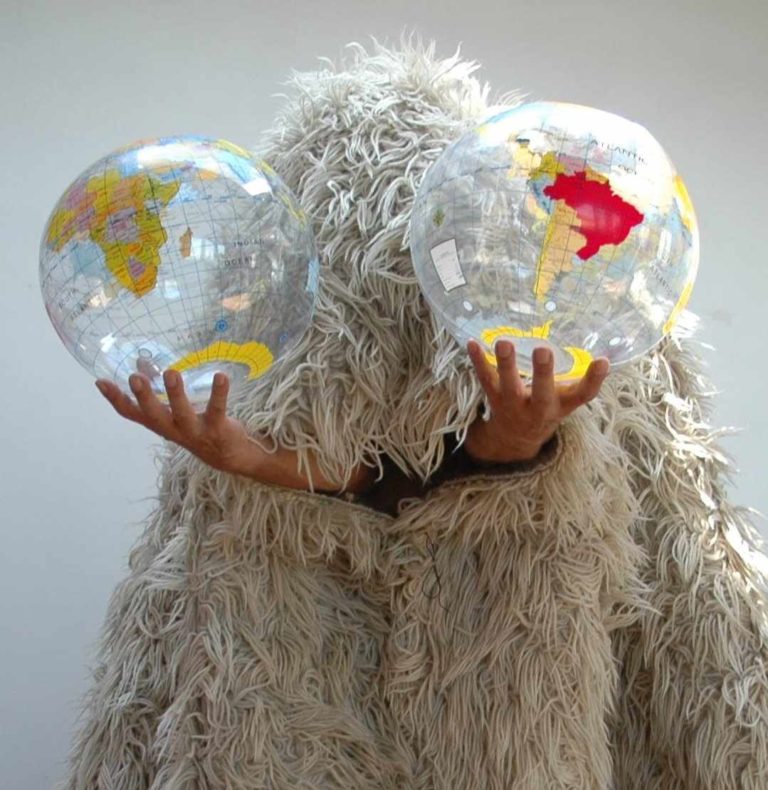 Playing with globes (image (C) Tom Albrecht)
4 The Age of mankind, we create a new epoch of the Earth13- 18 September Opening 13. SEP 2016 7 pm
Location : Group Global 3000 e.V. ,Leuschnerdamm 19, 10999 Berlin-Kreuzberg groupglobal3000.de
Our way of life is creating a new age in the history of the planet: the age of the human, or the Anthropocene. Modern man is present from the deepest ocean to the edge of the atmosphere and has an effect on the course of evolution. Human activity will continue to be visible in the distant future. New geological structures form our agrarian landscapes and cities of glass and concrete. Driving, flying, and product shipping all contribute to global warming. Plastic and other artificial materials as well as radioactive elements are omnipresent in the biosphere, and many of them will be long-lived through many geological periods. Using objects, photographs, painting, prints and drawings, video, and sound, the artists in this exhibition show their critical view of this process, complemented by a conversation with the artist and a scholarly lecture. Curated by: Tom Albrecht, Robert Günther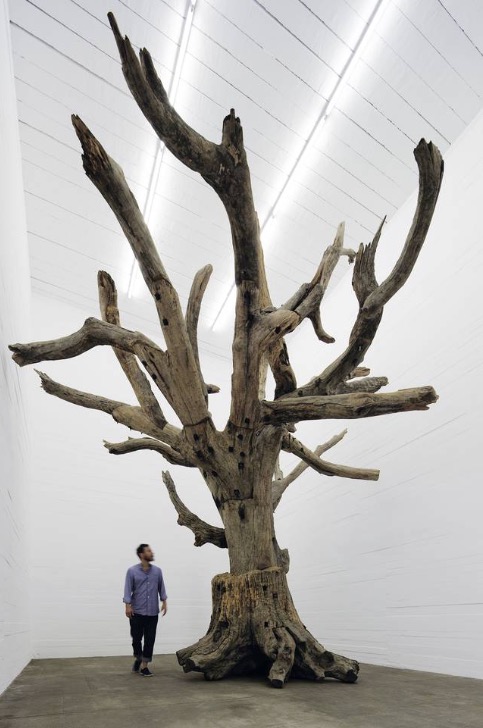 5 Sammlung Boros Bunker 17. + 18. SEP 2016 10 am – 6 pm
location : Sammlung Boros,Bunker, Reinhardtstraße 20, 10117 Berlin
17. + 18. SEP 2016 10 am – 6 pm Sammlung Boros Exhibition, Private Collection
www.sammlung-boros.de
The Boros Collection is a private collection of contemporary art. It contains groups of works by international artists dating from 1990 to the present. Different facets of the collection have been on public display since 2008 in a converted bunker, situated in Berlin-Mitte, with 3000 sqm of exhibition space spread over 80 rooms.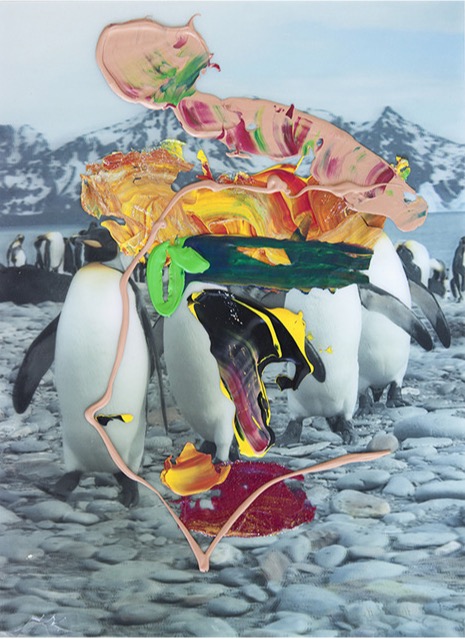 6 Trisha Baga LOAF
Location :Societe Genthiner Strasse 36 / 10785 Berlin
Trisha Baga is an artist living and working in New York, generating mainly video and performance work through a multi-disciplinary practice which engages the formal languages and concerns of sculpture, painting, cinema, music, photography, comedy, and fiction, using common things to guide phenomenological compositions about the acts of looking and recognizing, and the gap in between. She received her BFA at Cooper Union in 2007 and her MFA at Bard College in 2010. She has had solo exhibitions at Vilma Gold Gallery in London, and the Kunstverein Munich, and has shown her work at Greene Naftali Gallery, EAI, PS1, Johann Koenig Gallery, Performa09, The Housatonic Museum, LAXART, and El Centro Cultural Montehermoso.
7 DITTRICH &SCHLECHTRIEM NO JOKE
Location : Tucholskystraße 38, Berlin www.dittrich-schlechtriem.com
Lars Dittrich and André Schlechtriem are pleased to present NO JOKE, the revolutionary collaborative series by Roger Ballen and Asger Carlsen. The self-contained series of 37 black-and-white photographs premieres in its entirety during Berlin Art Week.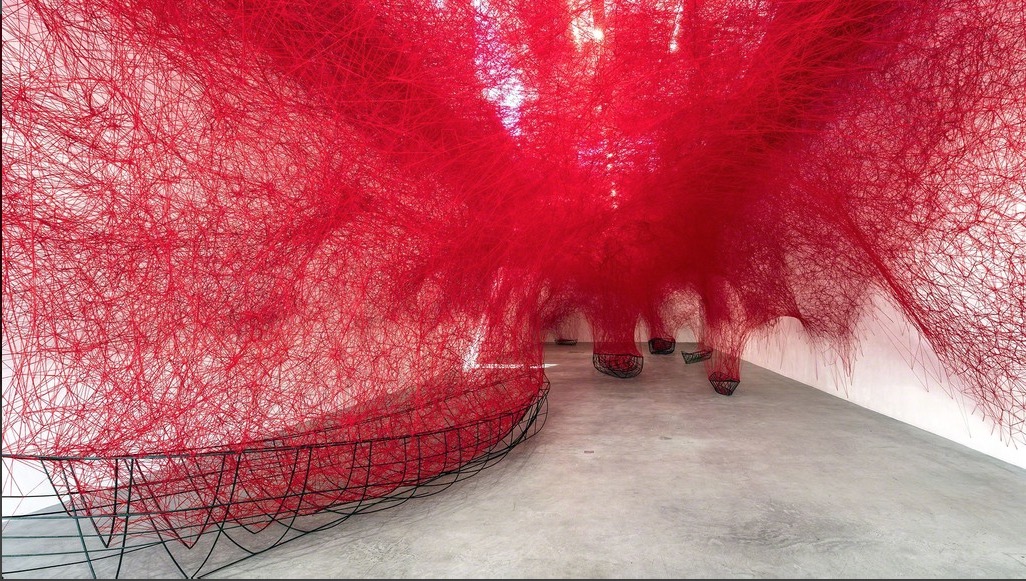 8 Blain / Southern Chiharu Shiota : Uncertain Journey 17 September 2016 – 12 November 2016
Private view Friday 16th www.blainsouthern.com
For her first exhibition with Blain|Southern, Chiharu Shiota will create a new site-specific monumental installation in the Berlin gallery, eight years after she last exhibited in her home city.
Shiota is primarily known for her immersive installations, such as The Key in the Hand, with which she represented Japan at the Venice Biennale in 2015. Weaving intricate networks of yarn, the artist creates new visual planes as if she were painting in mid-air.
Uncertain Journey centres around one installation that dominates the gallery's vast central atrium. Seemingly growing from above, a dense web of red yarn reaches down towards the skeletal hulls of boats which rest on the gallery floor below. The colour of blood, the nexus of yarn is laden with symbolism, for the artist it alludes to the interior of the body and the complex network of neural connections in the brain. Enclosed by the canopy overhead, the boat carcasses raise existential questions of fate and belonging, evoking ideas that can be as complex as the tangled yarn itself.
The gallery's second floor mezzanine offers an alternative perspective, a bird's eye view, several steps removed from the psychological weight of the entanglement below. On this floor in the Long Gallery, new two dimensional thread-on-canvas works further explore the ideas used in the main space. Shiota studied painting early in her education but restricted by the use of canvas and paint, she proceeded to push against the definitions of the medium. At first using her own body in performance pieces, she later began to use thread as a mode for formal and conceptual expression; it allowed her to remove her physical presence yet still address the corporeal ideas that are central to her practice. Her canvases can be viewed as this journey coming full circle.
Her explorations of space, objects, material and scale continue with a series of new works where networks of yarn, thread and found objects, connect within frames reminiscent of doll's houses and scaled down buildings.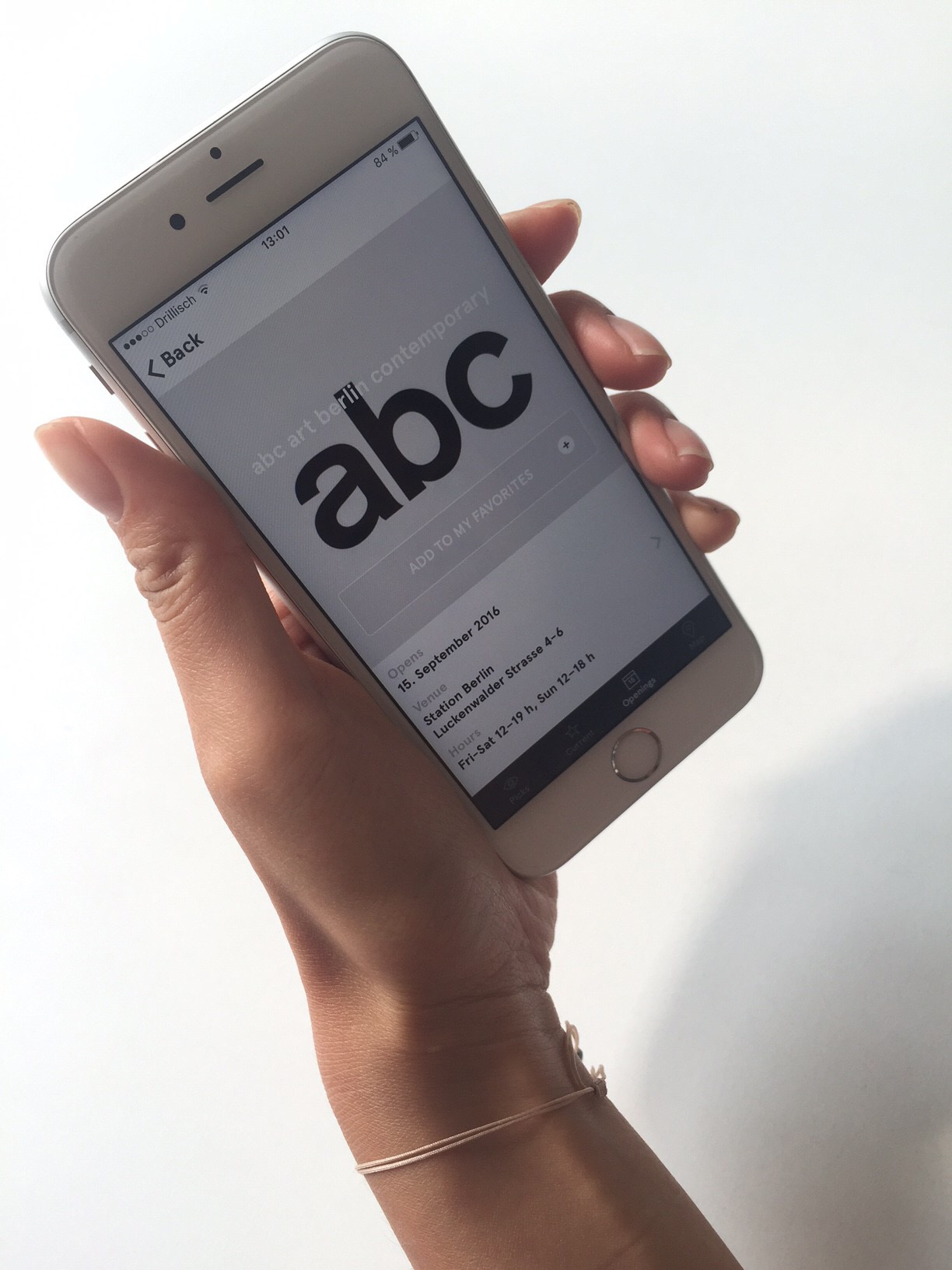 9 abc Art Berlin Contemporary From 15 to 18 September
LOCATION Station Berlin Luckenwalder Strasse 4—6 10963 Berlin U-Bahn Gleisdreieck (U1, U2)
www.artberlincontemporary.com
The ninth edition of abc art berlin contemporary will take place, continuing its commitment to a format that places the artist and their presentation of work at the center. abc has returned to Station Berlin, whose centrally located exhibition spaces reflect characteristic features of the city – a passion for experimentation and openness to evolution and change, enabling abc's continual development and transformation.
10 Brain on XANAX. Wednesday 14th from 2pm
Performance by Puppies Puppies at Akademie der Künste, ground floor
An anonymous figure at large in an era of hyper-documentation and information, Puppies Puppies mines a rich seam of grotesque humor beneath the clickbait, the brain-shredding, warp speed surface of online life. Together with a video each day on the Berlin Biennale website and hand sanitizer dispensers placed through- out the exhibition, this performance is Puppies Puppies' third contribution to the 9th Berlin Biennale.
BERLIN Art Week 13th – 18th September
www.berlinartweek.de
Categories
Tags