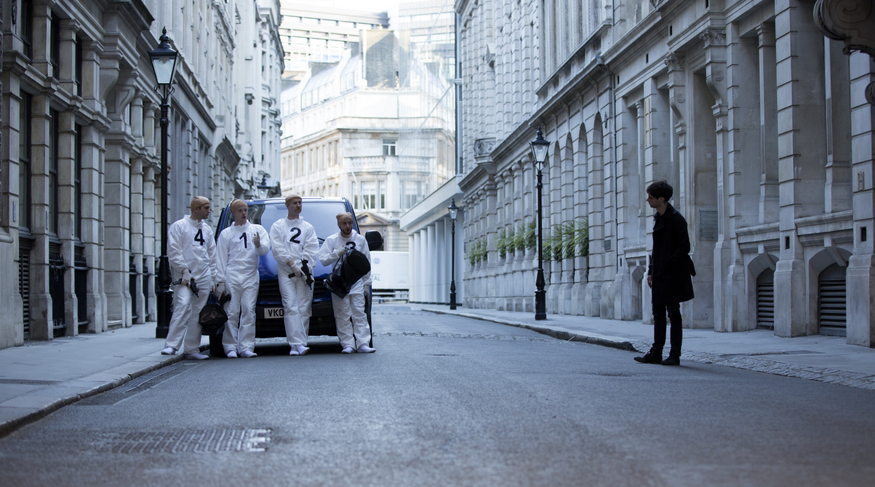 Omer Fast, the video artist best known for 5,000 feet is the best, has made his feature length directorial debut with The Remainder – an adaptation of a Tom McCarthy novel.
Making the transition to film has worked out well for Steve McQueen and Sam Taylor-Wood but can Fast make the switch successfully?
The film starts promisingly, a man walks around Holborn looking lost when something falls from the sky and crushes him. We fast forward to his recovery in hospital and then at home, where even walking with a cup of coffee is a trial and he ends up falling flat on his face.
There is an upside as he receives millions in compensation. But his memories from before haven't returned and it's all a blur. He doesn't know whether he can trust his best friend or the woman he is in love with.
So he spends his new gotten gains to recreate his hazy memories using actors and even cats. Right down to actors having to freeze in position on command and wear masks where their faces remain blurry in our protagonist's memories.
It's a fascinating insight into the psyche of a man who is both all powerful over others, but powerless in lacking knowledge of his past. The film contains both disturbingly violent and darkly humorous moments.
Tom Sturridge plays the lead and he's very convincing at looking lost and nonplussed. It's when he takes control and becomes an intimidating authority figure that he's not as convincing.
This is a beautifully shot film, and you can tell that Fast is a video artist. The surreal nature of the film is perfect for Fast's debut and he handles it very well.
The plot feels like if David Lynch was directing a cross between Memento and Donnie Darko. But even if that does make the movie feel a little derivative it doesn't take away from an enjoyable and assured directorial debut.
The Remainder has a UK release date of 24 June.
About Tabish Khan