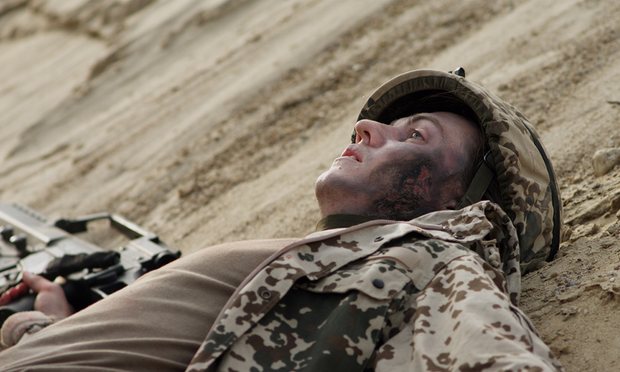 Pressure-cooked feelings beneath the surface … Omer Fast's Continuity. Photograph: Omer Fast
---
This article titled "Omer Fast: Present Continuous review – teasing takes on sex, death and trauma" was written by Adrian Searle, for theguardian.com on Friday 18th March 2016 15.09 UTC
"Everything is wrong: askew, false, unfamiliar or unaligned," writes novelist Tom McCarthy in an essay on Omer Fast, the Israeli-born, Berlin-based artist whose work is now being presented in a travelling European survey at Baltic in Gateshead.
Filling two floors in a series of pitch black, carpeted installations, this selection of seven film and video works made since 2000 covers themes of sex and death, foreign wars and domestic violence. Fast also looks at memory and perception, loss and its traumatic aftermath, and where reality might be found. We know it is out there somewhere.
Hundreds – perhaps thousands – of one-word clips taken from CNN newscasts run together in an 18-minute video that becomes one long soliloquy about how it feels to be alive now. With all its doubts and justifications, it is as if this message were always there, buried within news broadcasts as a secret, subliminal missive.
Another message of Fast's work could be that everything you think you know is false. The world is not to be trusted, any more than the stories we tell ourselves about it. In May, Fast's film adaptation of McCarthy's award-winning novel Remainder, starring Tom Sturridge, is released. The movie is the tale of a man trying to reconstruct his life and the events leading up to the moment he was hit by a falling object, leaving him with severe amnesia. Uncoupled from his past, he tries to find a way back in, only to become a dupe in a larger game. Crossing the genres of heist movie and psychological thriller, Remainder is a meditation on the construction of identity. It is also great fun, of a piece with Fast's own preoccupations.
One thing leads to another and then another in Fast's films. They are filled with misdirection, echoes and shadows ricocheting backwards and forwards in time. In his video 5,000 Feet is the Best, a laser-guided drone fires a rocket that strikes a pipe-bomb buried in a country road. The family in a car accidentally wrecked by the strike walk away from the explosion – they're dead but haven't noticed yet. The drone's operator, somewhere in Nevada, doesn't notice the collateral damage.
Last shown in the UK at the Imperial War Museum in 2013, the film delves into the psychology of the drone operator, mixing fact and fiction, real and staged documentary, taking us to hotel rooms and rip-off scams in Las Vegas, and drone's-eye views over apple-pie churches in small-town America. At once expansive and claustrophobic, 5,000 Feet has the form of an old-fashioned portmanteau movie, leading us by a circuitous route into the mind of the drone operator, as though we ourselves were homing in on a target.
Fast's work is mordant, ripe with moments of black humour. "Did you sauté the brussels sprouts in lard? Exquisite!" says one man of his wife's delicious dinner. Meanwhile, there's an eyeball in the wine glass and the noodles are squirming like maggots, but only the couple's son, a soldier returned home from the war in Afghanistan, can see them. It turns out he's not their son, anyway, but a boy hired to re-enact a homecoming that never happened.
I first saw Fast's 40-minute Continuity at Documenta in 2012, and again in 2015's Artes Mundi in Wales. It's a disturbing tale of a middle-class German couple who engage a succession of young men (rent boys? Actors? Indolent kids who'll do anything for money?) to play the part of their soldier son, supposedly home from a tour in Afghanistan. It is an unhinged intrigue of incestuous sex games, cuckolding and, possibly, murder. As well as the action, Fast is good at capturing the repressed and pressure-cooked feelings beneath the surface, coming to the boil. For all its absurdities, Continuity has the feel of the authentic, which is the greatest artifice of all.
And like all Fast's works, it repays repeated viewings. In Spring, a new film projected on to an arrangement of five interconnected screens, he presents us with a prequel to Continuity, using the same actors and filling us in on the backstory of the young son. At least I think it does, but we never get to the bottom of it, because there isn't one.
Fast may have felt his work on Continuity wasn't finished, but part of me wishes he hadn't gone back to it. Speculating on what was really going on, pondering over the film's dangling clues and inventing a solution has given me a great deal of pleasure since I first saw it six years ago. That's how the work has continued to live for me; I don't want too much explanation.
In life, in the movies, in any story, there is always the unknowable, the unwritten or unscripted part, the stuff the camera or the words on the page cannot tell us. Fast works with these elisions, often to tremendous effect. A great deal hides in plain sight. Not only is he an unreliable narrator and director, his own appearances add a further level of artifice.
Fast, the on-screen director and interlocutor, is always played by an actor. Is anyone in a Fast film who they seem to be – even when they appear to be a documentary subject, who they say they are? Unlike the "reconstructions" of Irish artist Gerard Byrne, in which actors perform the roles of real people, Fast's characters may or may not be who they appear to be – though I trust that the porn actors in his 2013 Everything That Rises Must Converge work in the industry.
Here, an interview with a porn director is intercut with the daily working lives of his stars. As well as watching them screw for the camera, we see them shower, drive home to feed their dogs and retire to bed after another stressful day of humping and blow-jobs. But what of the giant prehistoric egg dug up in someone's LA yard? No one seems to know what it's doing here. Fast relishes the inexplicable.
References and subtexts litter his works like severed limbs. I think we can ascertain that the blown-apart soldiers in Continuity (echoing Jeff Wall's famous 1992 photograph, Dead Troops Talk) have only suffered prosthetic injuries; that the homicidal baker-cum-drug-dealer in Spring isn't a real person. But Fast plays loose with our credulity and teases us with his references (as well as Wall, there is an echo of Bruce Nauman's 1985 video Good Boy Bad Boy in CNN Concatenated).
Rich and rewarding, real and yet not real, the world of Omer Fast is crazed with stresses and faultlines, sheered by flaws, mirrorings, doublings, repetitions and couplings. Looped films are like life – we never come in at the beginning but make our way, getting our bearings and extemporising as we go, just like Sturridge's character in Remainder. Fast's show plunges us into the middle of things. So much for the passive spectator.
guardian.co.uk © Guardian News & Media Limited 2010
Published via the Guardian News Feed plugin for WordPress.
Categories
Tags