Installation by Sol Bailey Barker
Step into the wyrd sonic world of Sol Bailey Barker.
One of London's newest gallery spaces is The Koppel Project. This gallery's main space is in a disused bank vault on Baker Street, meaning that the architecture is a living entity shaping and changing each exhibition and artwork it hosts.
The second exhibition to take on the vault features work by Sol Bailey Barker, Tom Hatton and Joe Farley. Bailey Barker explores the differences between the modern day term 'weird' and the original word 'wyrd'. Wyrd, as defined in Brian Bates' book 'Way of the Wyrd', is an almost indescribable, deep understanding of a way of life. In this exploration Sol Bailey Barker explores the sonic and sculptural possibilities of the Neolithic axe head. In collaboration with the sound artist Joe Farley uses these sculptures to create a soundscape for the exhibition. This echoing and haunting soundtrack was reminiscent of the dungeons' music for Zelda: Ocarina of Time, in particular the Dodongo's Cavern. Surrounded by mythical sculptures and photographs of a mining town, by Tom Hatton, I felt like an explorer within a Neolithic dungeon, about to uncover a link to a hidden time.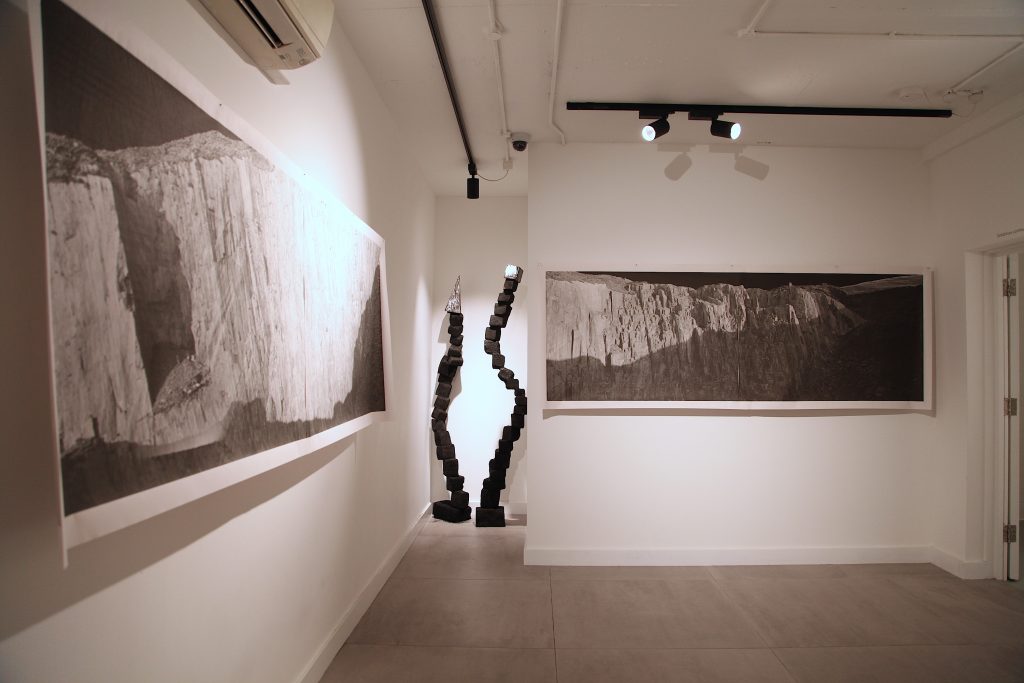 Photographs (printed on newsprint) by Tom Hatton from 'Outpost', 'Freond' (sculptures – charred oak and mild steel) by Sol Bailey Barker
The stand out work in the exhibition is the film. Shot with cinematographer Ruben Woodin Dechamps, the films follows shamanistic characters in a forest and urban wasteland as they perform ancient rituals. Watching these animalistic figures is strangely gripping. It feels post-apocalyptic, where a time of pagan worship and ritual has resurfaced following death and destruction.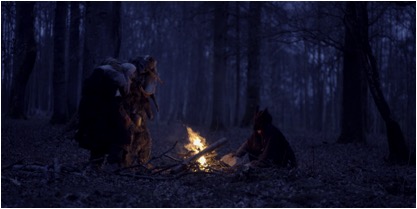 Video Stills from 'Wyrd Then: Weird Now' video by Sol Bailey Barker
This show examines the bizarre and archaic aspects of weird and wyrd. Wandering down into the bank vault on Baker Street, means delving into another time.
Wyrd Then: Weird Now is at The Koppel Project, 93 Baker Street, until 21st May
www.thekoppelproject.com
About Jesc Bunyard