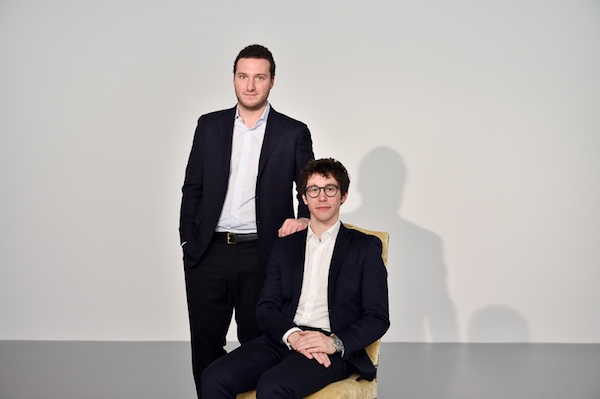 Joseph Nahmad (Left) and Tommaso Calibre. Photo: Nick Harvey. Courtesy Nahmad Projects.
On 9th June, London will see the arrival of Nahmad Projects, an exciting new contemporary art space opening at 2 Cork Street, W1.
An initiative of London-based gallerist Joseph Nahmad, (Joseph Nahmad is the latest member of the London-branch of the Nahmad art dynasty to launch a gallery) in collaboration with former Sotheby's director Tommaso Calabro, Nahmad Projects will bring a radical edge to Mayfair's contemporary art scene. Through an innovative program of multidisciplinary exhibitions, from performances to site-specific art installations, the new space aims to contribute to contemporary culture by investigating and challenging the boundaries of contemporary art practice. Emerging and established artists from around the world, together with leading international curators will be invited to reflect upon the most pressing issues surrounding contemporary art today.
Joseph's brother Helly, deals in works by modern giants like Alexander Calder, Joan Miró, and Jean Dubuffet (his "Asylum" presentation, focused on Dubuffet, was in fact a favorite at the latest edition of Frieze Masters). Across the pond, in New York, his cousin, also named Helly, has specialized in Impressionist and modern legends, including Pierre-Auguste Renoir, Edgar Degas, Henri Rousseau, Francis Bacon, Robert Delaunay, and Balthus.
Meanwhile, his younger New York-based cousin, Joe, launched Nahmad Contemporary in 2011, a secondary market gallery that has staged exhibitions from a varied group of established artists, from Odilon Redon and Joan Miró to Richard Prince and John Chamberlain.
For its inaugural show this summer, Nahmad Projects are collaborating with renowned curator Francesco Bonami. I am NOT tino sehgal, running from 10th June to 20th July, will be the gallery's first experimental project and the first in a series to bring new energy to Mayfair's artistic landscape.
Young artists from around the world are invited to submit an original script inspired by Tino Sehgal's practice via a 'Call for Artists' to be launched yesterday. The worldwide 'Call for Artists' is open to individuals aged 20-35, including students from art schools. Thirty scripts will be selected by Bonami and Nahmad Projects, following specific selection criteria and requirements set out in the 'Call for Artists', and will form the seed of a set of thirty unique performances.
I am NOT tino sehgal will be in perpetual motion, with one performance showcased every day over 30 days. Click here for more information on the call out: www.nahmadprojects.com/call
Nahmad Projects 2 Cork Street London W1S 3LB nahmadprojects.com
Categories
Tags