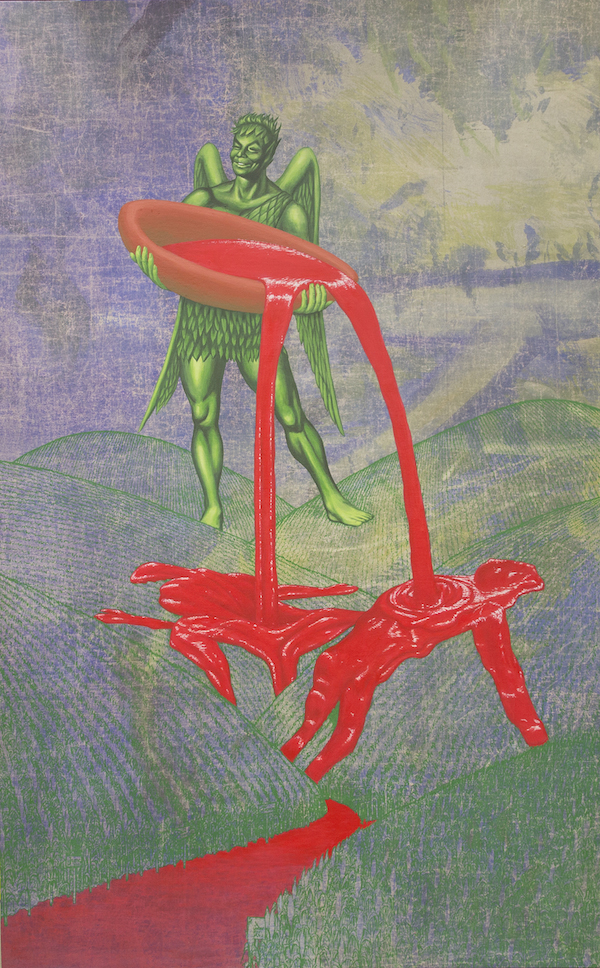 Jim Shaw: 'The Third Angel', 2015 – acrylic on muslin, 183 x 114cm
How much explanation can art reasonably require? Some purists hold that all works should speak entirely for themselves, but that not only rules out many approaches but would reduce the latter-day impact of older works which need some context. On the other hand, you don't want to feel that the work is subsidiary to its explanation, however fascinating that might be.
Jim Shaw's latest paintings (at Simon Lee to 9th Jan) take a halfway position: they work in themselves as wacky compositions which meld together mysterious elements using the striking backcloth of 1940's theatrical backdrops to introduce the sense of another time. The titles suggest there may be a coherence rather than a mere stream of consciousness at work, but I suspect most would need Shaw at their shoulder to work out what's going on. Luckily the galery staff can tell you what he's said. 'The Third Angel' is one of the simpler paintings: this version of the Jolly Green Giant of sweet corn fame is based on the description of an angel that appears in the Book of Revelations, pouring his bowl of woe onto the earth. Here a spill of Huntz tomato sauce, also from 1960's adverts, coalesces towards figures representing toxic GMO chemicals poisoning the crops below, and so critiques the commercial drivers illustrated. My second example incorporates Arshille Gorky, an Ad Reinhardt cartoon, Edward Snowden as Prometheus wrestling Zeus, various NSA intelligence-gathering elements, Buzz Buzzard as a predator drone and more… Best to go see and ask for more!

Jim Shaw: Prometheus: Liver is the Cock's Comb, 2015 – acrylic on muslin, 143 x 193cm

About Paul Carey-Kent