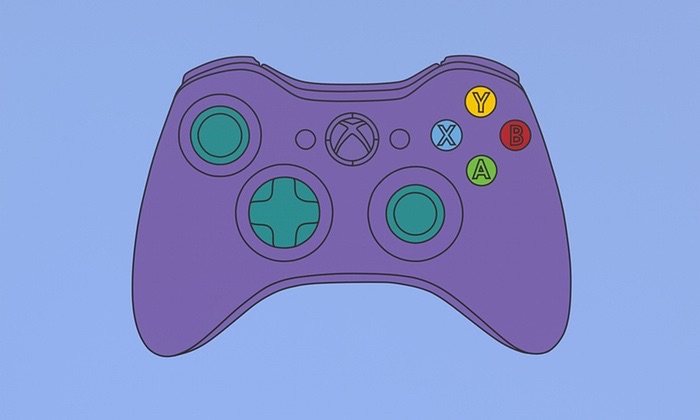 Untitled (xbox control) by Michael Craig-Martin (2014). All images courtesy the artist/Gagosian Gallery Photograph: Mike Bruce/© Michael-Craig Martin. Courtesy of Gagosian Gallery
This article titled "Michael Craig-Martin review – a malevolent graveyard of tech" was written by Adrian Searle, for The Guardian on Tuesday 24th November 2015 16.09 UTC
Takeaway cups with plastic lids; headphones and iPhones and memory sticks; a lightbulb, an Adidas trainer and a serving of fries: they all cascade around the walls of the Serpentine's South Gallery in a nonchalant dance of ordinary things.
This repeated lexicon of objects – black outlines over a white ground – provides the wallpaper backdrop for the first gallery of Michael Craig-Martin's Transience at the Serpentine. The same objects reappear later in painting after painting, where they take on vivid colour.
Here's those fries again, painted a virulent green like some dumb potted plant, in a cheery little McDonald's pouch that's been rendered in shrieking magenta, the image floating on a dull turquoise square and hung on a queasy pink wall. However plain these objects, colour recomplicates them, turning them into abstractions, without you ever being able to entirely forget the things they represent. An iPhone is like a take on Josef Albers's Homage to the Square, while a rear view of a credit card waiting to be signed, with its horizontal black strip and the elongated white rectangle below, has the feel of certain Ad Reinhardt paintings or a Rothko. If you look at these painted renditions long enough – a lightbulb or an AA battery, a pair of three-pin electric sockets or an open laptop – they begin to drift from what they signify and take on an almost malevolent strangeness. Craig-Martin bathes them in unearthly light. You can almost hear the dissonant colours throb, and smell its electricity like the tang of ozone in the air.
The colour in Craig-Martin's paintings, and the walls on which many of them hang, invites a kind of synaesthesia – a bodily, almost emotional tone that heightens the pitch and tenor of these mute, commonplace objects. A painting of a hotel door handle, with its room-card slot and little red light, glowers back at me just as the real thing does when the lock refuses my card for the third time and leaves me stranded in the corridor. Another image, of the front of a hotel room-safe, looks back with the same indifference as the one I've forgotten the code for, no matter how many times I punch the numbers in.
Craig-Martin heightens the normality of things, their indifferent affectlessness slipping into a kind of perceivable malevolence. I am sure this is unintended, and it would be foolish to regard his work as a denunciation of consumerism. He's just observing the things around us, the appurtenances of the modern world. For all his knowing sophistication, he is a realist in a mannerist world.
The works also chart how the world has changed over the past 30 years, since he made the earliest wall-drawing on show here. In Stack, 1981, drawn with black tape directly on a white wall, five objects float above one another in isometric projection – a clipboard, a leather briefcase, a tape cassette, a hardback book, a portable television. Who uses a clipboard now, or cassettes, or has a TV like that nowadays? For a while, it seemed that even the book might be on the way out, and the briefcase has now assumed a retro stylishness. What once felt new has become quaint. A painting of a hand torch from 2002 describes an object redolent of its moment. I have no clue what the once up-to-the-minute Palm "Tungsten" T-Handheld, from the following year, even did. It's now in a technological graveyard, along with the fax machine and the clunky portable TV. When Craig-Martin first started these works, there was no internet and no one had a home computer. Now he uses one to draw his images.
With time, everything, including the familiar, has changed ­– the things in our pockets, the things in our homes, in offices and studios and hotels. Things that look new now (including art, perhaps especially art) will soon be superseded, though a lot of the old stuff hangs around – that old torch, the hammer in the drawer, stepladders and safety pins.
Craig-Martin's work remains remarkably consistent. The way he describes things, in a kind of flat descriptive tone, as if he were naming things, reducing them to the status of simple nouns without accent or adjectives, stays the same. Graphic, frontal and direct, the objects he describes declare themselves with blunt clarity. You look at them and they stare back.
His work is also more complicated than it looks, more complicated even than perhaps he knows. Something always escapes intention. The affective relationships we have with them is unconscious and volatile. The things around us conspire in our alienation. Some artists (and writers) are described as looking at the world "unflinchingly". Anyone who looks at the world about them without flinching has got to be crazy. There are also those who are said to "get beneath the surface of things". Better to focus on the surface. The deep will erupt anyway.
guardian.co.uk © Guardian News & Media Limited 2010
Published via the Guardian News Feed plugin for WordPress.
Categories
Tags