Play Nicely has collaborated with the National Theatre and 59 Productions to create a free exhibition of otherworldly digital experiences to accompany the upcoming musical wonder.land. enter wonder.land will open tomorrow 26th November and run until April 2016.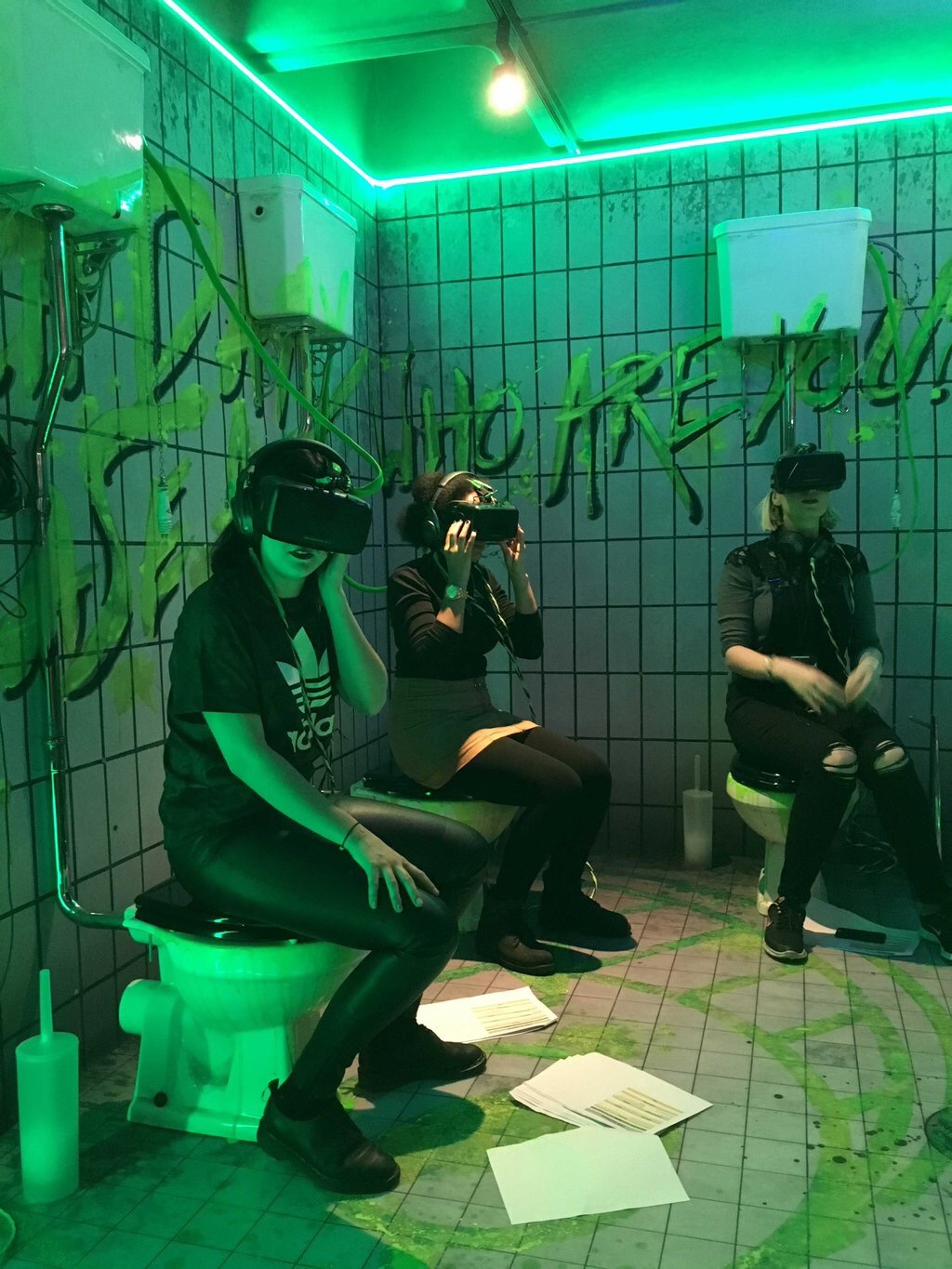 Inspired by Lewis Carroll's iconic story, wonder.land is a coming-of-age adventure that explores the blurred boundaries between our online and offline lives. enter wonder.land complements the production through a creative use of technologies: Oculus Rift, Kinect, Google Cardboard and Augmented Reality face-tracking, all delivered by Play Nicely.
The free exhibition was conceived by the NT's Head of Digital, Toby Coffey, who worked with designers Tom Paris and Rae Smith, to give audiences an immersive experience in addition to the stage production. It builds on the Virtual Reality research development Play Nicely was already undertaking with the National, alongside 59 Productions' incredible wonder.land performance visuals which were re-appropriated for the interactive exhibition.
The central experience in the enter wonder.land exhibition is the Virtual Reality installation – fabulous wonder.land – a VR music video, experienced through Oculus Rift. Audiences explore the extraordinary 360° landscape of wonder.land as all around them the hypnotic garden scene sways and pulses to the sound of fabulous, one of Damon Albarn's compositions.
Looking up they see the Cheshire cat, floating majestically as if he were the conductor of their content. This multi-coloured, wildly imaginative virtual landscape places the audience in the centre of an interactive immersion lasting around five minutes.
Other equally original digital expressions of the narrative include a Kinect experience allowing a physically reactive wonder.land garden experience, an Augmented Reality face-tracking magic mirror wall, wonder.land character avatar-maker and Google Cardboard home VR experience for iOS and Andorid.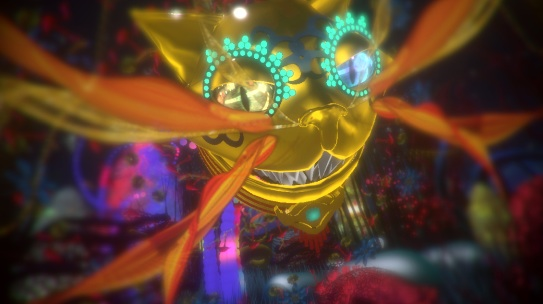 Scene from fabulous wonder.land © Play Nicely, 2015
Play Nicely director Oliver Lindsey commented:
"Being part of the first digitally interactive exhibition staged by the National Theatre is typical of the artistic and technological risks that Play Nicely takes in the pursuit of genuinely original content production. We love surprising an audience and find that doing so increases the power of the message or narrative. The challenge was to create an entirely new audience experience beyond the auditorium which allows visitors to feel physically part of the wonder.land world."
www.playnicely.co.uk
@playnicely
www.nationaltheatre.org.uk/shows/wonder.land
Play Nicely
Play Nicely is a Bristol-based creative technology studio, delivering cutting edge digital experiences for the arts, culture and entertainment sectors.
enter wonder.land
enter wonder.land, a free exhibition of digital experiences, will run from 26 November – 30 April from 12pm each day. Be bold. Be fearless. With a little bit of weirdness. An adventure when you enter, fall down the rabbit hole and explore the extraordinary world of wonder.land. This installation features specially-created immersive experiences, developed with the show's designers and creative team.
enter wonder.land is a collaboration between the National Theatre, Play Nicely and 59 Productions.
The production partners are Mahdi Yahya and Room One.
Categories
Tags