HUMBLE & EPIC is an exhibition featuring new artwork by London-based filmmaker Ben Gregor. HUMBLE & EPIC
"is a tribute to the steadfastness of inspiration, love and friendship in a fractured and passing world of modern love."
Using 65 maple wood skateboards as his canvas, Gregor has laser etched each board with the names of his closest friends, family and heroes. Solid, three dimensional and practical, each board is meaningful and unique. Each board's individuality is reflected also in the unique markings and patterns of the maple wood.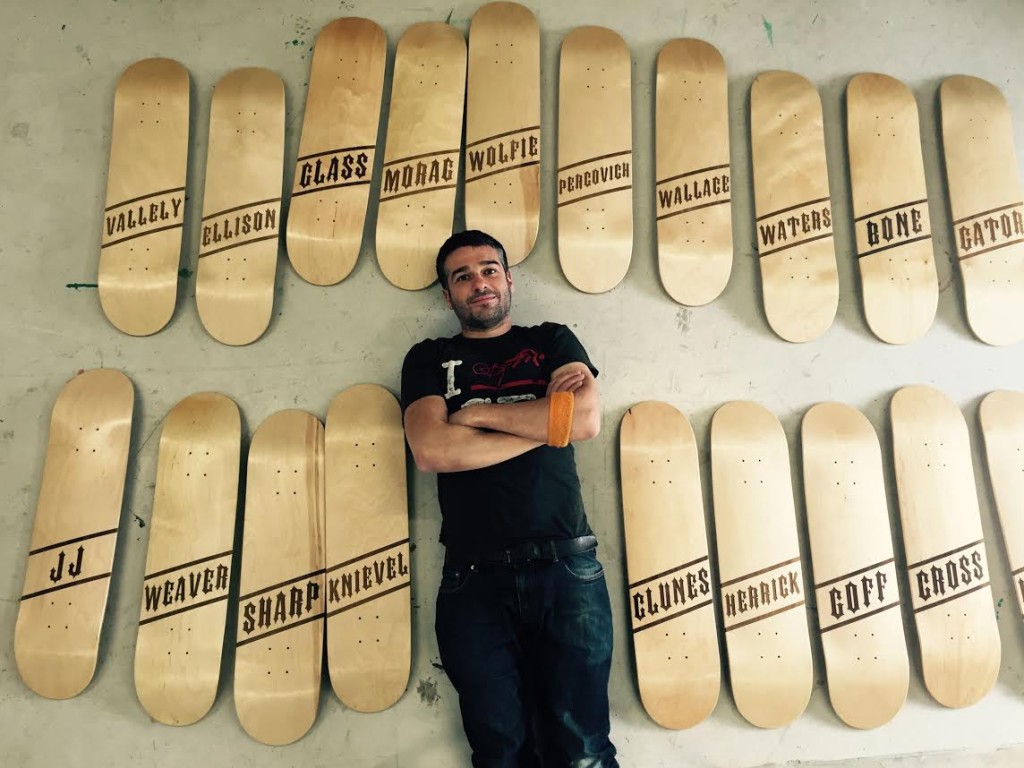 Gregor was inspired to create the project to pay tribute to those who inspired him following the end of a relationship earlier this year. The boards are displayed with a short piece of revealing prose, sometimes funny and sometimes tragic, bringing the names to life in an evocative and surprisingly raw way.
Gregor says:
"There are all kinds of people on the boards – it's like a map, an inventory of people who have either inspired or sponsored me. Some I never met – like Evil Knievel and Kawabata Yasunari, some who I've been lucky to work with like Spike Jonze and Sigourney Weaver, right through to friends, family, priests and even my dog Wolfie. He's probably the first dog to have his own pro model skateboard."
The boards will be on sale during the exhibition, with a *portion going to Skateistan and bespoke boards can be ordered via Herrick Gallery – with a name of the buyer's choice in the same style.
Alice Herrick, Director of Herrick Gallery says:
"We all have that list – the list of special friends and family who are particularly meaningful to or supportive of us. Gregor's concept, to create a joyful, individualised body of work, recognises his list. I'm delighted that others might also choose to recognise those on their own special list with a similar board. And of course all sales will help to benefit Skateistan."
*10% of sales profits will go to Skateistan, a non-profit organization that uses skateboarding as a tool for empowerment in Afghanistan, Cambodia and South Africa. Skateistan works with nearly 400 youths each week, and focuses especially on providing opportunities for Afghan girls and street working children. www.skateistan.org
Exhibition: 3rd – 19th December 2015 Opening night: 2nd December 6-9pm Herrick Gallery 93 Piccadilly London W1J 7NQ www.herrickgallery.com
Categories
Tags