British artist Miranda Donovan describes her work as 'sculptural paintings' the art works on show at CNB gallery are drawn from three series: her meticulously detailed brickwork pieces, skilfully created by carving out miniature bricks from building materials; her "steel sheet" with rivets works which are in fact made from resin, and her smaller figurative works on cement.
While differing in medium, each of the series is united by a common thread: an exploration of the human condition and the darker sides of civilisation. This is obliquely evidenced through the ciphers of peeling paint, cracked cement, coiled, warped "metal" edges, which deftly blur the boundaries between sculpture and painting, while at the same time leading the viewer to contemplate the fleeting nature of human endeavour and aspiration.

See, Hear and Speak No Evil, 2014 Acrylic on motherboard 27.5 x 29 cm
Says gallery director, Rebecca Lidert:
'The power of Donovan's work is that it reflects man's ingenuity, his skills and strength, but in doing so lays bare its temporality, portrayed through the erosive and gritty imprint of decay.'
Miranda Donovan Metaphors for Mankind through to 12th November 2015 CNB Gallery, Tramshed, 32 Rivington Street, London, EC2A 3LXwww.cnbgallery.com
About The Artist
Born in London to English/Dutch parents Donovan's formative years were divided between England and Holland. After completing a BA Degree in History of Art at Bristol University, she studied fine art degree at the Ecole des Beaux Arts d'Aix-en-Provence, France, completing this course of study in 2005 at The City & Guilds of London Art School. She has exhibited extensively in group and solo shows including at The New Art Gallery, Walsall, The Bowery, New York, The Public, West Bromwich, curated from the Frank Cohen collection, The Copelouzos Museum, Athens, The Groucho Club and the Lazarides Gallery, where she had her first solo show in 2007. She has carried out large scale commissions including a 21 x 7 ft triptych installed by the banks of Lago Maggiore in Italy, a poster run for Black Cow Vodka and is currently working with The Cultivist carrying out pencil portraits of each new Cultivist member in her recognisable graphic, linear style.
Mark Hix first collaborated with Donovan in 2009 when she was commissioned to create a bespoke mobile for his restaurant HIX Soho. With little wall space, and in keeping with Hix's love of contemporary art, it was decided the restaurant's ceiling would lend itself well to artistic creations instead. It is here Donovan's mobile can be seen hanging alongside the likes of Damien Hirst, Sarah Lucas and Anthony Gormley. Over the years other works by Donovan have been presented at Hix's restaurants, including Tramshed and HIX City.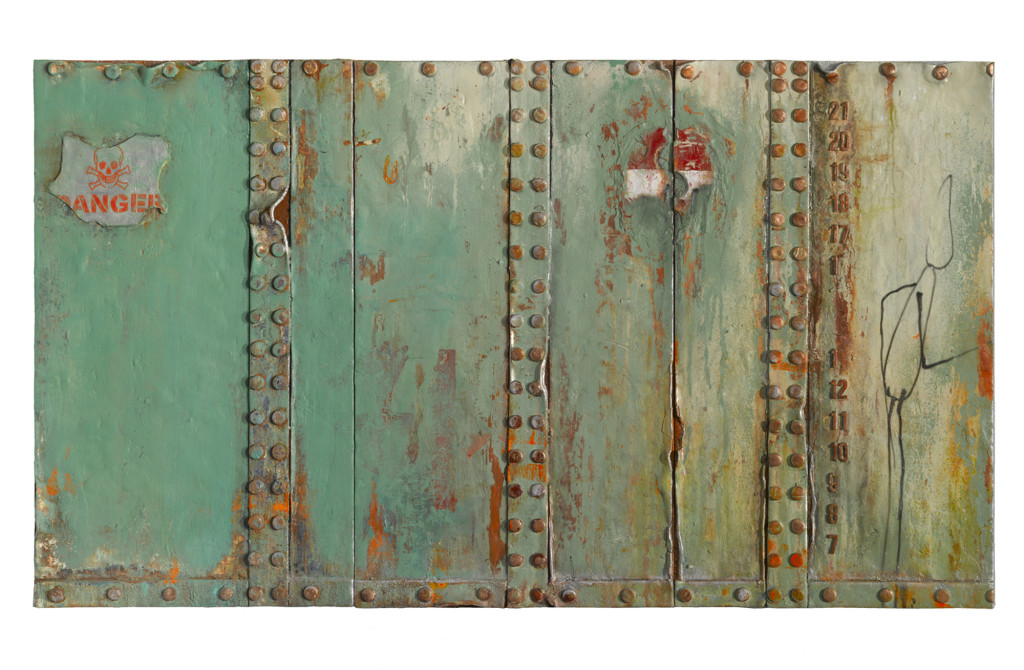 Keep Walking, 2014 Oil, acrylic, enamel and resin on panel 67 x 120 x 5 cm
About Mark Westall