HIX ART has teamed up with London Based Art initiative Art Wars for the exhibition'Art Wars East'. Featuring new works by emerging and established artists. Each artist has been provided with a Star Wars Stormtrooper helmet, with the brief of transforming it into a piece of art: 'Turning the Dark Side into the Art Side.'

Phil Colbert Art Wars East
Artists include Ben Eine, Joana Vasconcelos, Philip Colbert, Joe Rush, Miranda Donovan, Lauren Baker, Will Teather, Carne Griffiths and Orlanda Broom. Art Wars is curated by Ben Moore and will raise funds to benefit two charities, Missing People and the Missing Tom Fund. Since launching Art Wars at Saatchi Gallery in 2013 in aid of The Missing Tom Fund, the initiative has garnered support from major artists worldwide including Damien Hirst, Anish Kapoor, J&D Chapman, Alison Jackson, Yinka Shonibare, Antony Micallef, D*Face, Mr. Brainwash and Retna. Since then Art Wars has travelled to Sweden, Dubai, Miami and Los Angeles and featured in numerous art fairs including The Other Art Fair, Moniker Art Fair, and Red Dot Art Fair.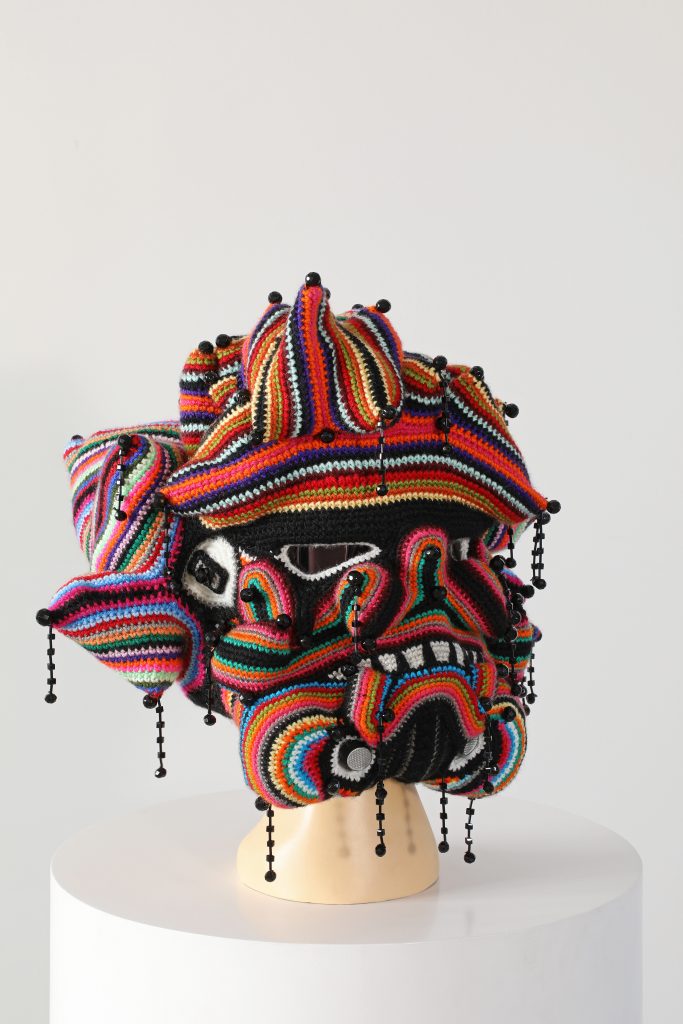 Joanna Vasconcelos Wooltrooper Art Wars East
The Missing Tom Fund was set up by Ben Moore, Founder of Art Below (founded in 2006), to help raise money to find his brother Thomas Moore, who disappeared in 2003 aged 31 years old. His family have not heard from him since then. Now, 15 years on, with the support of the Missing People Charity his family continue to search for Tom.
Joana Vasconcelos lives and works in Lisbon. In 2012 she was summoned as the first woman and the youngest contemporary artist to exhibit in the Palace of Versailles. Her works are now visible on the international scale and her colourful objects became part of private and public collections, from Museum of Art in Seoul, over respectable institutions in France and Spain, to National Museum of Women in the Arts, Washington DC. Exuberant, witty and alluring objects and installations show the continuum of polished and well-thought practice which substantially embedded in contemporary social and political topics.
Philip Colbert's cheeseburger helmet will add a Pop Art touch to the impressive roster. Through his design alter-ego The Rodnik Band, his works have sold at Dover Street Market in London and Collette in Paris, and have been worn by Cara Delevingne, Anna Della Russo, Lady Gaga, Rita Ora among others. He has produced limited edition works for Disney, Snoopy, Rolex, Smart Car and Absolut – and is set to collaborate on a new clothing line with one of his biggest and most famous fans, Kanye West.
Orlanda Broom has exhibited regularly in London and internationally. Her paintings have been selected for curated shows and competitions including Threadneedle Prize, NOAC, BEEP and the RA Summer Exhibition, in 2016 she completed a major commission for Four Seasons NY.
Will Teather is a British artist known for creating contemporary images that reveal an adventurous imagination combined with a mastery of traditional skills. The artist's figurative paintings and drawings often depict curious characters caught up in un-canny situations. Influenced by magical realism and lifting motifs from diverse sources such as Flemish still life, baroque art and Weimar painters, the artist enters into conversation with the history of painting with the aim of bringing a present-day sensibility to the table.
Other highlights include Ben Eine, one of the most successful street artists in the world today and regarded as a pioneer in the exploration of graffiti letterforms. In 2010 his artwork was gifted to President Obama by the UK Prime Minister, and his unique pieces can be seen across London. A particular area of the East End has been named 'Alphabet City' after his colourful array of shopfront 'shutter art'. Eine's work is currently held in the permanent collections of the V&A, London, The Museum of Modern Art, Los Angeles and galleries worldwide.
HIX ART have intentionally left one plinth empty. It pays tribute to Thomas Moore and all other missing people.
Art Wars East 29th March – 18th May Private View 29th March hixart.co.uk
Categories
Tags