This week Somerset House has played host to the 1:54 Contemporary African Art Fair which showcases the worlds most interesting artists and galleries at the forefront of contemporary African art. The fair coincides with the laboriously busy Frieze week and if you haven't already worn out the soles of your shoes and collapsed in to a champagne and art induced coma then you're not going hard enough; and this weekend would definitely be a great opportunity to go and have a look.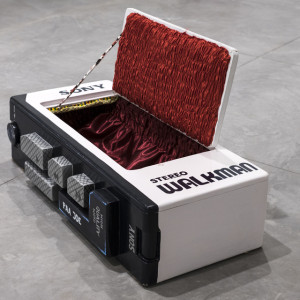 One of the most interesting artists and stories to be on display at the fair is Paa Joe.
Dubbed the Godfather of Fantasy Coffins, Paa Joe has been immersed in the industry and art of creating the beautifully, ephemeral sarcophaguses since he was a child and is now the subject of a documentary telling the story of his definitive work and the struggle to maintain his practice and business in the face of adversity.
Fantasy Coffins are a distinctly African celebration of life and the masterfully crafted shapes and themes fill the burial grounds in Ghana like a colourfully macabre, underground gallery. Each coffin takes months to make to then be on display for a matter of hours before being submerged into the ground; never to be seen again.
Paa Joe's career has seen radical changes over the years and has attracted the attention of many collectors and gallerists. He sold work to President Jimmy Carter, in the late 80s, and was visited by Bill Clinton in the 90s and has since been forced out Ghana's capital city of Accra to his cramped workshop, in the country, where he lives and works with his son Jacob Tetteh-Ashong.
Fad caught up with Paa Joe just before his visit to London to tell us a bit more about his practice and the future for his fantastical, subterranean works of art.

How did you first get involved in making Fantasy Coffins?
I got myself trained by my uncle Seth Kane Kwei as part of the 2nd generation of this trade, from 1960-1972. From then to Elimina boat-yard, a fishing area in Ghana to learn how to carve canoes. I returned back to Accra in 1976 and opened my own workshop in 1977. Since then I have been progressing as a master of my own.
Have there been big changes in the industry in that time?
There has been a lot of methods and new shapes in the industry – also with a little help from machinery. In the beginning it was not so.
Can you explain a little bit about the traditions behind The Fantasy Coffin?
People are buried in Ghana according to their profession whilst alive or what they were addicted to. The photographer is buried in a camera while a business tycoon is buried in a Mercedes, Porsche , vintage car or a Ferrari. A king or a family leader is buried in a lion , Eagle, fallen Tree, Rooster or a stool Believing life still continues after death.
You've exhibited in galleries and art fairs all over the world. Are your creations considered art in Ghana?
Never ! Ghanaians consider them mere coffins although they appreciate it.
Do you consider yourself an artist?
How has the move out of Accra effected your practice?
Since we relocated business has been slow. Art collectors, buyers andcustomers find it difficult to catch us up due to the distance. It's by Grace we survive.
Why did you have to leave the city?
The heirs of the land asked me to leave since that piece of land was their portion, despite their dad giving it freely to me.
How did you get involved in the documentary?
The film maker, Benjamin Wigley, found out about me at Jack Bell Galley, in 2010, when there was a solo exhibition of my work, then he contacted me and flew to Ghana, in 2011, to start the documentary. He has been back to Ghana 5 times to follow me.
How do you feel the release of the documentary will effect your work and business?
It will boost my business to another level!
Paa Joe's Work will be on display at 1:54 at Somerset House until Sunday the 18th of October and you can follow and support the documentary HERE
Categories
Tags