Glenn Brown's presentation at the Gagosian booth
At this point in Frieze – that's three days in for paupers, and five days for the elite – it is customary to begin to round up the highlights and to deliver a critical judgement. Having trawled the unflinchingly spectacular aisles of the world's greatest art supermarket, one has a clear sense of what's worth the money, who's destined for heaven and who will be first in line come the revolution. Except this year my sojourn to Regents Park, which is normally the pinnacle of a year's toil, was blighted by delirium and excruciating pain. So instead, I'll tell you a titillating tale of blue-chip art, selling-out and dentistry.
Frieze began for me in the same way as it does every year: with scrambled eggs and a singalong to Lady Gaga's Paparazzi. I don't know how Paparazzi became my Frieze song, but it whips me into a Dionysian frenzy over the possibility of seeing a celebrity – like Marc Quinn or Richard E Grant. For the last few years I have been listening to the Greyson Chance version, which is a heart-breaking bundle of desperation and seething desire compared to Gaga's emotionless drawl. I sing into my coffee the line 'I'll follow you until you love me' with the image of Jay Jopling fixed firmly in my mind. And every year I promise I'll be kind and that I won't stop until Adrian Searle's job is mine.
The first thing you see, as ever, is Gagosian, whose booth this year is a solo presentation of Glenn Brown's new drawings on paper and sculpture. After last year's shenanigans with Carsten Holler, Brown is sober, thought-provoking and sleek; everything is immaculately framed and hung on rich grey walls. And it's delivered completely deadpan, like when Chris Morris says 'Chris Patten will never be king', you suspect there must be a joke lurking behind the façade of axiomatic seriousness. I actually enjoyed my time in the Gagosian booth; I found myself thinking – yes, thinking, at Frieze – about the future of portraiture and the artist's rendering of a human soul. It wasn't quite a religious experience, but it was spiritual in the sense that I almost felt I'd left the body of the tent and floated to a higher plane where art was about something other than money.
Next, as ever, is Sadie Coles HQ. Last year, she showed a maximal Angus Fairfurst installation, all drippy and reflective with eye-watering wallpaper, which looked like a live action cartoon horror story. And some frankly daft Marvin Gaye Chetwynd pictures which I liked at the time. But this year she is showing some dainty Sarah Lucas pictures: lists of rude words written in pencil, like she used to do, but somehow cleaner aesthetically. The wall is painted in Lucas' signature Biennale Yellow and there is an inviting comfy armchair, which turns out to be painted bronze. It is an elegant, well-considered presentation, which feels mature, but edgy as a YBA in her 50s should be. And there's only one cock. Sadie Coles is the very definition of restraint at this Frieze.
Next, as ever, is White Cube, who is showing a couple of new Hirsts, about which you must permit me a word or two.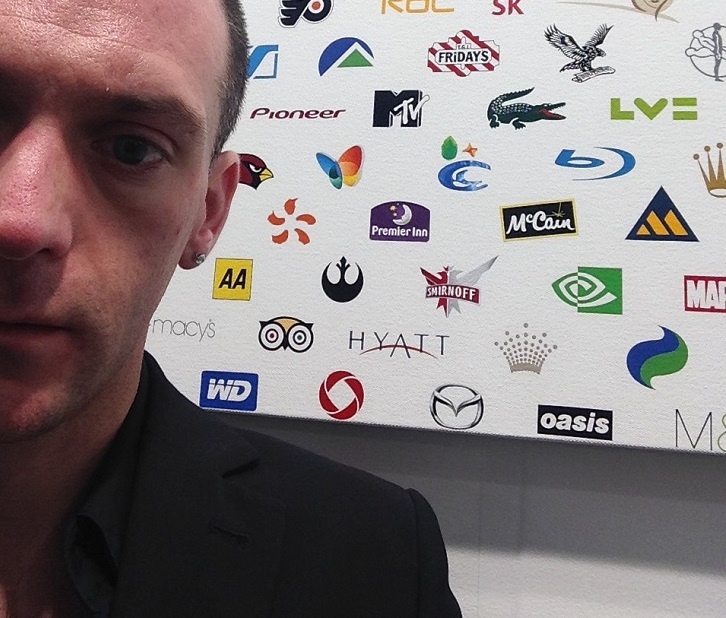 Daniel's moment of fame with that new Hirst at White Cube's booth
One is a tiny white canvas with the logos of various corporations painstakingly painted on it, like those backdrops against which people are interviewed at the Oscars or after the football. I like this one because it is Damien being boisterously self-conscious about selling-out: it's not just a statement about the connection between art and money, it is an act of self-parody that lays bare the way in which the YBAs obliterated the lines between art and popular culture and art and commerce. It says 'I am the sell-out, and now I'm selling the fruits of my sell-out to other super-rich sell-outs who are stupider than me because they don't know they're selling out by buying this art'. For Damien, it's cerebral, meta, postmodern high-end artworld chic. It is, unusually for Damien, demure, self-effacing and subtle because it is too tiny to exactly resemble what it is and yet it perfectly captures the spirit of a world in which everything is always too big and too shouty. I felt famous for a second as I took a selfie in front of it, pretending I had just won the Oscar for best performance as Damien's Number One Fan, which brought me right back to Paparazzi: 'this photo of us don't have a price/ready for those flashing lights'.
At this point in proceedings – three booths in – I decided to go to Gail's for a treat. I don't normally eat bread because it is the food of Satan, but since it is Frieze I thought, 'when in Rome' and bought myself a hopelessly overpriced crusty baguette. On the way to Gail's oh so very middle class bakery, I deliberately shut my eyes to any art that might leap into my field of vision so I could savour it proper when I had filled my belly with dough while all the gallerists were putting dough in their pockets. Before handing over my debit card, I considered taking out a mortgage and narrowly avoided a lifetime of debt by calculating precisely how many words I would have to write to be able to afford this sandwich. Less than a treatise, but way more than a paragraph.
As I bit into the sandwich, I heard an almighty crack, like Thor's striking God's transcendental anvil. And then I felt a searing pain and tasted blood. Now I have heard of crusty bread, but this must have been fortified with marble, since it crushed my back tooth to a weeping mess. I managed to spit some of the tooth into my napkin with a modicum of dignity, but the rest of it clung desperately to my gum, wobbling and swaying, causing a vicious spasm all through my head every time it moved. While silently extruding blood into a napkin like a victim of consumption, I threw the sandwich away and had a cigarette instead.
After that nothing was quite the same. I couldn't concentrate on looking at art, and eventually I became delirious with the pain. Fortunately, I always carry codeine in my pocket, so I popped a couple of those babies whilst pretending to look at Marian Goodman's booth. But then, of course, I was as high as William Burroughs on a Wednesday afternoon and all the art merged into one blissful opiate haze. But somehow I stayed the day, wandering around giddy and queasy, just late enough for my dentist to shut up shop.
Consequently, I have nothing more to say about Frieze and little enduring memory. I do know I made a considerable loss on the day, having shelled out for that hateful sandwich and then an emergency dentist to have the rest of the blasted tooth chiselled out. I don't know who this Gail is but she owes me the cost of dental surgery and loss of earnings incurred from not seeing the fair. And she seriously needs a lesson in how to make bread.
Words: Daniel Barnes
Categories
Tags