The Lenovo Yoga range is possibly the most art-friendly laptop and tablet collection ever, and that's maybe because it's a little bit weird. In a good way. Watch this excellent video and imagine the #Friezeweek possibilities…
Check out the celebration of #Goodweird in the smart little films below and over at www.goodweirdproject.com
Whether you're manning a booth, soaking up the scene, or presenting your own work we think we've found the perfect tech for you. Record, watch or share your favourite artist, compare the myriad art fairs taking place around town, stage or post from art show and, do we even need to say it, keep up to date with what's going on with FAD's always interesting coverage.
Art's always been good at embracing weird and that's because a bit weird is pretty much a prerequisite for having the kind of ideas that change everything. Think about Da Vinci, Rembrandt and Van Gogh, think about Picasso and Boetti, think about Warhol. Not a conformist among them, all of them weird, but each one weird in quite a good way. #Goodweird as our friends Lenovo call it.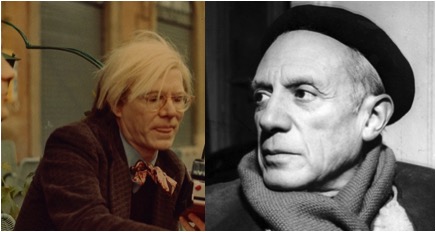 Great artists: good AND weird… #goodweird
Great artists: good AND weird… #Goodweird
It turns out art isn't the only one that treasures being a bit weird, and the flexibly named Lenovo Yoga range has taken this #Goodweird idea to heart, coming up with a range of products that include an amazingly left-field mix of slightly odd-ball features that may yet make them the art-world's favourite new freaks.
Not just super flat, (think thick as a pencil) the Yoga 3 Pro is not just convertible from a laptop to a tablet (which is really very useful) while the Lenovo Yoga Tablet 2 Pro has a teeny hidden projector that means you can screen that snazzy piece of conceptual video art you snapped up wherever there's a wall and a dimmer switch. The little projector punches way above its weight and turns any wall or ceiling into a cinema screen with a screen size of up to 127cm – the Lenovo Yoga Tablet Pro 2 even features a high-quality sound system. Also excellent for your video art (and ok, maybe also your occasional Netflix binge) is a special built in hook that means you can mount the tablet on a gallery wall – or indeed any wall – by hanging it off any useful hook. It's light enough that even a picture hook will do it. And if all this gets your creative juices flowing, the Lenovo Yoga Tablet 2 Pro also lets you draw on the screen with an actual pen, meaning no more irritating little plastic stylus.
We can't wait to see what you use yours for.
A BIG thank-you to Lenovo for supporting FAD – we really appreciate it.
Categories
Tags