"Nowadays everything happens at once and our souls are conveniently electronic (omniattentive)."
John Cage, 1966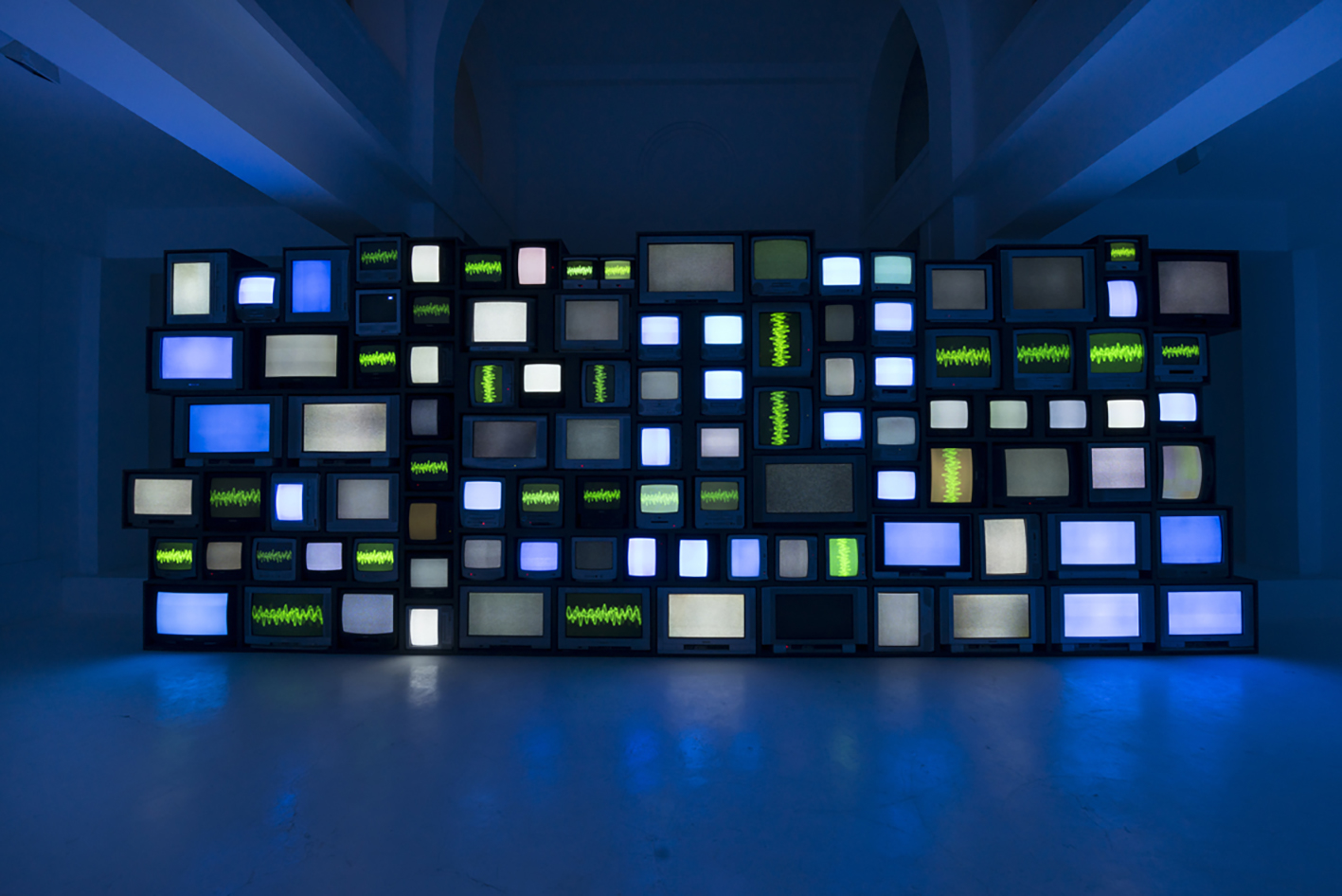 Susan Hiller Channels, 2013 Video installation with sound Dimensions variable Photo by Oh Dancy
© Susan Hiller; Courtesy Lisson Gallery
Lisson Gallery opened on Bell Street in 1967, a year after John Cage's pronouncement on the changing conditions of contemporary existence. In celebration of this anniversary, the gallery is partnering with The Vinyl Factory to stage 'EVERYTHING AT ONCE', an ambitious group exhibition inspired by these words.
Through new and historical works by 24 of the artists currently shown by Lisson Gallery (out of more than 150 to have had solo shows over the past 50 years), this extensive presentation aims to collapse half a century of artistic endeavour under one roof, while telescoping its original aims into an unknowable future. As Cage predicted, we increasingly live in an all-at-once age, in which time and space are no longer rational or linear concepts and great distances can be traversed with an instantaneous click. More than ever before, contemporary art, like life, assaults us simultaneously from all angles and from anywhere on the globe, existing also as multisensory visions of an accelerated world.
In response, 'EVERYTHING AT ONCE' is neither a chronological exhibition nor an encyclopaedic history of the gallery's activities since 1967, rather it is an interconnected journey incorporating 45 works exploring experience, effect and event, invoking immediacy and immutability. Ranging from text to installation, painting, sculpture, performance and sound, the selection presents some of Lisson's leading artists, of both the past and present.
'EVERYTHING AT ONCE' 5 October – 10 December 2017 Store Studios, 180 The Strand
MARINA ABRAMOVIC, AI WEIWEI, ALLORA & CALZADILLA, ART & LANGUAGE, CORY ARCANGEL, TONY CRAGG, RICHARD DEACON, NATHALIE DJURBERG & HANS BERG, CEAL FLOYER, RYAN GANDER, DAN GRAHAM, RODNEY GRAHAM, SUSAN HILLER, SHIRAZEH HOUSHIARY, ANISH KAPOOR, LEE UFAN, RICHARD LONG, HAROON MIRZA, TATSUO MIYAJIMA, JULIAN OPIE, LAURE PROUVOST, WAEL SHAWKY, LAWRENCE WEINER, STANLEY WHITNEY.
Opening times: 5 October – 10 December 2017; Tuesday to Saturday, 12pm – 7pm; Sunday 12pm – 6pm Address: Store Studios, 180 The Strand, London WC2R 1EA everythingatonce.com
'EVERYTHING AT ONCE' has been co-curated by Greg Hilty and Ossian Ward of Lisson Gallery in partnership with The Vinyl Factory. This exhibition will be complemented by the first in a series of ambitious Vinyl Factory commissions at Store Studios, 180 The Strand: Ryoji Ikeda's Test Pattern no.12, a site-specific audio-visual experience comprised of visual patterns generated from sound waveforms in real time.


Categories
Tags