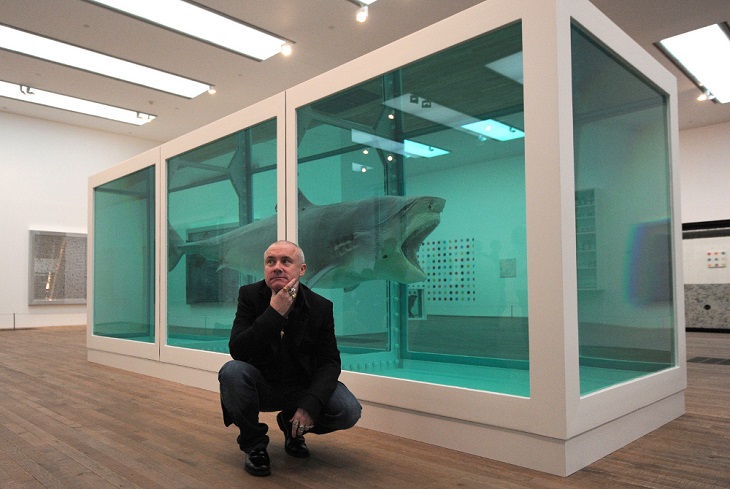 Damien Hirst at his Tate Modern retrospective, 2012: You could put a shark in there!
There is a documentary in which Damien Hirst gives a tour of his Glosucestershire estate, Toddington Manor, explaining his elaborate plans for its restoration. In one spectacular room after another, with an air of affected genius and childish glee, Damien points at the space and exclaims, 'You could put a shark in there!'. Glimpsing the pristine white spaces of his new museum, Newport Street Gallery, one resists the urge to shout 'You could put a shark in there!', even though you really could – it is vast, enchanting and demanding of monuments. But this gallery is to house his 3000-piece personal art collection, and has spuriously been labelled Damien's atonement for his sins.
The gallery, located in Vauxhall, is a non-for-profit, free entry museum, not unlike that of Hirst's erstwhile patron Charles Saatchi's gallery. It comprises six ample exhibition spaces, a restaurant decked out with more than a fleeting nod to the infamous Notting Hill Pharmacy restaurant and, of course, a gift shop. Exhibitions will last for six months and will be drawn from Hirst's collection which includes works by his YBA contemporaries, Sarah Lucas and Tracey Emin, as well as Jeff Koons and Francis Bacon.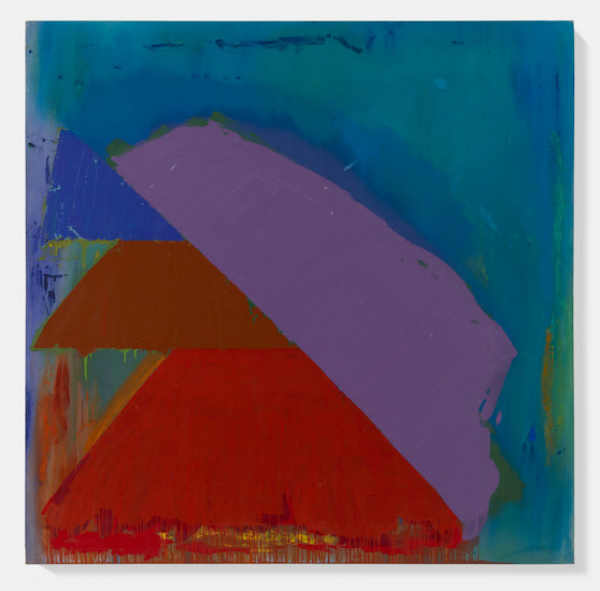 John Hoyland, 'Scando 2.10.80' (1980)
The construction was shrouded in a veil of mystery but the opening will surely be performed with great fanfare. The big day is October 8th, a week before Frieze, when it is traditional for Damien to do something entertaining and surprisingly highbrow. It opens with 'Power Stations', a solo show of paintings by John Hoyland. But a grand, serious museum that occupies an entire street nonetheless seems out of step with the popular caricature of Damien as the wild boy from Leeds who made his millions from pickling sharks and getting other people to paint spots for him. Why, after all, does one of the most famous, richest artists alive bother to open a public museum?
It certainly looks like an act of atonement or an attempt to 'give something back'. After of the hedonism of the 90s, which gave Hirst his monumental success, he has resolved that it's time to share out the bounty. Hoyland is one of Britain's most important abstract painters, despite being largely neglected: his vast, complex and often beguiling paintings are about to have their deserved renaissance in this exhibition of works which cover the period from 1964 to 1982. It will be the first large scale exhibition of Hoyland's work since his death in 2011. This is an important show by an exemplary artist at a gallery that will earn its prestige, in the final analysis, on the basis its exhibitions drawn from a simply magical art collection.
The entire project has reportedly cost £25million, which is a lot of money to spend on a vanity project with limited revenue streams. After all, Damien's plan is presumably not to use the gallery as a conduit to selling off his collection. But rich people do not get and stay rich by throwing money away, so the fiscal logic of the project must reside somewhere behind the scenes where it belongs. It boils down to the fact that reputation is as valuable a currency as any other. And this unfurls in manifold directions: not only will Damien benefit from the kudos of opening his private collection to the public, but Hoyland himself will enjoy well-deserved public exposure, as well as perhaps a hike in secondary market prices; furthermore, the Borough of Lambeth, already home to the newly redeveloped Gasworks gallery and Greengrassi, is placed firmly on the South London art map.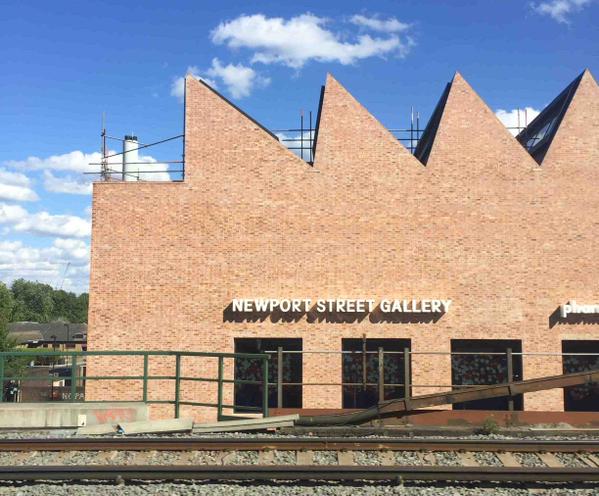 Newport Street Galley, Vauxhall
It is convenient and appropriately sensationalist to describe this act of culturally-spirited altruism as Damien's guilt-laden atonement. According to artnet it is an act of repentance for 'art world decadence'. This is a lazy trope of the whole YBA narrative, which does not recognise the contribution Damien and his mates made to the wholesale reinvention of British art. It is also part of the tedious myth of Damien as the bad boy of British art, as if he had committed gang rape and genocide in order to win the Turner Prize and blackmailed Saatchi into buying his work.
The truth is that Damien has done nothing that warrants any sort of apology or grand gesture of reconciliation. The truth is that a talented boy from Leeds got lucky, was shrewd and hard-working, and then got very rich; the truth is that he led a generation of artists which reinvigorated a stale artworld; the truth is that he enjoyed himself. The truth is that you might not like his art, but you absolutely loath other people's success. Damien is opening this gallery because he wants to and because he can. And those, in the final analysis, are just about the best reasons to do things that benefit many and hurt none.
Damien has nothing to be sorry for. It's just the dizzying spectacle of contemporary art rearing its head again, which, let's face it, we are so accustomed to that we hardly break a sweat. Lest we forget that there's nothing wrong with enjoying yourself, remember Alex James: 'I spent about a million pounds on champagne and cocaine. It sounds ridiculous, but looking back, I don't regret it. It was definitely the right thing to do. I was a rock star, after all'.
Damien was a superstar artist for whom the drink, drugs, parties, hellraising and unfathomable excess was all par for the course. Perhaps you'd prefer he spent the 90s moping around, sponging off his brother and cutting his ear off, like artists did in the good old days. But that's not what happened and, anyway, there were no good old days, as a certain self-indulgent rock star said. Damien had more fun than we mere mortals can imagine, but he also made some truly splendid art, and he just did what any boy who found himself with a few extra bob and a paparazzi entourage would do. And now he is doing what any proud, wealthy art collector would do – far from committing a heinous crime against humanity or art, Damien is sharing out the bounty of the golden years, and it is, as ever, all of ours for the taking.
Words: Daniel Barnes
'John Hoyland: Power Stations' opens at Newport Street Gallery on 8th October 2015. 
Categories
Tags