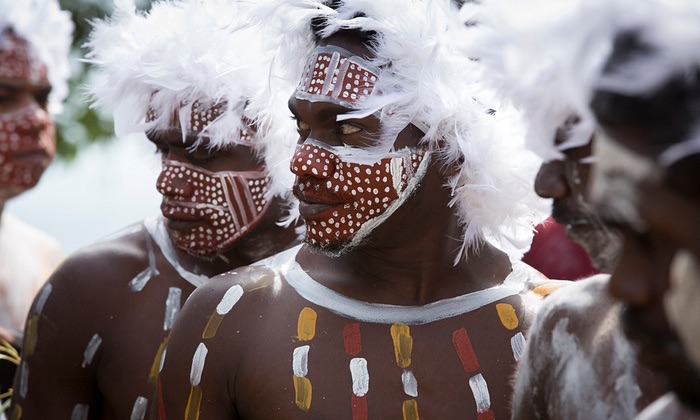 Members of the Rirratjingu clan painted in traditional colours perform ceremonial bunggul (dances) at the 17th annual Garma in north-east Arnhem Land. Photograph: Peter Eve
This article titled "Garma: art and politics come together for a moving Arnhem Land festival" was written by Kate Hennessy, for theguardian.com on Thursday 6th August 2015 07.02 UTC
Held on an escarpment in north-east Arnhem Land, the Garma festival site is called Gulkula in Yolngu language. Traditionally owned by the Gumatj clan, it overlooks a pandanus and stringybark forest that ends at the Arafura sea. It has long been a place for clans to gather and talk.
Garma's three-day key forum honours that spirit of discussion, causing long-timers to claim it is more conference than cultural festival these days. Culture is, however, entwined in everything in a place where art and hard-nosed politics made national history in 1963. Lead by Galarrwuy Yunupingu, the Yolngu people used ochre to illustrate the famous Yirrkala bark petitions to prove their law, sacred sites and connections to land were real.
The church panels that inspired the petitions' design can be seen in a dimmed room at nearby Yirrkala art centre, where it's rumoured you can also see the typewriter that clacked out the petition in English and Yolngu – another seminal achievement. The art centre is magisterial in the run-down town, with a peerless collection of totem poles, dilly bags, bark paintings, carvings, prints and a browsable archive of thousands of repatriated photos, films and recordings.
While all leaders at Garma condemned Adam Goodes' recent treatment, fittingly it was a dance that best expressed Indigenous solidarity, performed by dancers with 37s painted on their backs. Gathered close to the mythic Gulf of Carpentaria, far from the booing stadiums down south, the continent-spanning show of unity was moving to witness.
With the untiring Witiyana Marika as MC, Garma's program of sunset dance (bunggul) summoned people on each of the three evenings like a call to prayer. The bunggul songs were audible in tents, around fires and in the showers. Closer to the action – a circle of red dust to be kicked up with heels – the didgeridoo, clapsticks and singing were so raw, penetrating and ancient-sounding, I found myself suppressing tears.
"Don't miss Gupan Gallery," I was instructed by a companion. An outpost of Yirrkala art centre's print studio, the gallery was set in a tranquil clearing with slim tree-trunks painted white to mimic gallery walls, framed prints telling the artists' clan stories (mintji) hung on each. The gallery was opened with a woman's crying ceremony lead by Djalinda Yunipingu, who truncated the trance the moonlit ritual induced by telling us: "It's over. You can stand up now."
Yirrkala art centre's former studio co-ordinator, Araluen Maymuru, tells me: "It became a place for women to meet and hang out." Her replacement, Annie Studd, explained bark painting was a men's-only form until the 1960s. The move from bark to paper was controversial, too. "The idea was if it's about the country, it has to be on the country," said Studd.
During the day, under leafy huts, women learned to weave pandanus fronds and men crafted didgeridoos. All learned patience. There were Yolgnu language classes, instruction on the eternally-confusing-for-whitefellas kinship structures, astronomy tours (blighted by a full moon), and the chance to bookend one's day with actor Jack Thompson who read poetry at night and lead ethereal tai chi classes come morning.
Film-maker Rachel Perkins presented Garma's film program. The screening criteria is Indigenous film-makers but an exception was made for the documentary Mother's Day, by Brendan Fletcher and Paul Bell. "I hope you brought your tissues," Perkins warned us. Mother's Day is the story of Ronald Morgan, a gentle Wyndham man suffering from congenital kidney disease. After the screening, Morgan's family did a Q&A, accompanied by the director of the Menzies school of health research, professor Alan Cass, who debunked the main myth about kidney disease: "It is not linked to alcohol consumption."
On a stroll to Garma's far reaches, I met Dhambit Mununggurr, mother of Yothu Yindi member Gapanbulu Yunupingu. In 2005 she was hit by a truck and is now wheelchair-bound. Since recovering, Mununggurr's art production has gone into overdrive; a fascinating twist on the traditional Yolgnu style that favours boldness over precision. Mununggurr's work was recently shown in a solo exhibition at Melbourne's Alcaston Gallery.
After dinner each night, the rock music powered up. Given the exhaustion caused by early mornings and hot busy days, I heard most from my campfire, until Sunday night's gig from Emma Donovan and the Putbacks. I was up the front when Donovan's deep soul and slick band kicked off. "Where is everyone?" I asked a friend. She shrugged and pointed to the tents mushrooming from every inch of the site. "Everywhere!"
guardian.co.uk © Guardian News & Media Limited 2010
Published via the Guardian News Feed plugin for WordPress.
Categories
Tags