WEEK: 13th – 19th July '15
There are lots of art events happening in London; talks, workshops, tours, discussions and many many more! To help you with the choice Bhavani Esapathi from Art Map London has picked the events to visit.
Tuesday, 14th
Art Talk: Social Media with Bhavani Esapathi
Twitter or Facebook, Instagram or Periscope? Social media is no longer just a procrastination tool, it's a sophisticated marketing and audience generation tool. So to figure out how to use it, we got in touch with the best digital+art specialist – Bhavani Esapathi (@bhaesa) 
The Hawkhurst Vault 240 Brick Lane  E2 7EB London from 6:00 – 8:00pm
Thursday, 16th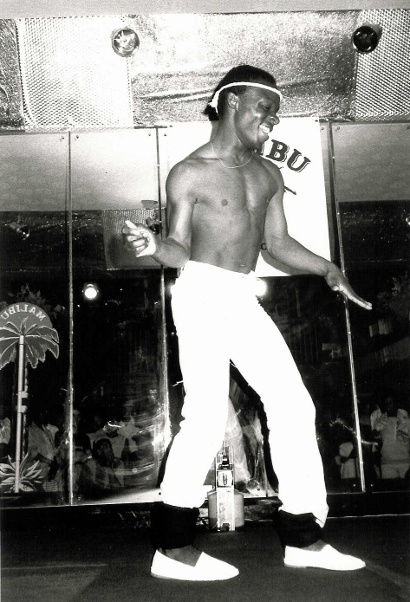 Dancer in Nightclub, London, c.1985-89, courtesy Lindsay Wesker
Join Polly Brannon on a gallery tour through the Shout Out! UK Pirate Radio in the 1980s display.
Polly Brannan's practice focuses on human interaction within transient spaces. She occupies residential or corporate spaces that people might pass through on a daily basis without noticing, or spaces that act as an axis point between divergent communities
Institute of Contemporary Arts (ICA) 12, Carlton House Terrace, London, SW1Y 5AH from 6:30 – 7:30pm
Saturday, 18th
Artist Talk: China Now at The Royal College of Art
Two of China's most exciting young contemporary artists are coming to London this summer in a joint exhibition at the Royal College of Art. To tie in with the exhibition which will run until 27 July, He Jie and Zhang Kai will be taking part in an artist talk to discuss their work and what it is like to be a young artist in today's modern China.
Royal College of Art GULBENKIAN GALLERYKENSINGTON GORELONDON SW7 2EU from 2:00 – 3:00pm
Sunday, 19th
Special Event: Room of Art Requirements
An exchange of art materials.
We all have paint, paper, or tubes that we bought for a project, used once and now the stuff is just taking up space in our tiny London flats and studios. We don't want to throw those art materials out because they cost a fortune, yet we know that it's unlikely that we will ever use the stuff again. So why not give it to a fellow artist? If the materials were too expensive to give away why not exchange them, or sell them for a modest fee. After all we are all in this together.
Tom's Etching Studio Railway Arch 229, Blenheim Grove, SE154QL London, United Kingdom from 11:00am – 2:00pm
About Art Map London