EINE recently completed a striking new art installation in Kings Cross called: "CURIOSITY: BRINGING COLOUR AND SIGNIFICANCE TO WORDS" commissioned in 2014 by publisher Macmillan Science and Education to celebrate the completion of its new state-of-the-art London Campus in the thriving regeneration area of Kings Cross.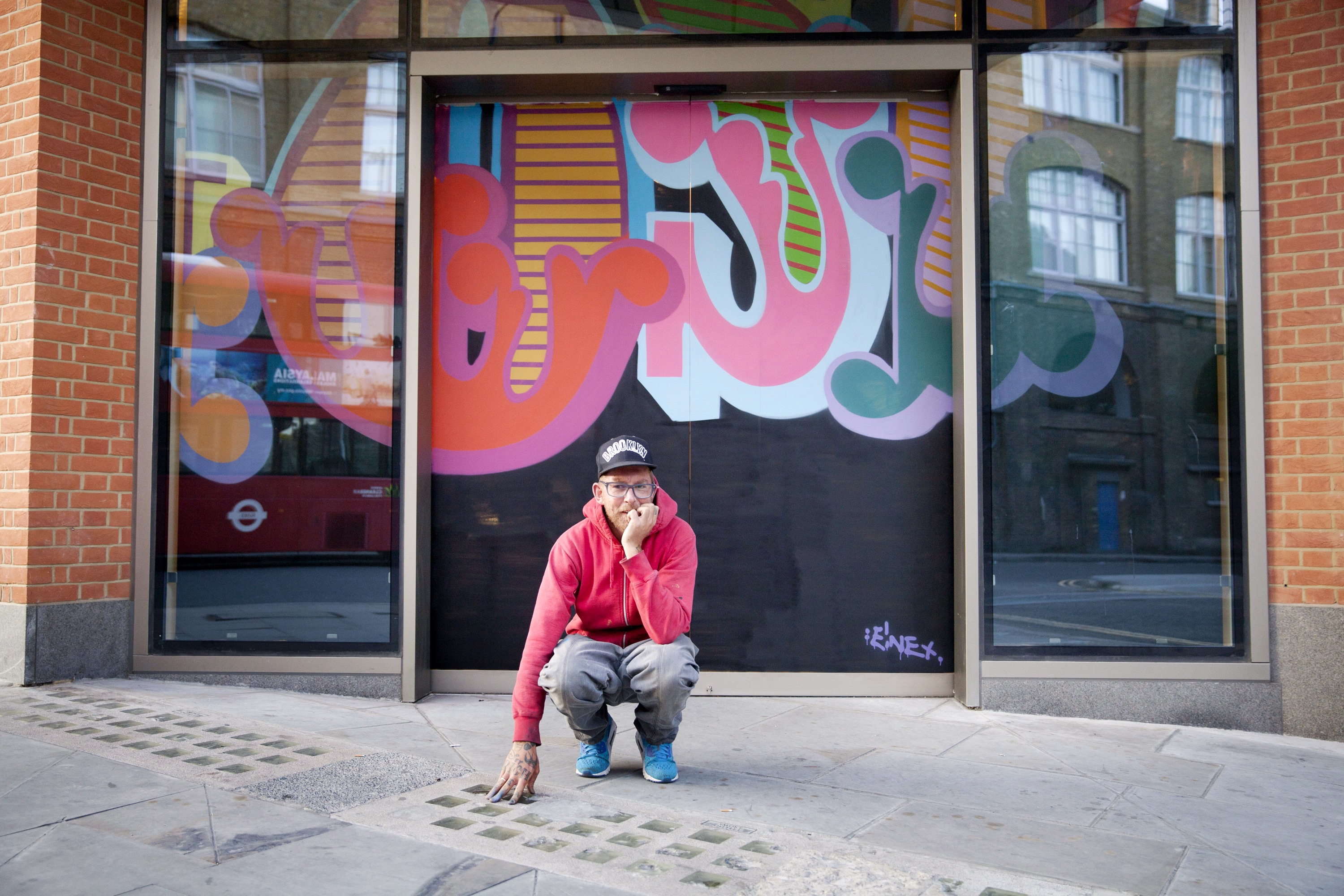 Instead of spray painting on an exterior wall as with much of his other graffiti work, EINE painted onto large acrylic panels which where then installed on a glass-fronted atrium, wrapping the corner of Macmillan's Printworks building on York Way and Railway Street.
The work also features an embedded graphic which uses augmented reality technology to allow visitors to unlock a "making of" film featuring an interview with EINE, via their smart devices.
"It is always exciting to be back in London and to collaborate with new people on projects like this one with Macmillan. Albert Einstein said curiosity is the key to the creative process and I totally agree; staying curious and engaged always makes for the greatest adventures in life."
EINE and Macmillan Science and Education – Curiosity from Macmillan Science and Education on Vimeo.
FAD managed to catch up with EINE after he had completed the work and ask him a few questions about curiosity and what it means to him:
1. This is about Curiosity. What does this word mean to you?
The beginning of the creative process Without it, nothing happens.
2. How do you stay curious?
Travelling and music – listening to Run the Jewels.
3. How did the location and subject inform your response to the theme? Were there any technical challenges in working on acrylic? This is one the trickiest jobs I've done – because of the separation of the words and panels – everything broken up and separated like a jigsaw puzzle. Acrylic/Perspex is fine – we've painted trains for years! The challenge was the jigsaw puzzle – on 3 planes, wrapped round a building.
4. Tell us something curious about you
I've changed my name 4 times
5. Why is curiosity important?
Without curiosity no investigation and no cats!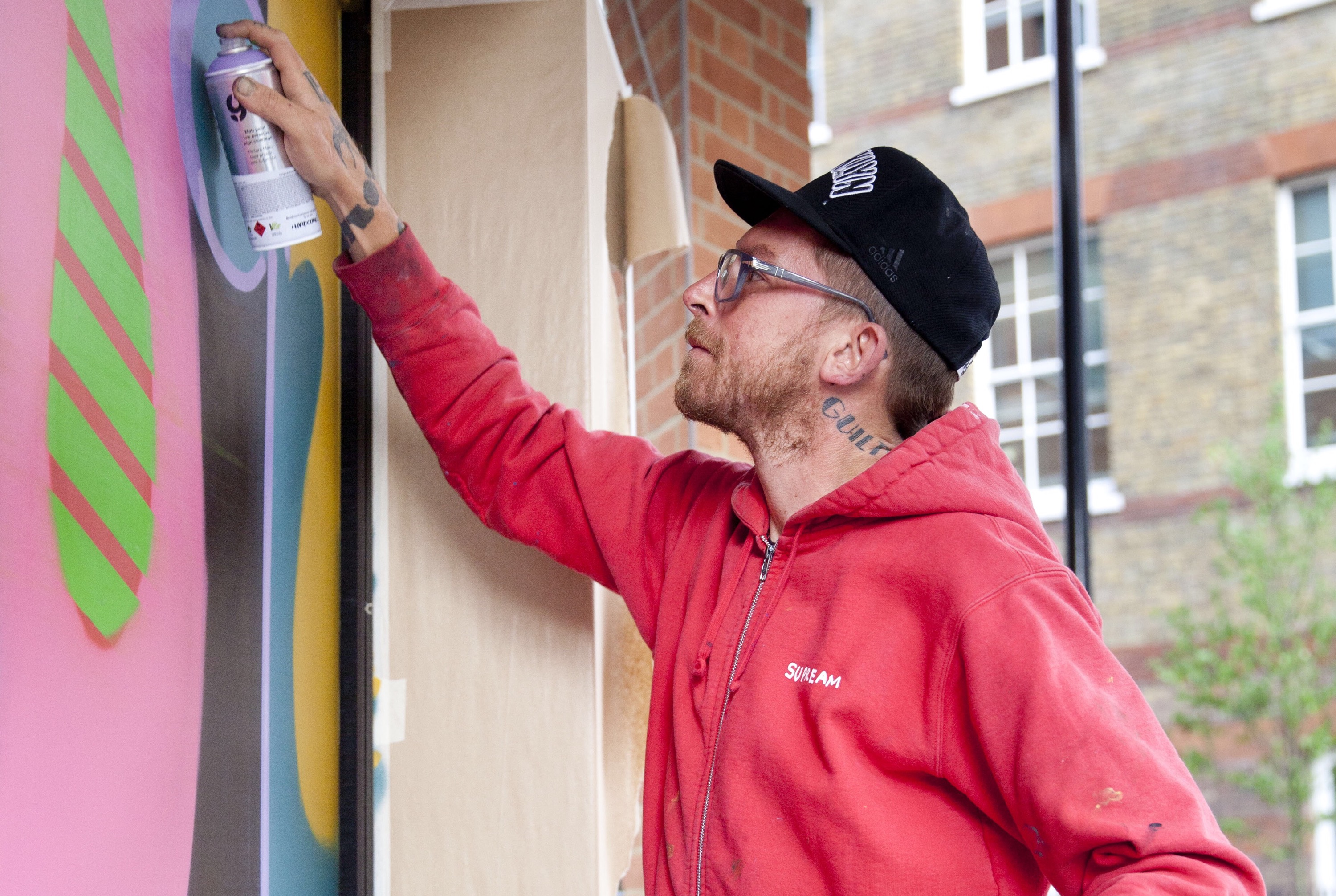 6. What are you ambitions for the work?
Everybody comes up this road everyday and no one notices anything – hopefully they are going to notice this building and be curious about what goes on there (there's a lot of thinking and science and creative work)
About The Artist
EINE is one of UK's most prolific and original street artists with an instantly recognisable style and huge fan following: his striking typography has transformed streets around the world from London to LA, via Mexico City, Miami, Paris, Dublin, Tokyo, Stockholm and his current home in San Francisco
Most recent previous commissions include works for Louis Vuitton, Amnesty International and the Queen Elizabeth Olympic Park in London
EINE continues to receive global acclaim since rise to fame following his work being gifted to President Obama by Prime Minister David Cameron on first official state visit to White House
Work is currently held in permanent collections of the Victoria and Albert Museum, London and the Museum of Modern Art, Los Angeles.
Categories
Tags