Addiction is an extremely difficult and sometimes uncomfortable subject to broach. Many of us, at some point in our lives, will deal with some form of addiction or be exposed to and effected by the addictions of others around us.
Living in a country with the largest cocaine use in europe and where people get drunk in preparation to go out and get drunk it is no surprise that there are high levels of drug and alcohol addiction. as someone in their early 30s I am part of a generation where drugs and alcohol are used as freely and as regularly as one might visit a restaurant or art gallery. Never before have these substances, and the levels of inebriation reached while using them, been so socially acceptable and difficult to avoid. Addiction buy its very nature is a subtly, destructive force which can sometimes be maintained for long periods of time without the addict realising that there is any problem to be addressed. To be able to address these problems and seek help to eradicate them is possibly one of the most difficult and terrifying things someone might have to face in there lifetime which requires an astonishing strength and commitment.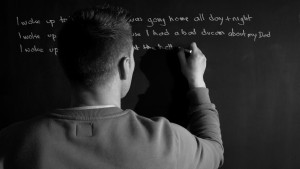 Melanie Manchot has spent the last 2 years working with people seriously effected by these issues to develop a dialogue representing the difficulties that they face as well as the triumphant outcomes of their recovery process.
'Twelve' is a series of videos consisting of monologues  – stories giving an insight into the lives of the people she has worked with. The dark spaces playing host to the work give it an awkward discomfort. The viewer is faced with a bleak analysis of addiction with each video mapping the turbulent journey of each subject.
The films are made with a beautiful attention to detail with the artist using the same fundamentals as the scenes and directors she is referencing.  Manchot draws inspiration from film makers such as Michael Haneke, Gus Van Sant and Chantal Akerman to produce these moving accounts from people who have managed to regain a grip on there lives. The stories are uncomfortable and at times distressing but are also an incredibly inspiring glimpse into the recovery process and the positive conclusion it can have. Each individual has seemingly been through a traumatic, roller coaster of physical and mental torment but  managed to come out the other side a stronger happier person.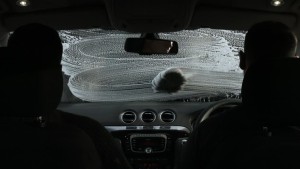 A video of someone obsessively cleaning a slate floor or someone cutting grass with a pair of scissors are harrowingl representation of the anguish and struggle involved in these personal journeys but also the need, for someone afflicted with addiction, to rebuild and start again. The films work to be as inspirational as they are painful.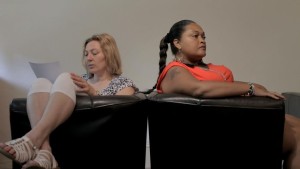 Projects like this are important to give an idea of how things can and should be documented and improved through creativity. It would be easy to perhaps dismiss it as some sort of community outreach project but to do so would be a great injustice. The artist and subjects have worked together to create an extremely  powerful and meaningful exhibition.
The show runs until the 26th of July at Peckham Platform and will then be on display at Castlefield Gallery in Manchester From the 18th of September until the 1st of November. All other info can be found HERE.
Categories
Tags