Born in Hamburg, Germany, Freya von Bulow now works from her studio on the South Coast of England as an illustrator and creator of elaborate Paper Couture designs.
As the title suggests, all of von Bulow's elaborate and incredibly detailed gowns are made entirely from delicate tissue paper; the idea behind her work being the creation of a fashion and artistic statement that exists only in the moment.
She has previously been commissioned by CANON to design a shooting object for Photokina, COLOGNE and has exhibited a Paper Couture installation for the Haptik Awards at the Drupa Paper &a Printing trade fair in Dusseldorf. Her work has also been featured in the Sunday Times Style Magazine and paper trade publication Paperazzo.
In 2014 she produced a bespoke collection of 14 pieces for Brighton Fashion Week – her biggest project to date and is now working on collaborations with projection and lighting artists; a costume commission for a contemporary dance project choreographed by Deborah Galloway and with Glastonbury, producing an installation for Shangri – Heaven; a sanctuary for all those who refuse to dance the political hokey-cokey!
Von Bulow is Creative Director of FRONT ROW 'Compassion Fashion' Show; an annual fashion and performance art event held at the iconic De La Warr Pavilion, Bexhill on Sea – VIP Tickets for FRONT ROW go on sale for one day only next Saturday 6th June!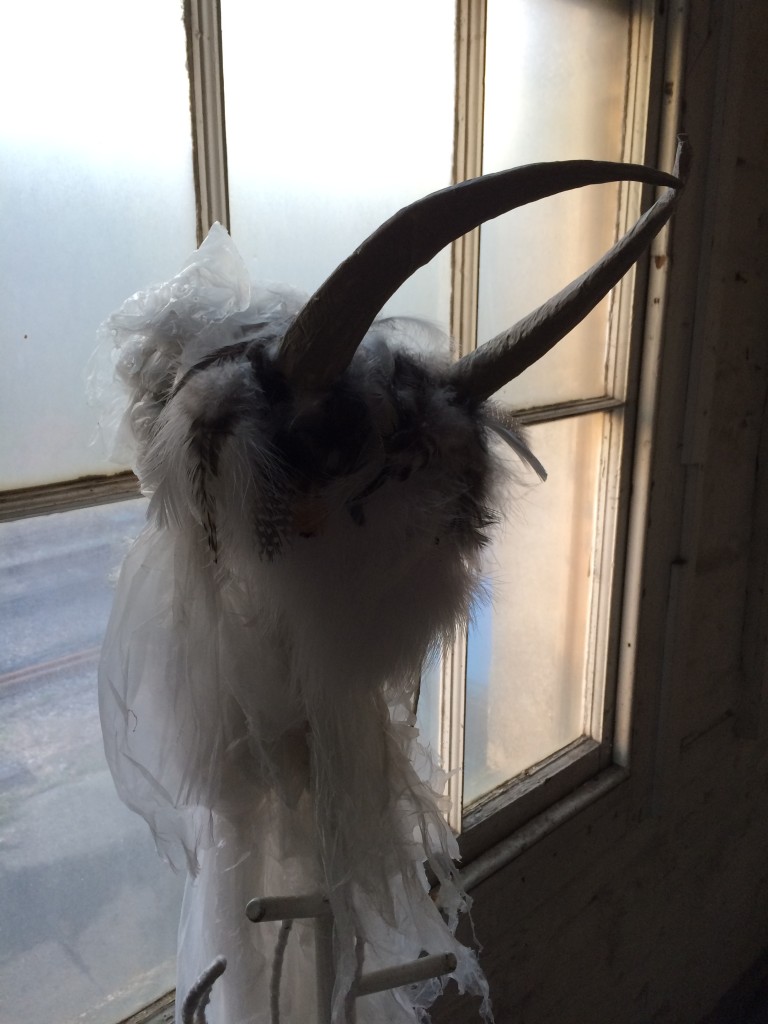 She is currently exhibiting as part of WOVEN; a new exhibition at WING Art Gallery, Wadhurst curated by FAD writer and Pure Arts Group Founder – Lesley Samms. WOVEN is a showcase for artwork produced by a selected group of contemporary artists who continually push the boundaries of both convention and process in their individual specialism. The exhibition also features a series of bespoke demonstrations and classes.
In this exclusive interview, von Bulow talks to Eastbourne College A Level student Rebecca Nurse about her life and journey – in her own words.
Please can you tell us about your upbringing in Germany and your formal education?
I was born in Hamburg and came to the UK in 1995 after having worked for a record label. I launched a children's clothing label called "Olive Clothing" and designed shirts for men – I was always into textiles.
I did my degree in illustration in 2010 at Brighton University and that's when I became interested in paper – I loved it – at the same time I was designing a collection for an ethical fashion show organized by a friend locally – the show was a sellout, we had to turn guests away – the following year she said she was too busy to continue – so another designer and I got together and we started FRONT ROW – it was heavy on the organising side and I really wanted to do a collection of my own for the show, but, I needed something easy and quick as I was so busy organising all the other designers, so I made a paper collection. The first collection was mainly done with photocopying paper. Then later I started using tissue paper and added some brown paper too, anything I could find – stuck together with prit stick – until I met a guy on a plane and found a sponsor for the paper I am currently using.
Do you still have family in Hamburg?
I have a brother in Hamburg and one in Munich – one is in the music industry – classical music and the other is an IT specialist in publishing. I go back once a year or so.
Why did you choose an illustration degree?
I did my foundation year at Hastings College (at the old St. Leonards site) because I wanted to expand my creative vision and learn some new techniques. After my foundation year they said "what are you going to do now?" I said I'm not sure – I'm multi disciplinary. Illustration can be anything – it is very multi media – it can be graphics, collage, photography, sculpture, plastercine people – illustration is so broad so it was the only discipline I thought I would feel comfortable with – I'm creative and I like to mess about with a load of stuff and see where it takes me. It was exciting and I discovered the medium paper.
I prefer to work out my ideas as I go along and hardly do any sketches, which is fine when I'm working by myself but can be working with someone else! It is important to be able to convey ideas and I am learning that.
I had a young prop maker who worked with me on the Brighton collection throughout the summer last year. I said to him "these are the images I like [and I put them up on a wall – a whole wall of images] make me some props". He fiddled around for a few days but produced nothing and I realised he needed a very clear brief – so I said, "make me a skull of a sabre tooth tiger", which he did brilliantly.
I think my overall thing is collage. I collage paper into Couture, I collage people into events, and I collage music & film. I get asked if I am a fashion designer but I don't really think of myself as that, I create pieces of sculpture art.
How do you make money from your work; is there a commercial angle?
All my pieces are bespoke – I work on a lot of commissioned projects for events or advertising companies but I am currently designing smaller items that are more commercial which is quite fun.
It's a weird thing with jobs – you never know where or when they might come up – some find you through the oddest connections and it's real magic when everything falls into place.
The Brighton Fashion Week opportunity came through a friend – a make up artist. He suggested I do it so I called up the organiser and they said we love your work – yes do a collection.
It's at lot about connections and networking – you pay your own way in the first few years then gradually you get commissioned to make-work and suddenly things start to snowball. Collaboration is the key.
If you think you have an exhibition at a gallery– it's a privilege – you don't get paid to do it and if you are lucky you get funding to do it. You need to be seen to then be offered more opportunities. It's luck too.
Being creative & freelance is a funny balance of doing what you love and being prolific – doing a bit of PR and a bit of networking and boom – eventually it will happen and in the meantime you have to keep you busy.
I am learning to be a bit more out there with my work and I see my designs working with big brands. I am actively seeking out potential clients I am slowly finding the right people. It is always good to have someone to help you with PR, an agent or assistant.
I love living in Hastings, it's incredible I'm always gob smacked by the people who now live here who have these amazing and interesting careers but they are more relaxed living here now and very generous in sharing their expertise. Hastings is very holistic and genuine. Always keep busy and stay open minded, and suddenly you end up where you should be but didn't know it until you arrived!
What is the paper you use?
I was very lucky – I met a marketing guy on a plane a few years ago, you do meet interesting people on planes, occasionally you do – he said he worked for a specialist paper manufacturer. I told him I make paper couture and he said that's so cool I love what you do – they make paper for cigarettes, packaging etc.
It's the most exquisite tissue paper – this paper is used to wrap lingerie and other luxury items – I believe Louis Vuitton is one of their customers. It's very refined and expensive – they sent me two big rolls.
I used this paper for my Brighton Fashion Week collection. Sadly they have now stopped making that particular one as it's so expensive to produce but I still have quite a lot left, which should last me for a while.
I created a couture piece for The Reading Post and initially I really struggled to get my head around working with newsprint it is so messy both to touch and visually. I now know why people use the Financial Times for projects like this. If you use normal newspapers you have to contend with lots of images, an advert, cross words (which can be quite cool) etc, and visually it doesn't make the piece very pleasing. In my case, I cut out bits that worked together and then collaged them into large sheets I then made the dress from which took ages.
Paper is fascinating to work with – it's both fragile in its raw state and really strong when you twist it. I'm working on a design for hammocks – there is one hanging from the studio beams.
How long does it take you to construct a dress?
It very much depends on the project. Most bodices are made from paper maché. This takes quite a while to make and dry, dependent on weather and if I can have the studio doors open. Every design is different and I usually work on several gowns simultaneously so I can't really say.
How do you display the dresses, if not on a human model, in an exhibition space?
I prefer my gowns on live models because the paper has incredibly tactile and moves beautifully that most people don't realize it's actually paper until they come up close. But obviously in some exhibition set ups, such as the window installation for WOVEN, they are displayed on a dummy.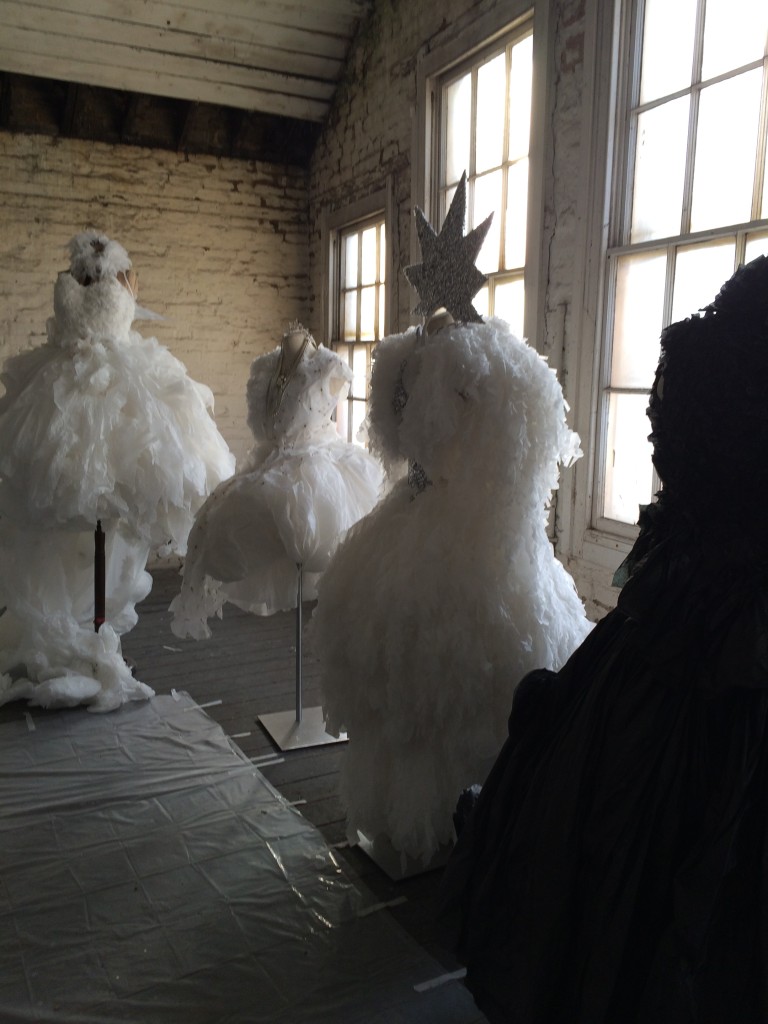 Have you displayed your work among other work such as paintings and drawings before?
Yes, I have. I made a gown for a ReCycled group exhibition locally.
How do you attach the layers?
I use tape, staples, double sided sticky tape, that kind of thing.
Could you get someone else to make up your designs for you from your prototypes?
I think so, with a bit of training … I mess about a lot and always try out something new – sometimes I like the outcome, sometimes I don't – I guess I create by doing rather than planning and if you have to explain something to someone it can be distracting. I find I flit in between things. My daughter helps sometimes helps me with projects, she knows exactly how I work and she gets it straight away, very little explanation needed. At the moment I am working on ideas for paper installations using new lighting techniques. I love collaborating with other artists.
I designed costumes for Mardi Gras in Hastings recently representing St. Leonards. I'm always getting sidetracked with fun projects. I started making collages again too – in the evenings – it's so cool. I was given a load of old 80s and 90's fashion magazines (some of the cover images featuring Helena Christensen and Kate Moss when they were like 16.)
They have been hanging around my studio for ages and I didn't want to throw them away so I take one every evening and make a collage of the essence of that issue. So I now have a collection of collages, maybe I'll organize and exhibition for a laugh.
Would there be a way of creating a workshop or interactive activity for the public using paper? Possibly a chain skirt or crochet method , that could be added to by people.
Yes, of course, that is always possible. I like it when guests at an exhibition get inspired about what you do and then have the opportunity to have a go at it themselves. It is a much better experience. I did a paper fascinator workshop at the Vintage Festival in Gloucestershire once, which was fun.
Your dresses – do they have stories behind them?
Last year I designed a 14-piece Paper couture collection for the Brighton Fashion Week 'Showreel' showcase which was absolutely amazing. Their production team was so professional and also very easy to work with … as you can imagine my paper creations were quite outrageous and not straightforward to handle. The collection was called "I Dream Of Apocalypse" and symbolized the journey of mankind after an Apocalypse, from Survivors (covered in ashes with singed and torched paper outfits) to Warriors (camouflage, survival, wild headpieces) to New Technology (futuristic) and The Elite & One Supreme Creator Goddess. We had to do 2 shows on that night, so all models had to come out of their costumes in-between and then built back into them – it was crazy but we did it!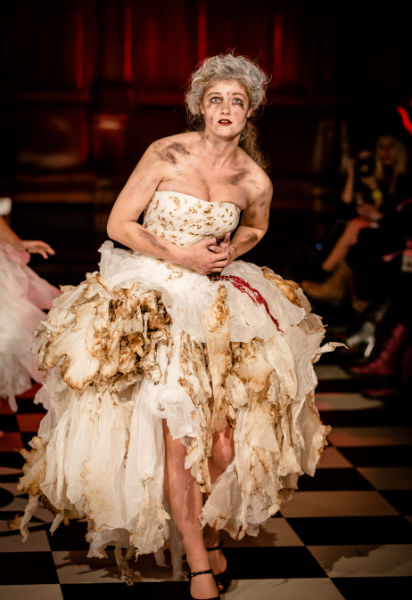 If I don't have a commission I set myself briefs – so I find photographers I like and say to them "do you fancy a collaboration". We get together and we discuss possible ideas – so at the moment I would like to do shoot with two guys wearing Papercouture – I have a friend with a sweeping dramatic staircase and I am thinking monochrome dramatic lighting, extreme shadows …
I'm also working a lot with tulle right now and paper applique on top, so I want to do a photo shoot with these new gowns – they are quite delicate – I have a photographer in Brighton who's quite up for that idea. I'm always thinking.
Some time ago I did a beautiful shoot called Dark Gardens –working with a photographer friend on the grounds of a stately home – two models – one older and one younger – quite dark story, a bit mental, styled the models with bandaged heads – the story was about two female members of an aristocratic family being locked away for experiments where one was youth extracted from the other, one would blossom while the other one would fade away. It was a fantastic photo shoot and the images we got were something else.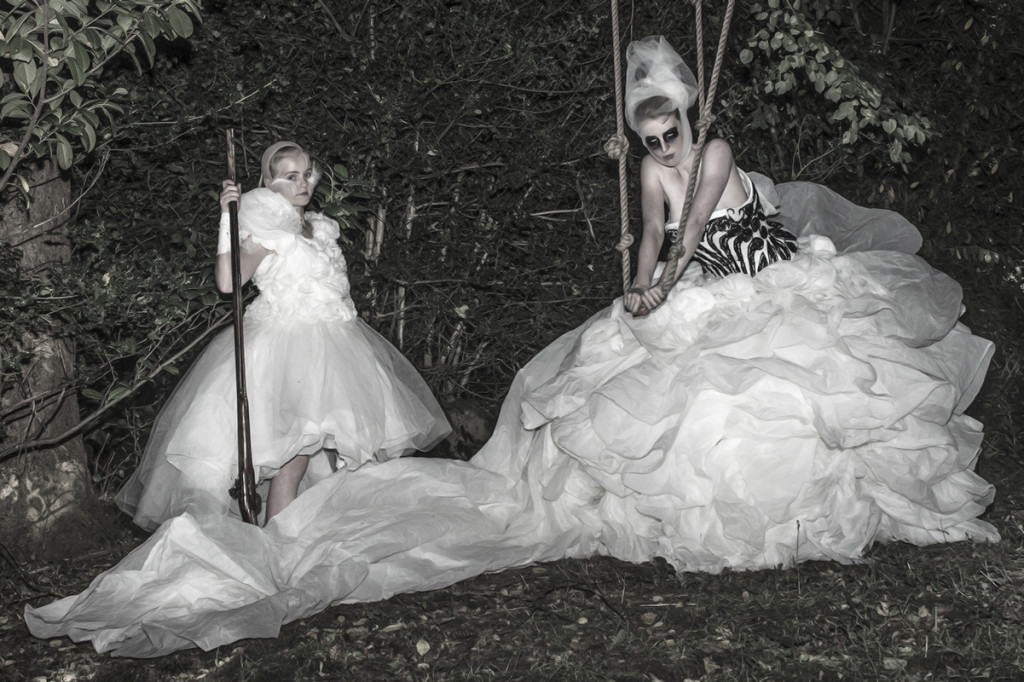 Every year I organize FRONT ROW, a fashion and performance art event at the De La Warr Pavilion, Bexhill, showcasing designers using recycled, upcycled, re-worked second hand and vintage clothes and materials in their collection and always create a Papercouture catwalk collection for that too. All collections featured are quite theatrical and this year's show theme is "Out of this World" – so expect just that!
What do you do with the photographs?
Some photos go on my website and quite a few are being submitted to magazines – they really need to be seen.
There are so many online magazines out there that need content. With the Dark Gardens shoot I'm now writing the story and once the photos are properly edited the whole package can be submitted. This takes ages so often I am already onto the next project and then go back.
I did another photo shoot last summer in a breathtakingly beautiful Victorian house which is running as a B&B called St. Benedict – you step through the door and it's like a time warp, every little detail is Victorian – this place is just unbelievable – (we are incredibly lucky with locations around here) so I asked the owners if we could do a photo shoot and they were very accommodating – we used the extracted youth model again – this time as a young Victorian bride on the eve of her wedding; she receives a letter and something happened, the wedding is off; she goes into mourning – and shreds her wedding in the garden – it was a very creative, collaborative process with the film maker and photographer on the day – it can be difficult sometimes if everyone has strong ideas.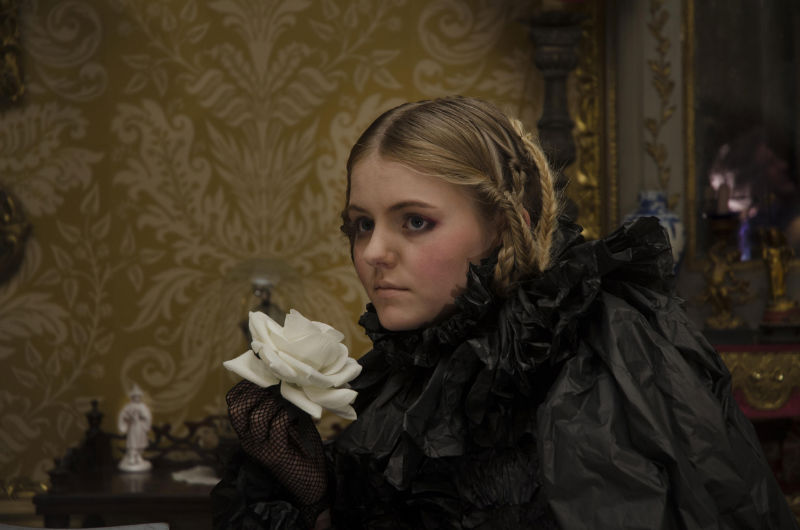 Photo credits
Brighton Fashion Week and Guerilla Fashion Show: Malcolm Tam
Victorian shoot and Dark Gardens: Tim Nathan media25.org
Rebecca is an A Level student studying at Eastbourne College; a British co-educational independent school for day and boarding pupils aged 13–18, situated on the south coast of England. She is currently being mentored for her Gold Arts Award by FAD writer and PURE Arts Group Managing Director – Lesley Samms.
Pure Arts Group Call for Entries 2015/2016 is currently live | SUBMIT NOW | Entries close Midnight 3rd July
www.facebook.com/freya.vonbulow
Categories
Tags