Through performance, sound, sculpture and painting, Florence Peake's RITE re-interprets a moment in modernism's history: Igor Stravinsky's The Rite of Spring, composed in 1913 for Sergei Diaghilev's Ballets Russes. Choreographed by Vaslav Nijinsky, the original performance is notorious for the riot it provoked on the opening night.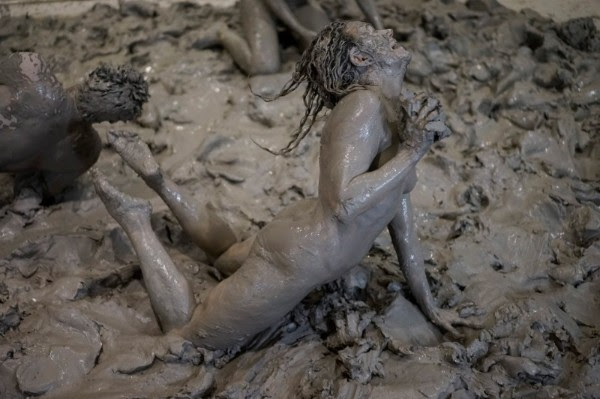 RITE will premiere on 6 May as a performance and will unfold into a summer-long exhibition. Six tonnes of clay stands as a wet landscape in the centre of the gallery, activated by a host of dancers who perform in it. The clay captures their every move: it is shaped and reshaped, progressively turning into mauled flesh as they work. A sound score composed by Beatrice Dillion forms part of the sculptural environment, drawn from audio recordings of Peake handling clay, slipping and throwing it whilst listening to Stravinsky's discordant, polyrhythmic score.
Florence Peak, 'RITE: on this pliant body we slip our WOW!', Photo credit © Anne Tetzlaff
When the performance is over, the clay will remain as a sculptural memory of the dance, and Peake will install a painted frieze circling the gallery walls. To create these, Peake will collaborate with members of the community who interact with a modernist architectural icon almost every day, drawing outlines of their bodies as they move to the music in a series of private sessions. Inspired by iconic methods of depicting historic scenes in classical and medieval friezes and tapestries, the wall-paintings abstract the Rite of Spring through movement, drawing, paint and plaster.
Accompanying the frieze and the clay bed is a film in which dancer Rosemary Lee performs a piece choreographed by Peake and filmed by Becky Edmunds. RITE is almost camp in its accumulation of references. Classical sculpture, a dance history spanning from Isadora Duncan to Xavier Le Roy, and the brutally sensorial performances of Carolee Schneemann and Hermann Nitsch all resonate with Peake's ambitious project. Informed also by feminist theory, Peake draws on this rich cultural legacy to reclaim triumphant physicality as political statement. She presents the body as primal, visceral, erotic – impervious, in the artist's own words, to "neo-fascist normalization": in this way, her approach is a form of protest. She says, "RITE rejects post-modern cynicism. It is a bodily affirmation that in the current political climate, blasé detachment is no longer an option.
Peake has worked closely with a host of dancers, Iris Chan, Katye Coe, Antonio De La Fe, Samuel Kennedy and Susanna Recchia, applying to visual art collaborative strategies more usually associated with dance and theatre. At RITE's core is a drive to expand the relationship between movement and material, a concern that has informed the artist's practice for over a decade.
De La Warr Pavilion Marina, Bexshill-on-Sea, TN40 1DP Exhibition: 12 May – 2 September, 2018
Performance: Sunday 6 May, 7pm, 2018 To book tickets visit: www.dlwp.com/event/florence-peake-rite
Categories
Tags