Lee Sharrock talks to the fashion photographer about his new exhibition of lenticular prints at Pertwee, Anderson & Gold Gallery
Derrick Santini is a renowned fashion photographer who has photographed a host of contemporary icons including; Jay Z, Rihanna, Alexander McQueen and Lady Gaga. After becoming interested in lenticular photography and the way it bridged the gap between stills and the moving image, he began exhibiting his meticulously crafted lenticular prints in galleries in Paris, London and Istanbul. Several of his portraits are in the National Portrait Gallery collection, and his 3rd solo exhibition in London will feature a new series of lenticulars shot underwater. I spoke to him at his London studio about his career and the new series of lenticular prints.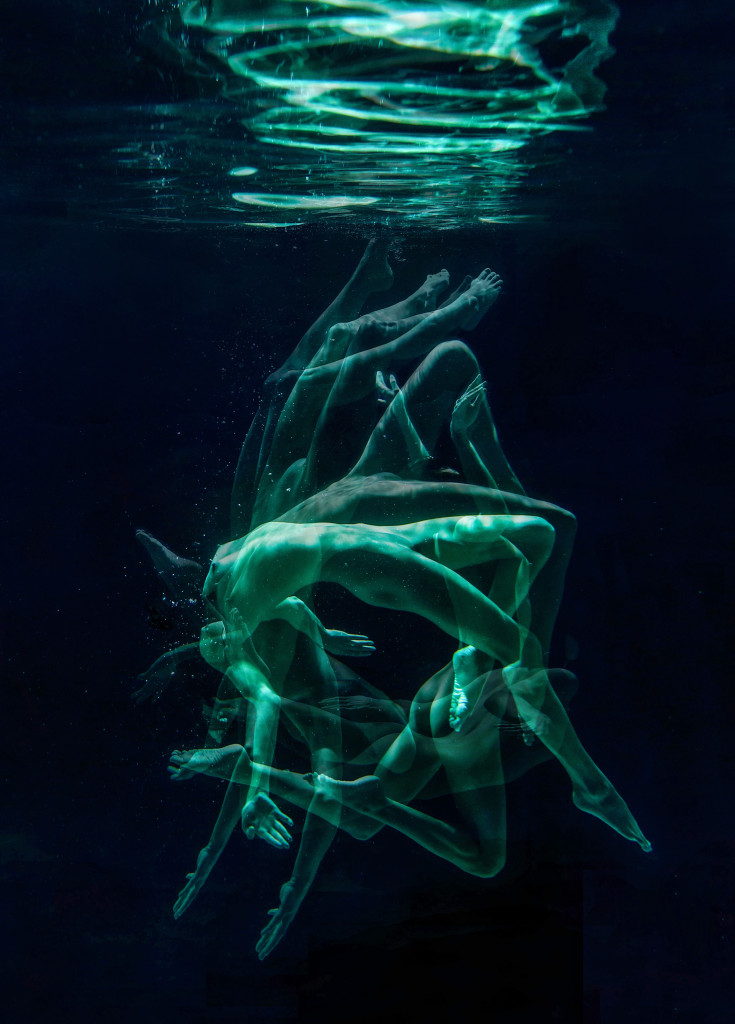 Lee Sharrock: You've worked with a host of famous faces during a successful career as a fashion and commercial photographer including Alexander McQueen, Dame Judi Dench, Lily Allen, Suki Waterhouse and Idris Elba. Who has been your favourite subject so far?
Derrick Santini: I really have loved shooting them all, so to pull one out of the hat would be a disservice to the others. I feel so fortunate to interact, and create with so many amazing people, and for sure some especially so.
LS: How did you make the transition from commercial to fine art photography, and was it when you became interested in the lenticular process?
DS: I started my creative journey with reportage photography, solo, just looking, and shooting, and kinda looked down on commercial and fashion photography as shallow and meaningless. But then reality bites and I had to make money, so I got an agent and started shooting jobs as a 'professional photographer': portraits, and music and fashion and ad jobs followed. I put my camera down and for many years only picked it up when I was paid to. I had become that thing I most despised as an idealistic photography student. Although the yearning to shoot for the love of it was always there, yet unattainable while in that working period, combined with a lack of inspiration in where to go in photography. Then by chance a dear friend introduced me to someone who made Lenticular photo-works, and I suddenly got very excited and inspired again for photography – not as I had known it, but through this incredible and frankly under evolved and under valued medium. That was about 8 years ago, 'In Your Mind' is my third series of Lenticulars works, and through this engrossing medium, it has provided me with the evolved platform to create and communicate, which I was searching for. The circle feels complete.
LS: Your 3rd London solo exhibition opens at Pertwee, Anderson & Gold gallery on 11th May. Where did the title 'In Your Mind' come from?
DS: The title came from the desire to pose the question what is in one's mind, your mind: I am showing you what is in mine, and through the beauty of the art, to communicate the deeper issues implicit within: Love, Life, desire, feelings, transference, nature, humanity…fundamentally Creation. 'Be mindful of the mind' one eminent thinker scribed.
LS: Can you explain a bit about lenticular photography and why you use it to bring your ideas to life?
DS: Lenticular photography quite literally brings my photography to life. Still photography lost its creative edge for me quite a few years ago, as I desired more than a still could provide, moving content was the word. Film was the only obvious direction for me, as it is the other medium I covet. I have experimented with film and most certainly will do a lot more, but I needed a bridge and Lenticulars was it. Lenticulars are a tantalizing, evocative and transformative medium like no other, and have been around about 150 years, and in its plastic incarnation of today about 70 years. The process is to shoot a series of stills that you artwork in photoshop to create a looped animation sequence, much the same if you were making a stop frame animation film. Then the layered file is printed in a specialised 'stripped' format, over which is placed a large ribbed plastic sheet, which acts as the lens. The combined effect as one walks by the artworks, is that they move with you, exposing the intricate animation within. They must be seen to be believed.
LS: The images for your new show were all shot under water. What camera did you use and what obstacles did you have to overcome?
DS: I knew straight after the 2nd series that I wanted to shoot the next series under water, a realm I love to be in and was born by, but never shot in. so there were challenges but after the very first session with Katie, that we thought would be a test for us and the equipment, was instantly a success and we got three pieces from that initial session. Katie is a fish, or indeed a Mermaid; so natural underwater her grace and beauty made the whole series an unknown dream waiting to unfold. Technically it all went incredibly easily too, the water housing (Basically a watertight plastic bag) I bought for my canon 5d worked a treat time again, and we just kept on experimented with the lighting and new sequences, and in various pools and locations including the beautiful Sea's of Majorca. What was also very special about this whole series is that we did it all ourselves, with no assistants, or any of the other trappings of a photo shoot, providing us with ultimate creative freedom and intimacy, which in my mind this series exemplifies.
LS: The mythological figure of a Mermaid is featured in many of your new lenticulars. There is a new film coming out soon featuring Cara Delevigne as a Mermaid, and Damien Hirst is rumoured to be creating work inspired by Mermaids. What for you is the enduring fascination with Mermaids?
DS: I love Mythology especially the crossovers and in between worlds, half man half creature, so after the avian exploits of my last series, fish and mermaids were most definately on the cards from the start. Being born by the Sea and in the water all my childhood, and with my furtive imagination as a kid I would imagine Sea and Land characters and converse with them, and the lure of these thoughts at mercy to the awesome power of the sea, and the many tragedies that befell sea folk, and the stories that flow through our veins.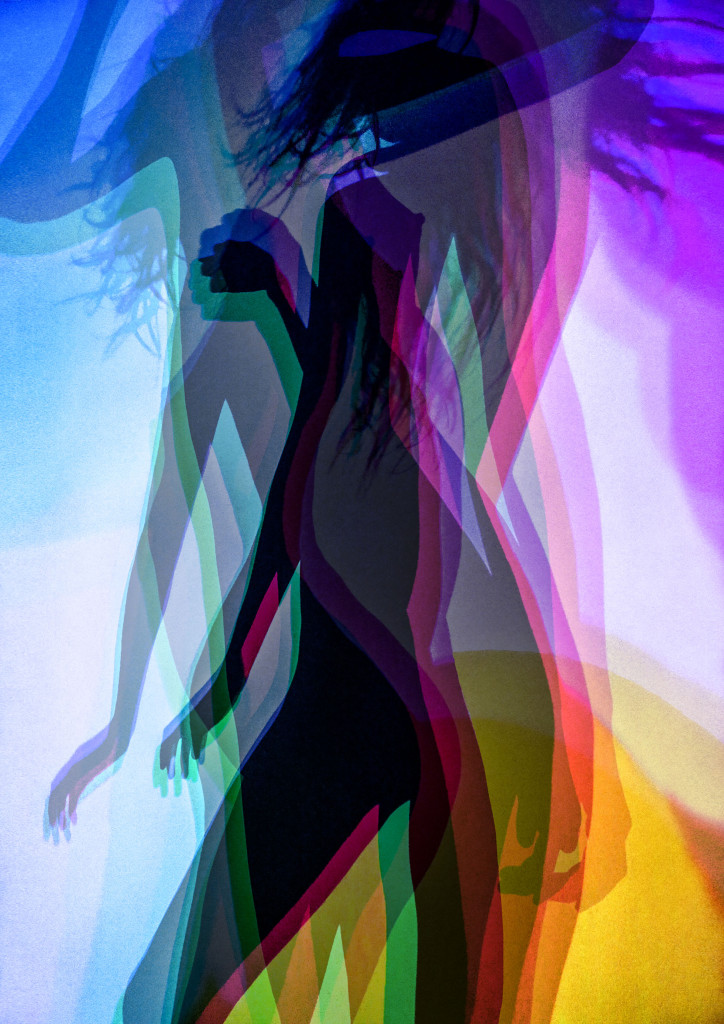 LS: What's your favourite piece in the new exhibition?
DS: I love the first piece I completed Love, another favourite is Katie in The sky of Bubbles.
LS: What other projects do you have coming up?
DS: I want to take Lenticulars into the public realm, on the street, to create a community based project all about communication integration and interaction. And also to make large scale installation lenticular works, and push the medium some more.
Derrick Santini 'In Your Mind' is at Pertwee, Anderson & Gold Gallery from 11-22 June, 2015. www.derricksantini.com
Categories
Tags