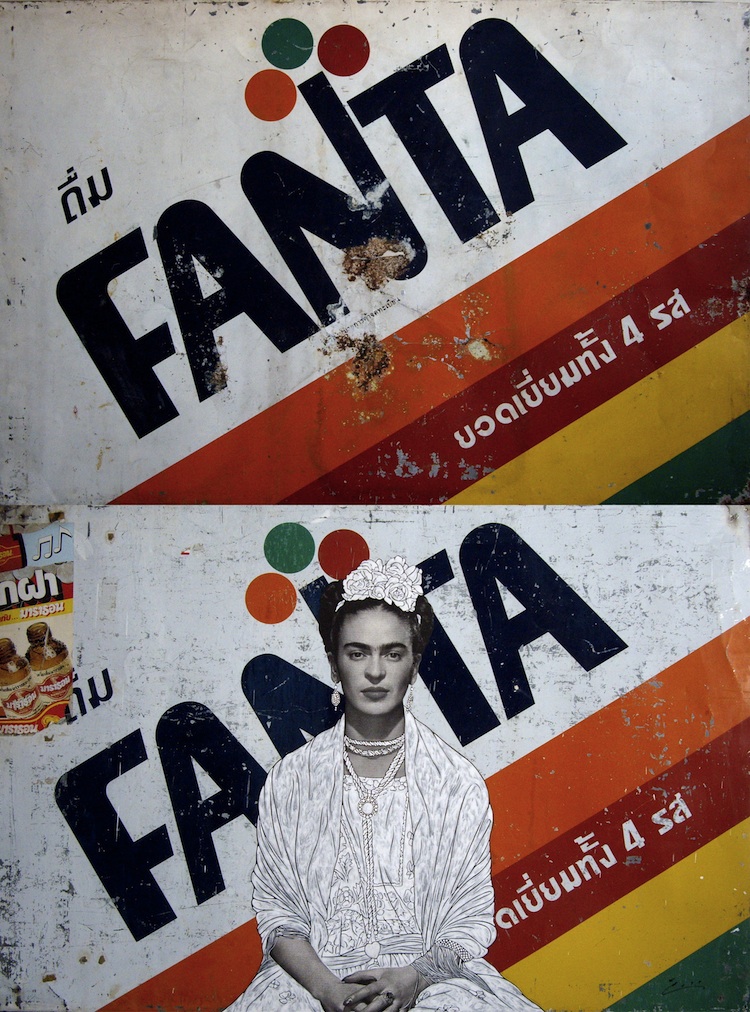 Image:Pakpoom Silaphan 'Frida on Double Fanta'
Invite/Guest List only email info@screamlondon.com
5th – 27th August, 2011
Scream is proud to present an exhibition of new works by gallery artists Bruce French, Greg Miller, Derrick Santini, Malgosia Stepnik, Pakpoom Silaphan, Petroc Sesti and Russell Young.
Scream Now will include new work by some of the freshest talent working in the contemporary art world today. Featuring painting, photography, collage, found objects and prints, the exhibition demonstrates the variety of techniques and skills employed by its artists.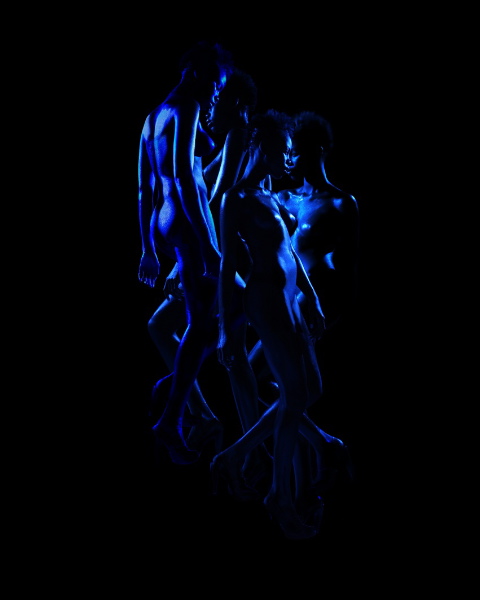 Image:Derrick Santini 'Blue nude descending a staircase' (2011)
Derrick Santini will show for the first time 'The Magpie', and the monumental 'Blue nude descending a staircase', a 5 x 4 ft lenticular lightbox depicting a statuesque Nubian nude, observed from several viewpoints and illuminated with a midnight blue light. The lenticular process involves photographing a sequence of still images, using live models, which are layered and printed using a special teqhnique, under a ribbed plastic sheet acting as a lens. This results in a hologram-like effect where the figure within the lightbox moves as the viewer passes, although not an actual hologram, it is a form of animation where an illusion of depth is created.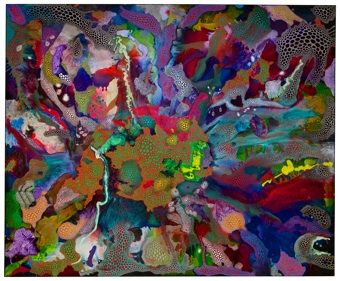 Image:Malgosia Stepnik 'Intensity'
The light-boxes that Polish artist Malgosia Stepnik exhibited earlier this year in the Scream group show States of Reverie were a sellout, and for Scream Now she has created new large scale paintings in her signature psychadelic style. Malgosia studied Sociology with Psychology at the University of Wroclaw in Poland, and later on gained a first class degree in Fine Arts in London. The combination of her psychology studies with her painting skills is evident in the complex, explosive canvases she has created for Scream Now, with titles such as Intensity and
Catharsis evoking the inner workings of the human psyche.
Bruce French, fresh from his successful solo show Absence of Light at Scream in May, willexhibit Born and Erased, a specially commissioned screenprint on Perspex. Bruce is inspired by everyday life and people he encounters, either random strangers or friends. His technique is rooted in traditional draftsmanship, yet he uses modern technologies such as the iPhone and iPad to translate his observations into a pared down abstraction of reality. After graduating from
Central St. Martins in 1995, Bruce became a successful set designer as well as a constantlyevolving artist. The interest in human expression which he developed in his artistic practice, led to an ongoing collaboration with The Royal Ballet and Ballet Basel in Switzerland.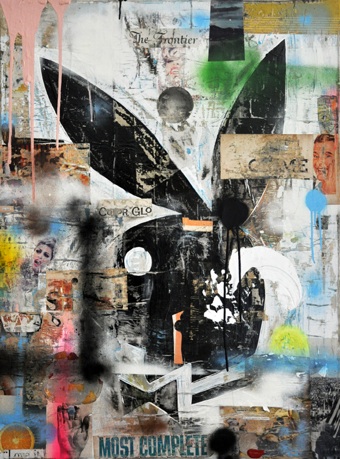 Image:Greg Miller 'Abbot Kiney'
Greg Miller has exhibited widely in his native USA, and he draws on his Californian roots and American popular culture in his practice. Greg is exhibiting his canvas Abbott Kiney and Sunset Blvd in Scream Now, as a teaser for his solo show at Scream this September. Greg uses collage and paint to create large-scale works, which explore the urban streetscape within a broader historical context.
His work can be found in international museum and private collections including the Saatchi Collection and the Frederick R. Weisman Collection. His writings, photography and paintings were published in 2010 in The Get Go. Greg's Pop-art inspired painting Phantom Lady was picked out as a highlight of the Bonhams Urban Art Sale in January by the Financial Times.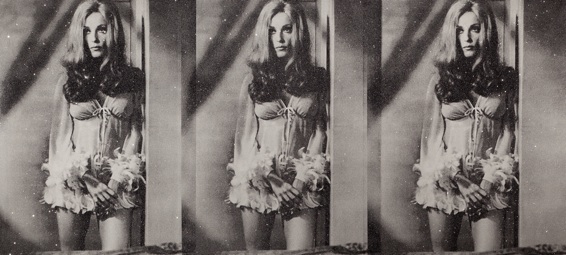 Russell Young 'Sharon Tate' 2011
Russell Young's work also examines American counter culture. Russell has had two sell out solo shows at Scream, and his April exhibition American Envy examined a darker side of the American dream. He will exhibit new signature diamond-dust screen prints. One of the new prints shows Marilyn Monroe entertaining the troops in Korea. The images show an effervescent Marilyn in 1954, recently wed to star baseball player Joe DiMaggio, when she took time out of a post-nuptial
trip to Japan to entertain the American soldiers in Korea. The other new piece immortalizes with a magical sheen of stardust the tragic actress Sharon Tate, before her premature demise at the hands of notorious cult leader Charles Manson's followers known as the 'family'. After a successful career as a photographer and MTV music video director, including the seminal George Michael shoot for 'Faith', Russell adapted his skill for capturing iconic personalities from the music and film worlds, to an artistic practice where he immortalises some of the most significant faces of recent times.
Pakpoom Silaphan has a similar fascination with modern icons, and will show for the first time, work from his latest series depicting artists such as Frida Kahlo, Jackson Pollock, Andy Warhol and Salvador Dali on vintage advertising signs. His homage to Pollock and Warhol are featured in Scream Now, and the entire series will be on view in November in his solo show at Scream. Pakpoom grew up in Thailand, where he developed a fascination for the advertising signs for popular products such as Coca-Cola and Pepsi, as well as an interest in iconic figures from Western art history and culture such as Warhol and The Queen. After moving to London to study art, Pakpoom rediscovered his childhood collection of advertising signs, and utilized them as the basis of his artwork.
Petroc Sesti's artistic practice straddles the boundaries of art and science, with an enchanting hint of alchemy. He captures the frenetic energy of a tornado within his spherical sculptures reminiscent of crystal balls. Born in London in 1973, Petroc has already enjoyed an illustrious career seeing his work featured in exhibitions in Europe and the US, including Reconstruction #1 at Sudeley Castle, and the Zoo Art Fair. Sesti studied at Byam Shaw and Chelsea Schools of Art. His work is owned by major international collections including the Rothschild Collection in New
York, and Australia's Mona Museum.
Categories
Tags