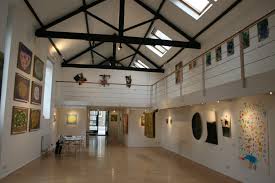 The UK's longest-running and most prestigious artist co-operative, The London Group, has just announced the call for entries for its 82nd open exhibition. The London Group Open 2015 offers a wonderful opportunity for emerging and established artists to raise their profile, win cash and material prizes, and exhibit their work to the public alongside the Group's esteemed members.
This year, entries can be made online for the first time, simplifying the application process.
The London Group's archivist, David Redfern, reflects on the long history of the Open:
"In 1917 London Group members extended an invitation to fellow artists to join them in exhibition. Over approximately one hundred years the Group has repeated this invitation eighty-one times, and this year the tradition is continued as present members invite contemporary artists to join them in The London Group Open 2015."
In recognition of today's increasingly diversified art scene, the Open welcomes innovative, challenging works in any medium, including painting, sculpture, drawing, print, photography, digital, audio, mixed media, installation, video and performance. Successful entrants will see their work hung in one of two exhibitions, staged during October and November 2015 at The Cello Factory.
Previous winners have benefited from a range of subsequent career opportunities, with some even being invited to join The London Group as a member, testifying to the value of the Open as a means of gaining recognition. Caroline Jane Harris, a prizewinner in The London Group Open 2013, states: "Winning the 'Chelsea Arts Club Trust Stan Smith Award' in 2013 was both a surprise and a fantastic boost to my work at the time, allowing me to invest more in the materials and the finish of my work. As a result I was invited to exhibit in a show at a gallery in Fitzrovia, which led to a solo exhibition there the following year."
A selection of generous awards will be presented to the most successful works on show, as judged by prize givers and The London Group Selection Committee.
This year's awards will include a three-person exhibition at The Cello Factory, and the Ingram Collection of Modern British & Contemporary Art purchase prize. Included within the £5000 prize fund is the Chelsea Arts Club Trust Stan Smith Award for an artist under 35 (£1,500), a sculpture prize awarded by Jeff Lowe (£500), the GX Gallery Annual prize (£300), and the Worshipful Company of Painter-Stainers Prize for Drawing (£300). Material prizes include the Winsor & Newton Materials Prize for Painting and Drawing (£500), and £300 worth of photographic services from Patrick Gorman.
How to Enter:
This year, submissions for The Open should be made online www.thelondongroup.com. There is a £20 entry fee for one submission, £35 for two submissions or £45 for three submissions, to be paid online with the application. Artists can submit up to three works, which must have been produced since 2013.
DEADLINE FOR ENTRIES: Monday 24th August 2015
Categories
Tags