The indiscriminate gentrification of our nation's capital seems to know no bounds. The grotesque, sprawling redevelopment of London is slowly but surely smothering what little life and soul remains, creating a dystopian playground for provincial fuckwits with bags of money and a severe taste deficiency.
There are only small pockets of London left which manage to, tentatively, maintain their edge whilst the inevitable cultural lobotomy looms like a fat, spoilt child waiting to get it's sticky, little mitt on every last inch of property.
One such place is Deptford in South East London. Deptford has for many years had a flourishing art scene whilst holding a strong vibe of 'real London'. Dirty enough, cheap enough and far enough away from central London to keep it's feet firmly on the ground as a creative hub for emerging artists and galleries. The seasoned veterans of the area have managed to keep a sense of purity for a long time and it is only now that one detects a slight whiff of the creeping, tell tale signs of gentrification.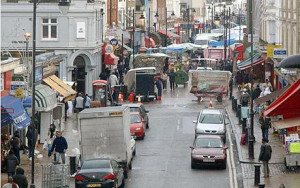 Among the seasoned veterans is Bearspace. Formed by founder and director Julia Alvarez in 2005 Bearspace has solidified itself, over the past decade, as one of the most interesting and important galleries to have emerged from the 'Deptford scene'.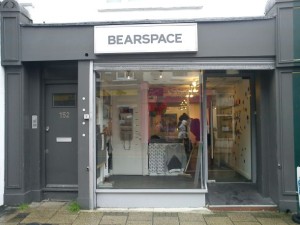 Since starting from very humble beginnings, in an old pub next door to the current space, Bearspace has spent 10 years developing a program which focusses on breaking and nurturing emerging artists.
"My ethos was the same then as it is now, to give emerging artists a platform to showcase and grow. Then the artists were my friends and contemporaries, now I beat the path of anywhere showing new work, form Fine Art graduate shows to students putting exhibitions in warehouses"
As well as paving the way for other galleries in the area Bearspace cultivated a means for the scene to expand and gain recognition through the creation of the South London Art Map.
"A group of local galleries and studios got together to support the initiative, produce a small map and a website with eight galleries and art studios. Two years later we expanded to eighty galleries and studios."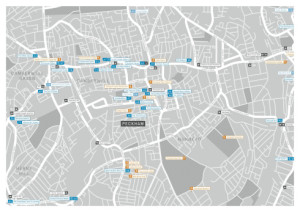 After Tate Modern became involved the SLM grew to cover over a hundred more venues, in South London, and eventually spawned the South East Coast Art Map, which covered galleries and studios as far afield as Margate, Folkestone, Hastings and Brighton. The drive to connect and the passion for creating something far greater than just one gallery made Bearsapce the catalyst which was so imperative in making, what has become, one of London's most creative corners.
Although Bearspace is definitley a child of Deptford the scope for expansion is endless. Movements as positive as this should have a knock on effect – a contagious need to expand and exist wherever possible.
"We do feel embedded in the scene, if not a forerunner of it, but I also love being ahead of the curve and keep looking for signs of an emerging art culture in different places I visit. I think the ethos of the brand extends beyond South London, and we can exist anywhere where the right formula for an emerging art scene is."
Places like Bearspace, which pioneer the arts at a grass roots level, are so important but are becoming more and more scarce in London. A place rapidly becoming impossible for young artists and galleries to exist without serious financial backing.
Bearspace's current show is Jonathan Purdy 'Into The Light' which runs until the 25th of April – all other info can be found on their website HERE.
Categories
Tags